Hybrid rice varieties return record yield
By WANG XIAOYU in Beijing and FENG ZHIWEI in Changsha | CHINA DAILY | Updated: 2020-11-03 08:59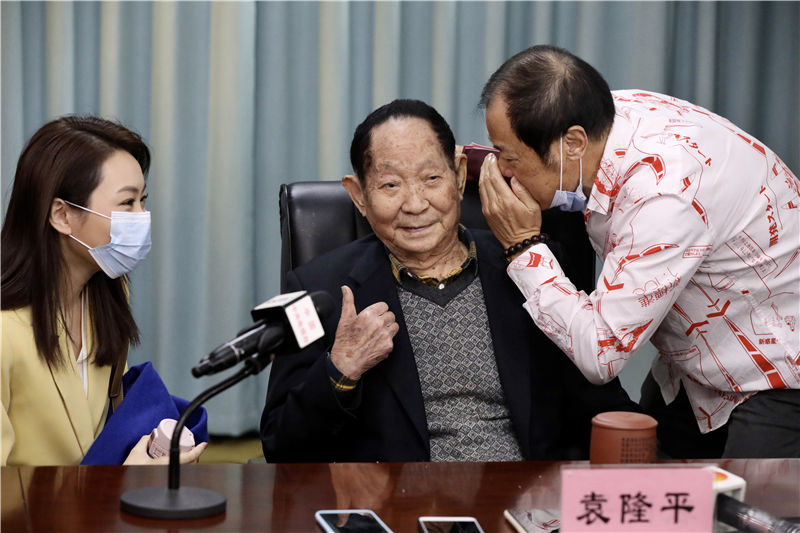 Fields planted with the latest strains produce almost 23 tons a hectare
Chinese scientists have achieved a record rice yield of almost 23 metric tons per hectare from an experimental field of hybrid rice in Hunan province, the China National Hybrid Rice Research and Development Center said.
Experts gathered in Hunan's Hengnan county announced on Monday that the average yield from fields planted with the third generation of hybrid rice varieties had reached 13.68 tons per hectare.
In July, early harvests from the same field growing another strain of third-generation hybrid rice yielded an average of 9.29 tons per hectare.
Despite unfavorable weather conditions this year, the two harvests combined-consisting of early-season and late-season crops-surpassed 22.5 tons per hectare, realizing the goal set earlier this year by renowned agricultural expert Yuan Longping, who has spearheaded research into hybrid rice strains.
Yuan said on Monday the fresh record means a 1-hectare hybrid rice field can feed as many as 75 people.
"I am more than excited and extremely satisfied with the results," he said in an office in Changsha, capital of Hunan province, while watching a live video feed of the announcement ceremony.
Compared with other high-yield hybrid varieties in the market, the average yield for the third-generation strain is 10 to 20 percent higher-an increase of about 1.5 tons per hectare-Yuan said.
"There are 16.7 million hectares of hybrid rice fields in China. The new strain, if planted nationwide, will significantly boost overall rice production," he said.
"The next goal is to promote the experiences of Hengnan county and plant the advanced rice variety in other rice-producing regions in China, contributing to safeguarding the country's food security."
The center said research teams headed by Yuan began cultivating and selecting third-generation rice varieties in 2011 and started trial planting in 2017.
More pilot bases will be set up in eight provincial-level regions starting next year, it added.
The rice strain of the crops harvested on Monday-Sanyou No 1-is known for its high yields and quality, resilience to unfavorable weather conditions and relatively easy breeding methods, Li Xinqi.head of the research team, said.
"For single-cropping, late-season rice, it is rare to see an average yield of more than 11 tons per hectare, but the average yield of a small-scale planting of the strain last year exceeded 15 tons per hectare, prompting us to aim for higher production this year," he said.
Sanyou No 1 is also prized for its fast growth.
"Rice seeds in Hengnan county were planted on June 16 and began earring up on Aug 30, which is surprisingly fast," Li said.
He said the strain also withstood the test of extreme weather that lasted more than a month in Hunan, with weaker sunlight and significantly heavier and longer rainfall than usual.
The previous record for yields of hybrid rice developed by Yuan and his team, about 17.24 tons per hectare, was set in Hebei province in October 2017.
China has attached paramount significance to ensuring food security and self-sufficiency in grain production.
Despite the impact of the COVID-19 pandemic and severe flooding in summer, this year's grain production is expected to hit a record high and exceed 650 million tons for the sixth year in a row, the Ministry of Agriculture and Rural Affairs said.