VR-aided anxiety treatment trials move to second phase
By BO LEUNG in London | China Daily Global | Updated: 2020-11-18 09:56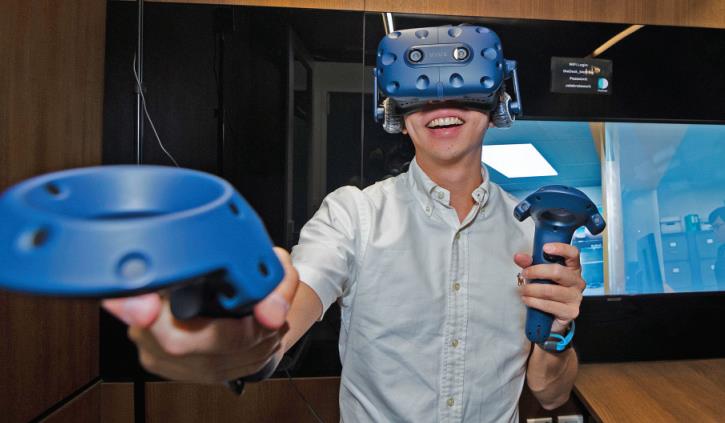 A cutting-edge virtual reality technology created in Oxford to help patients who have severe social avoidance is moving on to its next phase of research in Hong Kong.
Oxford VR, an immersive technology company in the United Kingdom, has been working with the Chinese University of Hong Kong and AXA Hong Kong on an immersive mental health therapy program in Asia.
It comes after a successful pilot earlier this year in Hong Kong and the program will now be rolled out to the wider population.
The campaign, known as the Yes I Can initiative, has been designed and tailored for a Cantonese-speaking population in Hong Kong and treats people who suffer from anxious social avoidance, which experts say has been exacerbated by the current pandemic.
"We deliver evidence-based, cognitive behavioral therapy, it's clinically proven. So, our route is to partner up with innovative providers to test our technology and therapy on patients and show that we deliver enhanced outcomes relative to, essentially face-to-face, which is the only other method available," Arvind Tewari, chief operating officer of Oxford VR, said.
Oxford VR's technology is based on a cognitive therapy approach and includes a virtual coach acting as a therapist and is delivered through consumer virtual reality, or VR, devices.
Participants take part in VR exercises, set in environments that reflect everyday situations that they may usually avoid and it is hoped that these people will gain more confidence to cope with these circumstances in real life and improve their day-to-day lives.
"It creates a sense of being immersed, which is incredibly engaging," Tewari said. "The power of virtual reality to transform you from sitting in your lounge or your bedroom into a completely different reality, it's just absolutely incredible … all of a sudden you're able to elicit responses from patients that would otherwise be unsafe, or impractical."
VR-enabled mental health solutions from Oxford VR, designed to treat patients with psychosis, are also currently being trialled in the UK's National Health Service-funded project, gameChange, in partnership with the University of Oxford.
There have been positive findings from the pilot being run by the Chinese University of Hong Kong and AXA Hong Kong, with participants reporting improvement in overall symptoms of depression and anxiety.
Individuals who have participated in the program have also reported they felt less anxious when making social interactions and felt less impaired by their social avoidance symptoms.
Winnie Mak at the Chinese University of Hong Kong's department of psychology, said: "Using virtual reality to tackle social avoidance is a new endeavor. We are very excited to see the positive results that the VR intervention has on our users' lives in just three sessions during the pilot phase. With the launch of the second phase of our trial, we hope to gather more solid evidence that this new means of treatment delivery can potentially improve people's psychological condition."