Exhibition shows peking opera through the lens of contemporary arts
By CHEN NAN | China Daily | Updated: 2020-11-28 09:33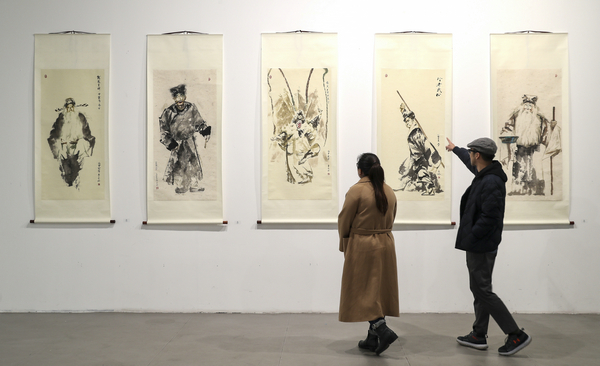 An exhibition, at downtown Beijing's Star Theater, presents Peking Opera through contemporary arts.
Bringing together about 40 works from 9 Chinese artists focusing on the old art form, the exhibition, which kicked off on Nov 14 and runs until Dec 24, is part of the ongoing Xiqu Opera Black Box Festival.
According to Guan Qi, curator of the exhibition, since 2017, the exhibition aims at bringing ancient Chinese operas closer to audiences, especially young people interested in contemporary arts.
Xiqu means local opera. This year, the festival focuses on Peking Opera, since this year marks the 230th anniversary of the birth of the art form.
Peking Opera, or jingju, has a history of more than 200 years and was recognized as an Intangible Cultural Heritage of Humanity by UNESCO in 2010. It brings together art forms such as singing, dancing, martial arts and acrobatics. The performances are characterized by elaborate movements, extravagant makeup and high-pitched singing.
In 1790, four famous Anhui Opera troupes came to Beijing to celebrate the 80th birthday of Emperor Qianlong of the Qing Dynasty (1644-1911). In around 1840, Peking Opera began to formally take shape, growing rapidly during the reign of Empress Dowager Cixi (1835-1908), an ardent Chinese opera lover. After this, the art form went from strength to strength, with troupes being formed in Beijing, Tianjin and Shanghai.
"We started to prepare for this exhibition a year ago. At least 80 percent of the artists, whose art pieces are being displayed during the exhibition, have worked with us before. They used different art forms to tell stories about Peking Opera, such as oil paintings, traditional Chinese ink paintings and installations," says Guan, who is an independent curator.