Getting outside inside Guizhou
By Yang Feiyue in Beijing and Yang Jun in Guiyang | China Daily | Updated: 2020-12-01 07:32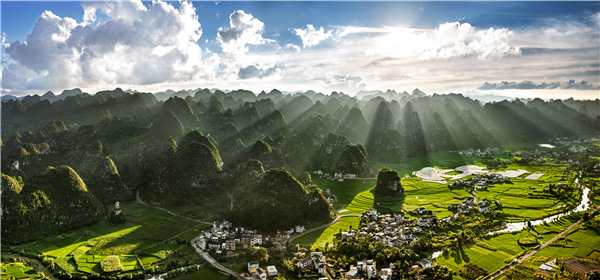 An array of outdoor activities may help restore tourism to pre-pandemic levels.
Guizhou province will tap its pleasant climate, hot springs and natural medicines to become a top international mountain-tourism destination loaded with summer resorts and forest getaways, according to Zhang Yuguang, head of the provincial culture and tourism department.
It will take advantage of its stunning geography, including deep valleys, lakes and precipitous mountains, to accelerate the development of adventure rafting, rock climbing, recreational aircraft, skiing and mountain sports, Zhang says.
"Guizhou will continue to expand the supply of high-end and diverse tourism choices through enrichment and upgrades," he says, adding that Guizhou will also focus on gear for mountain tourism.
The province won an award for sustainable mountain tourism at the annual conference of the International Mountain Tourism Alliance, which was held in Guiyang, the provincial capital, in mid-November. More than 300 representatives from 17 countries and regions, including Nepal, Indonesia, Japan, Germany, Russia, Italy and New Zealand, joined the meeting, which aimed to explore ways to restore the tourism market to pre-pandemic levels.
Globally, tourist numbers dropped 70 percent from January to August year-on-year, with $730 billion in losses to the industry, says Zhu Shanzhong, a senior official with the United Nations World Tourism Organization.
The organization expects the tourist count to plummet by 850 million to 1.1 billion in 2020, with losses of $910 billion to $1.2 trillion.
At the mountain-tourism conference, the World Travel and Tourism Council, Pacific Asia Travel Association, World Tourism Cities Federation, World Tourism Alliance, ASEAN-China Center, World Historic and Cultural Canal Cities Cooperation Organization and the China Association of National Parks and Scenic Sites have signed strategic cooperation agreements or memorandums of understanding to boost the recovery and development of global tourism, especially mountain tourism.
Guizhou has surveyed its mountain-tourism resources, strengthened mountain-tourism infrastructure and enriched related experiences over the years, says Zhang, the Guizhou tourism official.
The efforts helped bring 86 million tourists to the province in October, about 10 percent fewer than the same period last year. Tourism income for the month reached 83.1 billion yuan ($12.7 billion),80.5 percent of last year's.