Conference marks 25 years since key event
By WANG RU | China Daily | Updated: 2020-12-10 09:05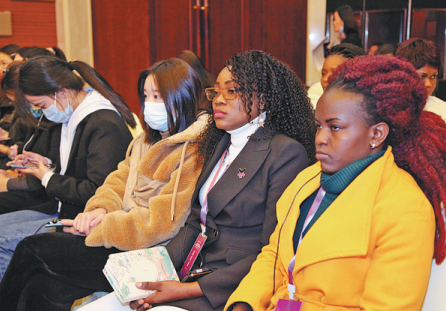 On Oct 1, President Xi Jinping commended the efforts of female medical workers, community workers and volunteers in the fight against COVID-19 at a high-level meeting marking the 25th anniversary of the Fourth World Conference on Women, held in Beijing in 1995.
The 1995 event saw more than 45,000 delegates from 189 countries gather in the capital to discuss issues related to women, and adopted the Beijing Declaration and "platform for action" as a global agenda for women's empowerment.
To celebrate and review the achievements of the past 25 years and explore effective ways to promote gender equality, the Second Global Conference on Women's Development was held in Beijing on Nov 27 under the theme "review, reflection and prospect-the 25th anniversary of the 1995 conference".
Organized by the China Women's University, the UNESCO Chair on Media and Gender and China Women's University Consortium, the conference contains four parallel forums, discussing poverty alleviation and women's sustainable development, women's participation in the social governance, women's development and media, and providing equal quality higher education to women.
According to Zhang Libin, director of the Chinese Academy of Labor and Social Security's employment and business start-up research office, China now has 339 million females who have jobs, accounting for 43.3 percent of the country's entire employed population. Generally, female workers are less educated compared to their male counterparts.
"Since women play a major role in shouldering family responsibilities, like caring for children and the old, they participate less in the workplace, leading to shorter careers, relatively low income and visible or invisible discrimination at work," says Zhang.
To solve the problems, she proposed a series of actions, including improving legislation to prohibit gender discrimination in employment, optimizing policies related to women's procreation and improving training systems to help women who have difficulty finding jobs learn skills to get employment.
Wen Wei, editor-in-chief of China Poverty Alleviation magazine of the State Council Leading Group Office of Poverty Alleviation and Development, believes China's poverty-tackling efforts have helped women, especially in poor areas.
For example, 35-year-old Ma Jinlian used to live on Lyuliang Mountain and took out a large loan to help treat her sick son. But she seized an opportunity to participate in a training course organized by the local government to learn skills about health care.
With the skills, she was able to be a health care worker in Beijing, and started her own business offering housekeeping services several years later. She paid off her debt and also helped more than 1,400 women to leave their poverty-stricken hometown and find jobs in large cities.
Moreover, workshops established in many poverty-stricken areas have helped local women find work without leaving their hometown. "Our survey in Xinghai village, Heze city, Shandong province, shows 70 to 80 percent of the female labor migrated to other places for work before, but after the establishment of the workshops, the number was reduced to less than 30 percent," says Wen.
In terms of women's participation in social governance, Li Wen, a researcher from Women's Studies Institute of China, finds that the number of females participating in governance in rural areas is still not enough.
"We find female members only take up about 24 percent in village committees in China in 2018, but our goal proposed in the Outline Program for Development of Chinese Women (2011-2020) was 30 percent. Moreover, female village representatives should occupy one-third of the total, according to Organic Law of the Village Committees of the People's Republic of China, but this number was only 13.3 percent in 2018," says Li.
The situation is quite different in city communities, where a large number of women participate in the community governance, according to He Mingjie, an associate professor at the School of Public Administration of Sichuan University. "For example, in Chengdu's community committees, female members occupy 50 to 70 percent. Many self-organizations in communities in which members share similar hobbies and gather to help those in need or protect the environment, are often initiated and participated by females.
"But we should consider if women's participation in city communities improves or restricts their development, since community work seems to have a ceiling for people's further development, and they have difficulty entering a higher level of social governance."
According to Marielza Oliveira, director of UNESCO Beijing: "We have promoted gender equality through various ways, and the role of females has exerted more and more influence in the society, bringing more benefits. But we still have a long way to realize the goal in the Beijing Declaration."
"We will continue to work to protect females, so that society develops in a better way," she adds.