More than books
By Zhang Kun | China Daily | Updated: 2021-01-08 07:38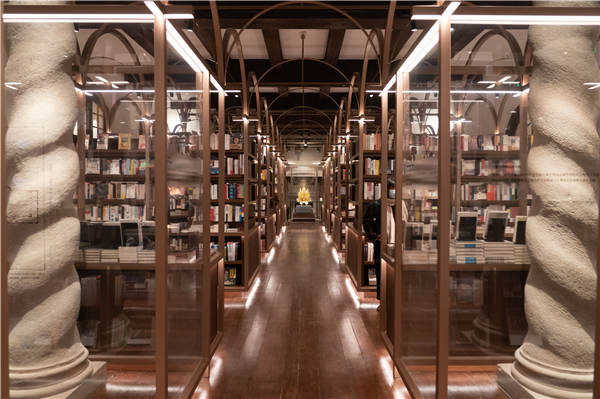 This concept has evidently resonated with some of its early customers.
"I hope to experience more than just books in a store like this. Maybe there will be readers' clubs and other events in the future. After all, you can easily get books by a few clicks on the computer nowadays," says a customer surnamed Qiu.
For the opening period, the bookstore is presenting an exhibition of sculptures by Japanese artist Kohei Nawa on the ground floor and a calligraphy showcase by Chinese artist Xu Jing on the second floor.
For the time being, most of the products and handicrafts on offer are from Japan, Hu says, though creations by more local artists will be available in the future.
"We will make Tsutaya Books a store of Shanghai characteristics," says Hu.
"We are not concerned about making profits for the time being," he adds. "If we succeed in bringing people in, and building a good reputation for the store, we are confident we will achieve high per-customer transactions."
Tsutaya Books opened its first China store in Maison Moree, a mall close to the Xixi National Wetland Park in Hangzhou, Zhejiang province, on Oct 18. The brand says that it plans to open another store in Chengdu, capital of Sichuan province, in the near future.
Another brand that opened on Christmas Eve was the Duoyun Books-Theater Store on Changle Road in downtown Shanghai. While plays and theater scripts take up much of the shelf space, the bookstore also offers books adapted into theater shows or upcoming movie releases, academic books on theater, as well as an art exhibition of prints by Shanghai-based novelist Jin Yucheng.
The Duoyun Bookstore brand was founded in 2018, when its first shop opened at Guangfulin, an archaeological site of primitive civilizations in suburban Shanghai's Songjiang district.
The flagship Duoyun Bookstore sits on the 52nd floor of Shanghai Center, the tallest building in the city. Standing 239 meters above sea level, it is the highest bookstore in the city.
Located next to the historical Lyceum Theater, the new Duoyun Books-Theater Store hosted a forum that was attended by theater artists, producers and industry leaders.
The forum took place on the third floor of the bookstore, a space for interactive events that can accommodate up to 100 people. The space will be used to host mini theater shows, rehearsals, workshops and lectures, says Xia Qi, the manager of the store.