Short video platforms looking to upgrade, further monetize content
By FAN FEIFEI | China Daily | Updated: 2021-01-12 09:15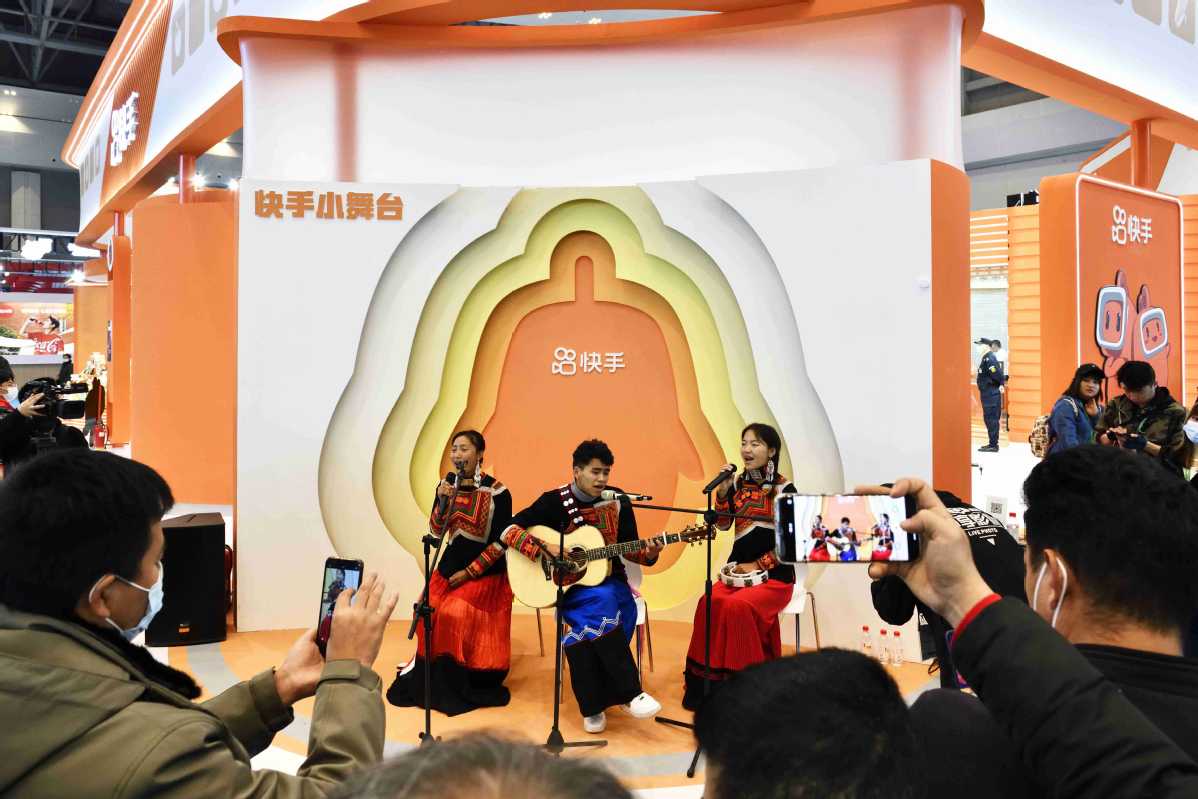 Chinese short video platforms are banking on the fast-growing mini drama series segment as tech-savvy youth spend more time watching online short videos during the COVID-19 pandemic and exhibit heightened demand for high-quality original content, industry experts said.
They said competition among major video-streaming websites will focus on improving the production quality of content and better monetizing long-term content operations.
Short video app Tencent Weishi announced it will invest 1 billion yuan ($150 million) to support the development of new mini drama series this year, with each episode lasting from one to three minutes.
The company will strengthen cooperation with Tencent-backed e-book site China Literature, Tencent Animation and Comics and Tencent Games in the field of intellectual property rights and bring about diversified experiences for users.
Li La, deputy general manager of Tencent's short video community, said the Shenzhen, Guangdong province-based firm will focus on the mini drama segment and expand its presence along the entire industry chain in a bid to provide users with high-quality content and speed up monetization efforts. In addition, some high-quality paid content will also be offered to users, Li said.
"The main viewers of mini drama series are younger viewers coming from first-to third-tier cities. Female viewers tend to watch dramas while males prefer more suspense," Li said, adding that she is bullish on prospects for the mini drama series market.
Weishi will also offer capital, data flow and IP resources to content creators. For instance, creators will receive a minimum of 300,000 yuan revenue for a 50-episode series and obtain extra bonus based on the viewer numbers.
Mini drama Tonglingfei, which was coproduced by Weishi and Tencent Animation and Comics, ranked among the top 10 internet dramas in 2019 with 369 million views.
Consumption habits of users are changing and mini drama series will witness explosive growth, Li said. "Consumers are not limited to watching fiction and animations."
The number of short video users hit 818 million in June, with an average time of 110 minutes spent on short video apps per person each day, surpassing that of instant messaging services, said a report released by the China Netcasting Services Association.
Amid the COVID-19 pandemic, more internet users have turned to online options for entertainment, leading to further growth in the number of internet audio-and-video users, the report said.
Kuaishou, another short video platform, has a partnership with Midu Novels, an online literature platform owned by Chinese mobile content aggregator Qutoutiao. The two parties will explore innovative cooperation models and coproduce mini drama series to attract more users and monetize content.
The partnership will help overcome long production cycles and high investment costs of traditional content incubation models, said Yang Ji, chief executive officer of Midu. So far, Midu has produced more than 10 high-quality mini dramas and garnered over 880 million views.
Kuaishou said in October that it intended to give more data flow support, purchase more copyrights and develop more than 200 mini dramas in collaboration with over 1,000 content production organizations in the future in an attempt to accelerate its commercialization push.
"Mini drama series, which contain various genres, are set to enrich the content ecosystem of short video platforms, enhance user stickiness and entice a new breed of users," said Ma Shicong, an analyst with Beijing-based internet consultancy Analysys, adding that the whole process of producing mini dramas is more professional and sophisticated.
Ma said the main targeted users are millennials, who are showing growing demand for short videos and mini drama series, with each episode lasting no more than three minutes involving tight-knit plots, as their free time tends to be fragmented and sporadic.
However, most mini drama series may not make money over the short term as initial investment burdens are substantial.
"We still need time to explore the monetization model, including advertising, paid content and e-commerce livestreaming," Ma said, adding that it is very likely the introduction of paid content will initially generate profits for the mini drama industry.
Short videos are seeing explosive growth in China. The revenue of the short video industry reached 14.01 billion yuan in 2018, up a blistering 520.7 percent. And the figure is expected to surpass 55 billion yuan in 2020, said iResearch.
According to QuestMobile, a mobile internet big data company, the number of daily active users on Kuaishou surged 40 percent year-on-year during last year's Spring Festival holiday (Jan 24 to Feb 2). Douyin also saw a 26 percent rise in DAUs.
In addition, Baidu's Haokan video app recently announced it will give 1 billion yuan in subsidies to knowledge-based short video creators.
Zhang Yi, CEO of consultancy iiMedia Research, said as users spend more time on short video platforms, the traditional video production model will evolve, thus driving the development of the digital entertainment industry.
Zhang said competition in the short video industry will be more intense in the future, and users of long video platforms such as Tencent Video and iQiyi will be lured away. Meanwhile, the emergence of mini dramas will attract new users for short video platforms.
Major short video platforms are stepping up efforts to extend the boundaries of their products and offer diversified content to users through innovation, said Ding Daoshi, a Beijing-based internet expert, adding that the current commercial model of mini dramas is not clear, and "how to make money from the emerging industry remains a problem".