Brazil authorizes CoronaVac and Oxford injections amid rising cases
By ANGUS McNEICE in London | China Daily Global | Updated: 2021-01-19 09:30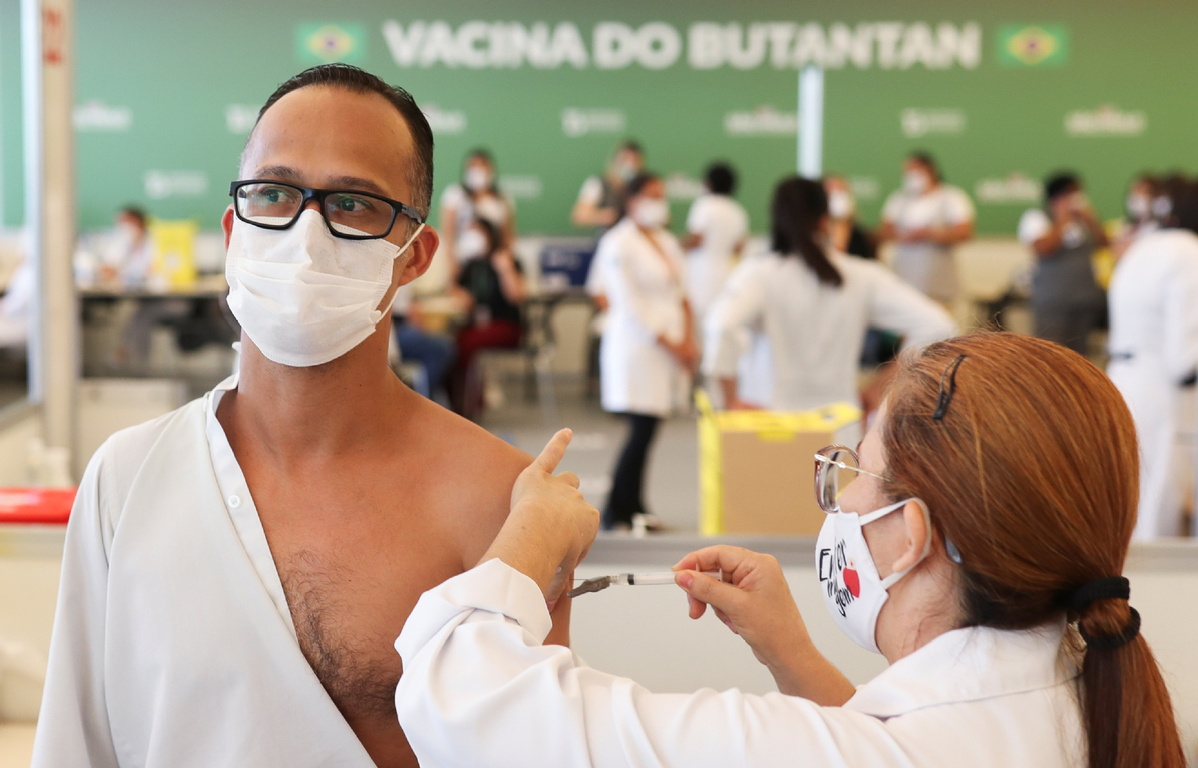 A nurse in Brazil has become the country's first person outside of a trial to receive the CoronaVac COVID-19 vaccine made by Chinese pharmaceutical company Sinovac, after authorities authorized the treatment as well as a second inoculation from Oxford University and AstraZeneca on Sunday.
Monica Calazans, a 54-year-old nurse in Sao Paulo, was given the China-developed jab minutes after Brazil's federal drug regulator Anvisa gave the treatment the green light, along with the so-called Oxford vaccine.
More than 100 Sao Paulo health workers went on to receive the CoronaVac shot after Calazans, whose vaccination occurred at a press event.
"Let's get vaccinated-don't be afraid," Calazans said.
A shipment of the 2 million doses of the Oxford jab will soon arrive in the South American nation, while the Butantan Institute, a Sao Paulo-based biological research center, has already begun manufacturing CoronaVac on Brazilian soil in partnership with Sinovac, according to media reports. The first wave of vaccinations is expected to involve around 6 million doses of CoronaVac.
In a tweet, Sao Paulo's governor, Joao Doria, hailed the development as a "victory for science, a victory for Brazil, and a victory for life".
The Oxford Vaccine Group said on Twitter that the team was "very happy to see" its vaccine gain approval and that doses would eventually be distributed "among all 27 states" in Brazil.
The commencement of a nationwide inoculation program is a welcome development for a country that has suffered high levels of infections and is battling the spread of a new variant of COVID-19 that is believed to be more transmissible.
There were 33,000 new cases reported in Brazil on Sunday, bringing the total up to 8.4 million. Close to 210,000 people have died from infection in Brazil, the second-highest death toll behind the United States.
Both the CoronaVac and Oxford vaccines are likely to play an important role in providing protection from the novel coronavirus for people in developing regions because they can be stored at normal refrigeration temperatures. This differs from the available treatments from Pfizer and Moderna, which require ultra-cold storage and robust cold-chain infrastructure for distribution.
Both Indonesia and Turkey authorized CoronaVac this month. The Turkish Health Ministry says that more than 600,000 health workers have received the vaccine from Sinovac since last week.
The Oxford vaccine has been authorized in Argentina, the Dominican Republic, El Salvador, India, Mexico, Morocco, and the United Kingdom.