Big data spurs growth in Guizhou
By WANG HAO,LEI XIAOXUN,YANG JUN and WANG XIAOYU in Guiyang | CHINA DAILY | Updated: 2021-02-02 08:06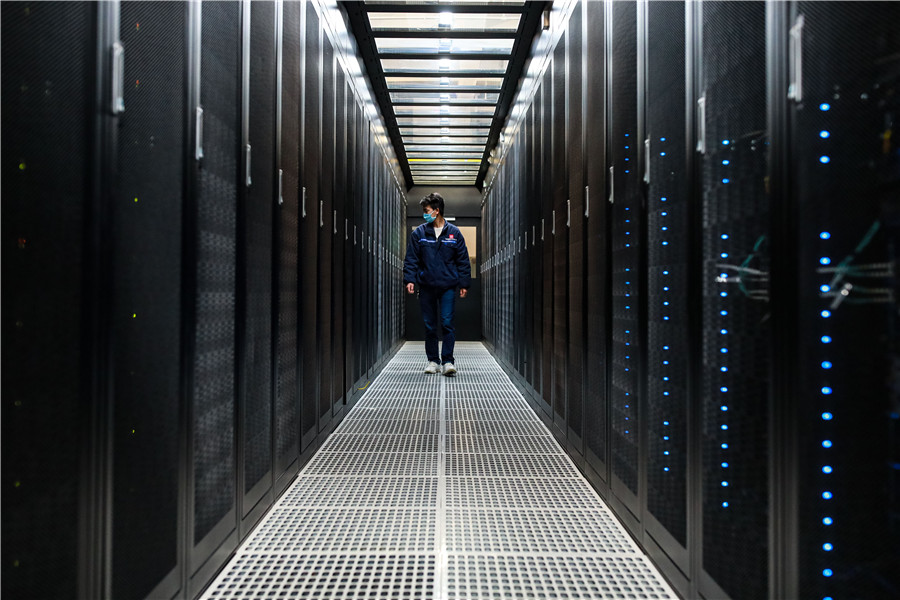 Added value
As Guizhou transforms from a landlocked hinterland area to a well-connected transportation and internet hub, it aims to explore the economic value of big data.
Hu, from the Guian New Area Administrative Committee, said, "The next vital step is to turn 'cold' data into 'hot' data, which can bring added value.
"Compared with other regions looking to big data as an economic stimulus, Guian New Area stands out because it is gaining momentum in three fields simultaneously-data centers, high-level manufacturing industry and the information technology services sector," he said.
Wang Jun, head of Guian New Area's big data development and service center, said the concentration of data centers in the locality is already bearing fruit, as orders are being generated for servers and other internet equipment, boosting the manufacturing sector.
"Guiyang is not a port city in the traditional sense. As a result, its industrial development was hamstrung by weak local demand for a long time," he said.
"It is estimated that expanding data centers in the city will create local production valued at 50 billion yuan."
Meanwhile, the area's software and information technology service sector is expected to earn at least 14 billion yuan this year and 100 billion yuan by 2024, Wang added.
Full Truck Alliance, a truck-hailing digital platform founded in Guizhou in 2017, is one of the fast-growing technology companies riding the big data wave.
Zhang Hui, the company's president and CEO, said in an earlier interview that the platform is aimed at resolving "disconnections" among drivers, truck owners and clients.
"The company's success is the outcome of integrating big data with the traditional logistics sector, which not only bolsters economic development in the province but also helps reshape people's lifestyles," he said.
More than 9 million truck drivers have registered with the platform, and the provincial government said during a news conference in December that a new round of funding enables the company to reach a valuation of more than $10 billion.
During the early stages of the pandemic, which hit Hubei hard, more than 1,300 truck drivers raced to the province to deliver emergency equipment, thanks to requests posted on the Full Truck Alliance platform.
Big data is also making a difference in the public service sector.
At East Century Technology, a company founded in Guizhou in 2000, a vast amount of meteorological, water resources and geographical data has been amassed and analyzed. This vital information has helped authorities decide whether to issue alerts for flooding and droughts, and in allocating disaster mitigation resources.
In June, the company's early warning system for flooding, known as East Auspicious Clouds, successfully predicted 10 hours in advance that a stretch of rail line connecting Guizhou and Sichuan provinces was at high risk of being left under water. This alert enabled railway authorities in Chengdu to take precautions and minimize disruption to services.
Li Tao, the company's chief engineer, said, "Compared with the conventional flood warning method, which relies on installing sensors at key points, the big data and cloud computing system covers a wider area at lower cost."
According to a white paper issued last year on development of the digital economy in China, the growth rate of this economy in Guizhou in 2019 reached 22.1 percent, making it the first provincial-level region to witness such expansion for five consecutive years.
Zhao, the Guiyang Party secretary, said, "Like traditional ports, which only rose to prominence after decades of gradual development, we need to bide our time for the big data industry to emerge and mature.
"We need to persevere, press ahead and be patient in order to realize the goal of achieving a novel development pathway that is distinct to Guizhou," he said.