Chinese private enterprise successfully tests tablet-controlled rocket launch
By JAMES ALEXANDER | ichongqing.info | Updated: 2021-02-08 11:26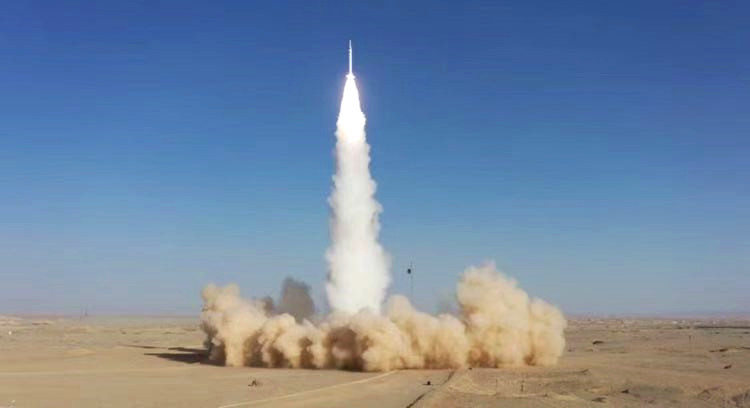 Chongqing - The OS-X6B new intelligent sub-orbital rocket dubbed the Chongqing Liangjiang Star was successfully launched at a northwest site at 17:05:05 on Feb 5. The rocket independently developed by OneSpace Technology completed the separation of its test load and the whole flight proceeded normally.
The 9.4-meter long rocket has a maximum altitude of about 300 kilometers and successfully conducted several key technology verifications and measurements whilst obtaining a large amount of environmental data through the actual flight.
According to the chief engineer, the OneSpace OS-X series of commercial rockets is a special flight test platform tailored to verify aerospace technology. It has successfully provided two commercial services for an Aviation Industry Corporation of China (AVIC).
This launch involved two key tasks of finalizing technology for the Linglong Series of carrier rockets and flight testing for new space loads, along with technological verification.
Tests included a flight method for new space loads that realized a trajectory with a small inclination, which offers highly effective and low-cost solutions through near-ground ballistic assessment.
Rapid launch now achievable in 10 minutes
The private OneSpace rocket launch has achieved innovation in a number of fields.
OS-X6B intelligent rockets adopt on-board launch technology, independent ground-based mobile telemetry, and measurement stations. They have achieved a major first in private rockets, which is a rapid 10-minute launch involving the single combination of a rocket, launch vehicle, ground station, drone, and tablet device.
The rocket adopts the technology that allows for remote control through high-bandwidth telemetry and a one-key launch mode that carries out 100% intelligent parameter interpretation, which has greatly shortened preparation time in the launch process.
It is also the first time a private company has explored controllable re-entry flight in rocket technology, which has gained a wealth of relevant environmental data.
OS-X6B rockets have adopted 3D printing technology for complex structures, which has greatly reduced the size and mass of products to only one-third of traditional products. This is a key technological trend in new space loads planned over the next five years.
Rocket launches controllable through a tablet device
The OS-X6B rocket is equipped with an intelligent "brain" and has a smart nerve center among a range of other innovative technologies. The rocket adopts technology for smart testing and automatic interpretation.
It can autonomously cancel rocket test and hold wireless communication, as the need for front-end equipment has been replaced by tablet computers.
Real-time data-driven and animation demonstration technology have been innovated to build a visual system. Actual flight status and effects are vividly displayed through animations driven by remotely transmitted data that includes trajectory and attitude.
Commands are sent to the rocket through ground-based wireless communication links. At the same time, upper-level fault-tolerant design technology has adopted a reliable attitude control algorithm, which allows for swift identification and adjustment in the case of engine failure to maintain stable flight.