Mars probe photos show fine details
By ZHAO LEI | CHINA DAILY | Updated: 2021-03-05 08:56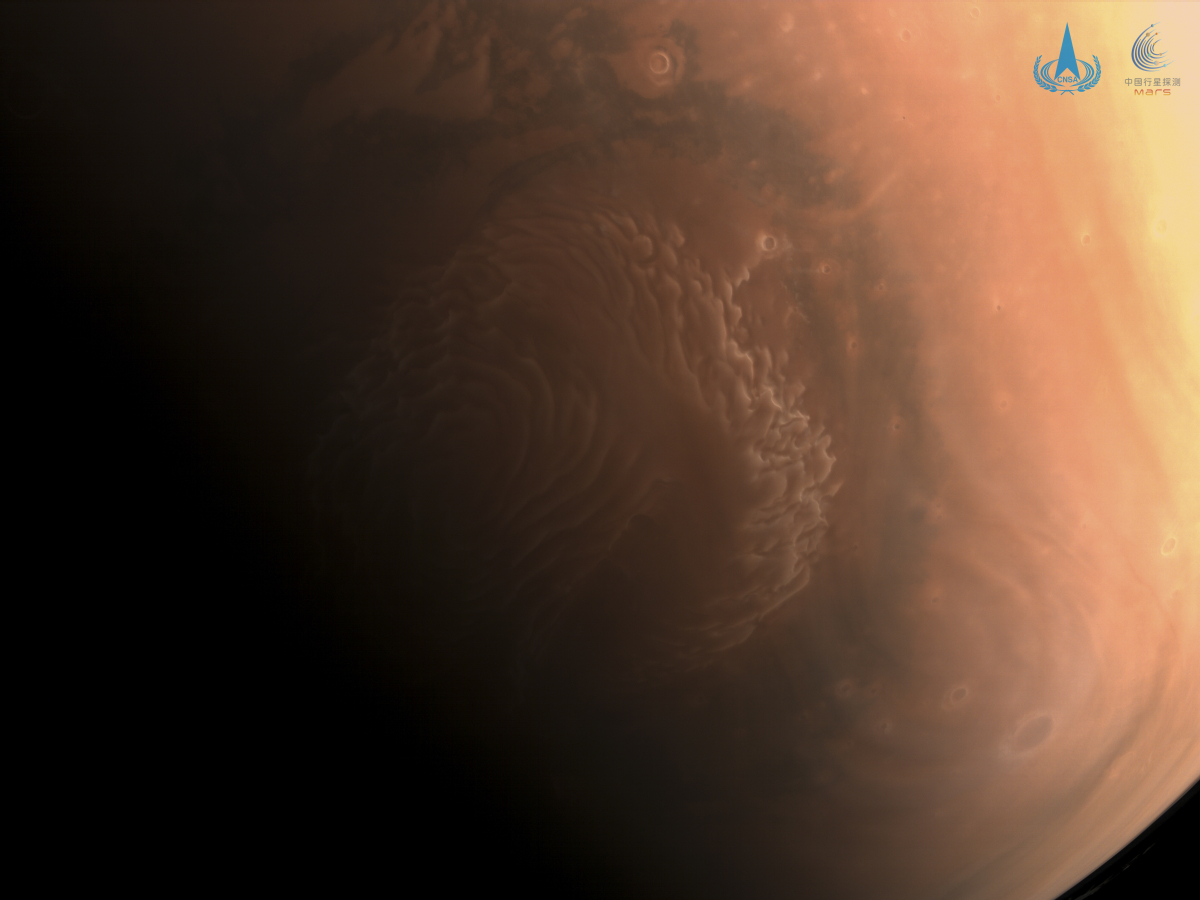 High-definition images shot by China's Tianwen 1 orbiter as it circles red planet
The first high-definition pictures of Mars taken by a Chinese spacecraft were made public by the China National Space Administration on Thursday morning.
The pictures-two black-and-white and one color-were shot recently by China's Tianwen 1 robotic probe when the spacecraft was traveling in a Mars orbit, the administration said.
The two black-and-white 0.7-meter-resolution images were taken by the high-definition camera on Tianwen 1's orbiter when the probe was about 330 to 350 kilometers above the Martian surface. Craters, mountain ridges and sand dunes on the red planet are clearly visible.
The color picture, generated by another camera on the orbiter, shows Mars' North Pole.
Tianwen 1, the country's first independent Mars mission, was launched by a Long March 5 heavy-lift carrier rocket on July 23 from the Wenchang Space Launch Center in Hainan province, kicking off the nation's planetary exploration program.
The 5-metric-ton probe, which consists of two major parts-an orbiter and a landing capsule-has flown for 224 days and about 475 million km. Currently, it is about 212 million km from Earth, the administration said.
It entered its preset parking orbit above Mars on Feb 24 and will maintain that orbit for about three months before releasing its landing capsule, the administration said.
All seven mission payloads on the orbiter will be gradually activated during the probe's stay in the parking orbit to carry out scientific tasks and also to observe and analyze the landforms and weather of the optimal landing site, it said.
Bao Weimin, director of science and technology at China Aerospace Science and Technology Corp and an academician of the Chinese Academy of Sciences, told reporters at the Great Hall of the People in Beijing on Thursday afternoon that the spacecraft is in good condition and is traveling at 4.8 kilometers per second in orbit.
Bao made the remarks before attending the opening ceremony of the fourth session of the 13th National Committee of the Chinese People's Political Consultative Conference.
He is a member of the CPPCC National Committee, the nation's top political advisory body.
The Tianwen 1 mission's ultimate goal is to land a rover in May or June on the southern part of Mars' Utopia Planitia-a large plain within Utopia, the largest recognized impact basin in the solar system-to conduct scientific surveys.
Weighing about 240 kilograms, the rover has six wheels and four solar panels and will be able to move 200 meters per hour on Mars. It will carry six scientific instruments, including a multispectral camera, ground-penetrating radar and a meteorological measurer.