An American who sings China's stories
By Erik Nilsson | China Daily | Updated: 2021-04-01 07:30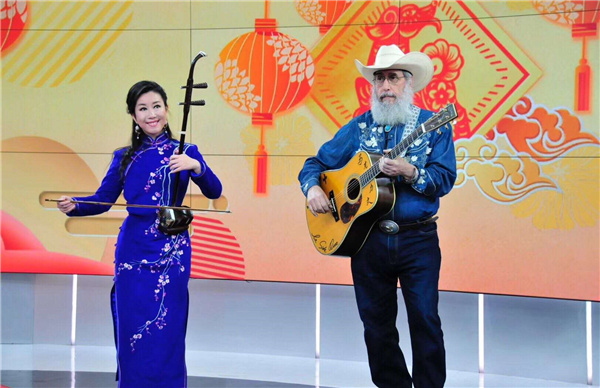 She also became his agent. Fu recalls he once performed in a well-known bar in Beijing's Houhai area, and she joined him onstage with her erhu.
"A group of tourists from northern Europe came up and watched and filmed us, and started singing with us. I realized a Chinese instrument and face can help better tell China's stories to foreigners."
So, they officially became band mates.
"I'm the 'in' and he's the 'out' in In Side Out," she explains.
Some songs are in English, while others are in Chinese-a language Levine doesn't speak but "sings very well", he says.
His latest song, The Future Is Very Bright Ahead Led by the CPC, celebrates the 100th anniversary of the founding of the Communist Party of China.
"It talks about the history and the progress in China that has been made under the leadership of the CPC," he says.
"I also point out that the principles on which the Party was formed must continue to be adhered to so that progress can continue."
The lyrics are mostly in English, while the chorus was sung by a number of people alternately in Chinese, French, Japanese, German and Russian when it was filmed at a Spring Festival event hosted by the Ministry of Science and Technology.
"China helped Mark, and Mark also helped China. He tells stories with his songs and sings them with his heart," Fu says.
"I hope he can sing China's stories to the world."
Levine also plans to release a song book when he reaches 100 songs.
He has so far written over 70 tunes that he calls "musical stories from my Chinese journey" since he moved to Beijing in 2007 to take a job at Minzu University of China, where he still works.
"He is a celebrity (at MUC)," says David Bartosch, a Beijing Foreign Studies University professor of classical Chinese and European philosophy who often engages in intellectual exchanges with Levine.
"Everyone knows him. Everyone greets him, and the students love him."