An American who sings China's stories
By Erik Nilsson | China Daily | Updated: 2021-04-01 07:30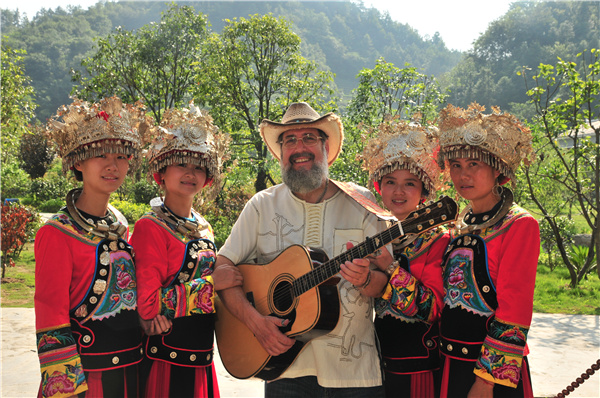 Levine has also spoken at more than 60 universities throughout the country.
"Among my presentations on China, the ones that I am most proud of have focused on the contributions made by foreigners who came to China from many countries during the mid-19th century to aid in the War of Resistance and the building of the People's Republic of China," he says.
"Frankly, few Chinese people are aware of these friends, and it is these stories that must be told."
He received 18 teaching offers nationwide in 2007, and decided on MUC in Beijing.
He says he's glad he chose the school, largely because of its ethnic diversity.
"For many in the US, there's little understanding of China as a multiethnic society," he explains.
"And, usually, when ethnic diversity is mentioned, the image that is hammered away at is only about conflict. My work and life at MUC has helped to expose the misrepresentation in this portrayal."
Levine says two highlights during his time in the country have been winning the Friendship Award-the highest honor China bestows on foreign experts for their contributions to the country's social and economic development-in 2014 and receiving his Chinese "green card "in 2016.
He has compiled many of his experiences in his 2014 book, Stories from My Chinese Journey, and his new book, Singing My China Stories to the World, scheduled to be published in April.
"Books like his are hugely important in portraying the reality of us living here to people outside of China," Bartosch says.
"It's written by a real China expert."
Levine hopes it increases cross-cultural understanding.
"I sincerely hope that those of us who have worked and lived here will be able to break through the cacophony of misinformation and disinformation that appears daily in Western media so that China's goal of building a community of shared future for mankind will become a common goal for the world," he says.
Bartosch says Levine is particularly apt for the task.
"Mark is a perfect ambassador for humanity, so to speak, who has found his ideal place here," he says.