Philippines urged to preserve peace in S.China Sea
By ZHOU JIN | China Daily | Updated: 2021-04-07 07:46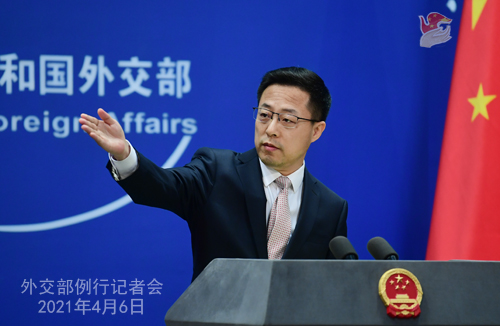 China urged the Philippines on Tuesday to stop hyping up Chinese fishing boats sheltering from the wind at Niu'e reef so as to avoid any negative effect on bilateral ties as well as to preserve peace and stability in the South China Sea.
Foreign Ministry spokesman Zhao Lijian made the comment after the Foreign Ministry of the Philippines cited the South China Sea Arbitration Award in a statement to reject China's assertion that Niu'e reef and its waters are among its traditional fishing grounds.
The country demands that China withdraw its fishing vessels and maritime assets from the area and the vicinity of the reef.
Niu'e reef, as part of China's Nansha Islands, as well as the part of the sea at issue, have been an important operation and shelter site for Chinese vessels, Zhao said.
"It is legitimate and justifiable for Chinese fishing boats to operate and take shelter there," he said.
The award of the South China Sea arbitration is illegal and invalid, he said, adding that China neither accepts nor recognizes it and opposes any claim or action based on it.
China's rights, interests and sovereignty over the South China Sea were formed over a long historical process and conform to international law, he said.
The Philippines attempted to use this null and void award to deny China's sovereignty and rights in the waters, and it rejects the history and right of Chinese fishermen on traditional fishing grounds, which violates international law and cannot be accepted, Zhao said.
The Philippines should view the issue in an objective and proper manner, he added.
State Councilor and Foreign Minister Wang Yi held talks with his Philippine counterpart Teodoro Locsin in Fujian province on Friday. At the talks, Wang said he hopes the two countries will avoid showing a hard attitude toward differences regarding the South China Sea issue and will jointly maintain stability in the area and the momentum of bilateral relations.