Yunnan's biodiversity thrives under watchful eyes
Xinhua | Updated: 2021-04-07 08:07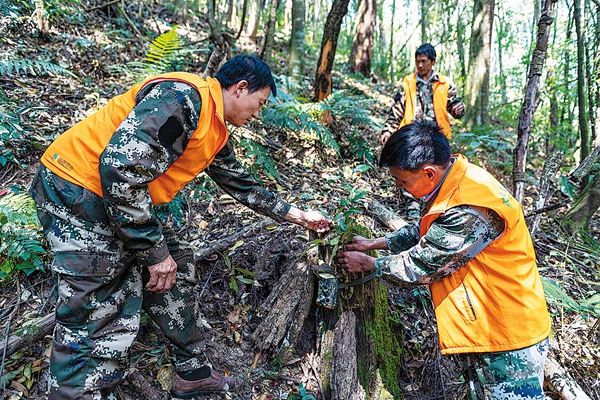 Don't be confused if you are told that Skywalker has been spotted in the forests of Southwest China. Instead of the Jedi from Star Wars, it refers to a gibbon species named by Chinese scientists.
Identified by its white eyebrows, this species of gibbon was discovered in the Gaoligong Mountains in 2017. The mountain range links three biodiversity hot spots including the Himalayas and vast mountains in southern Asia. All 34 biodiversity hot spots around the world are areas that are rich in wildlife and at high risk of destruction.
In terms of the number of species, Gaoligong Mountains is home to about 17 percent of higher plants, 30 percent of mammals and 35 percent of birds in China.
The eco-region sits in Yunnan province, with its capital Kunming chosen to be the host city of the 15th Conference of the Parties of the Convention on Biological Diversity scheduled for October.
Protecting Skywalker
According to a research paper published in the American Journal of Primatology, the Skywalker gibbon, or the Gaoligong Mountains hoolock gibbon, is morphologically and genetically distinct from other species.
Its beard is completely black or brown instead of white, and white hair is absent in the suborbital area. Fan Pengfei, one of the authors of the paper and a life sciences professor at Sun Yat-sen University, says its population is far fewer than the giant pandas-not more than 150 in China.
Fan says the name was inspired by Luke Skywalker from Star Wars. The name bears the hope of scientists that the species can survive tenaciously in the wild. The corresponding Chinese name tianxing comes from Chinese classic I Ching, or the Book of Changes.
A family of three Skywalker gibbons lives near Nankang village in Baoshan city.
Pointing to the gibbons foraging on the distant treetops, forest ranger Yang Youshan recites their names so easily as if they were his friends.
Yang has been following the gibbon family for 12 years, and the trio have already grown accustomed to the presence of Yang and his co-workers. It is not an easy task to track and monitor the gibbons as they are highly vigilant, wandering in the tree crown and jumping fast.
Patrols and scientific research are of great significance in managing a nature reserve. Authorities have set up 29 vegetation sample plots, 22 plant sample plots and six wildlife monitoring spots, and installed more than 600 infrared cameras.
"We have to protect our green home like protecting our eyes," says He Guipin, who has spent 26 years exploring the forest.
He leads a patrol team of 20 people, managing and protecting over 53,300 hectares of forests in Gaoligong. They are responsible for protecting the forests, preventing forest fires and cracking down on illegal logging and poaching.
In 2011, He and his colleagues took a photo of a black monkey. It was later confirmed as a new species of the golden monkey after DNA identification of the extracted feces and hair.
The Chinese primate expert group named it the Nujiang River golden monkey. He deems his participation in the discovery and protection of the species the most fulfilling thing ever.
"This is the fifth golden monkey species in the world, and now it has become a star animal in Gaoligong while being under top-class protection," He says. He notes that the population of this golden monkey species has risen from about 100 to 250.
Statistics show that more than 620 new species of animals and plants have been discovered in Gaoligong since 1980, outnumbering any other eco-region in China.
Other figures indicate that there are 5,728 species of higher plants, 205 species of mammals, 525 species of birds and 1,720 species of insects in Gaoligong, including more than 100 species of wild plants and animals under national-level protection.