Nation's goodwill to have lasting effects
Share - WeChat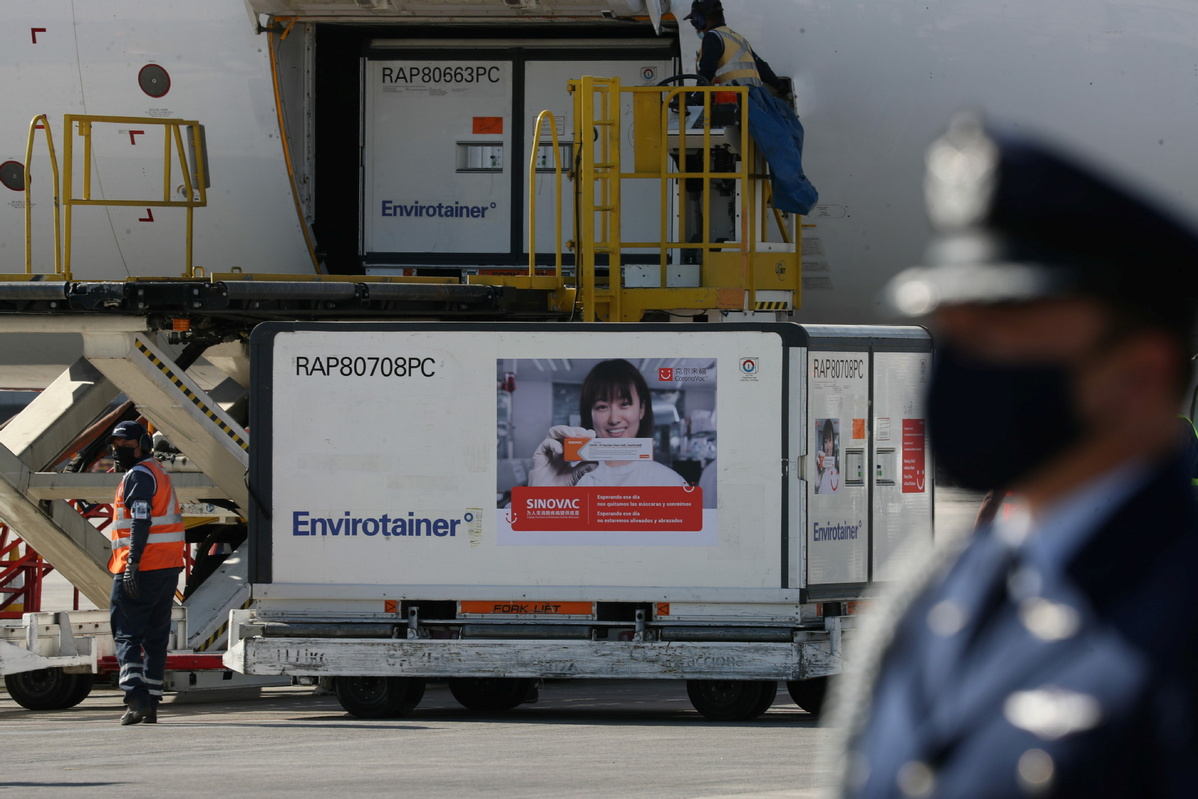 China's goodwill in supplying vaccines and other healthcare supplies to Latin American nations throughout the COVID-19 crisis is translating into more economic opportunities and boosting trade and investment ties, apart from saving lives.
With the United States and other wealthy nations generally choosing to look after themselves first and limiting exports of crucial medical items, many countries across Latin America have turned to China in their efforts to deal with the pandemic.
More than any other country, China has made it a point to send vaccines around the world. Through this support, the country is building on the relationships it has established over the past couple of decades.
Chinese vaccine makers have stepped up in Latin America, carrying out trials in Argentina, Brazil, Chile, Peru and Mexico, finding partners to set up local manufacturing facilities and exporting millions of doses to countries that, by and large, lack the capacity to make vaccines at home.
The initiatives have come as many of the countries in that region have had limited access to vaccines made in Europe or the US, despite significant need.
COVID-19 has had an outsized impact on Latin America and the Caribbean. The region has a little more than 8 percent of the world's population, but has had 18 percent of all the global coronavirus infections and a quarter of all deaths, as of January. In addition, in places like Brazil, case counts are reaching record highs.
China has donated more than $215 million worth of supplies to the region, according to research by the think tank Inter-American Dialogue and Boston University's Global Development Policy Center. The United States Agency for International Development and the US State Department have, by comparison, provided only $153 million in such aid.
Brazil's Butantan Institute, in Sao Paulo state, established links with Sinovac Biotech to manufacture the Chinese company's COVID-19 vaccine CoronaVac. The vaccine has become a key building block of Brazil's mass inoculation campaign.
Among others, Peru plans to purchase 38 million doses of vaccine from Sinopharm, and Mexico will buy 35 million doses of the single-dose vaccine developed by CanSino Biologics. The first vaccines that Costa Rica received came from China.
China's efforts have not gone unnoticed.
Argentine President Alberto Fernandez, for one, sent a letter of thanks to President Xi Jinping in January and plans to visit China later this year. Countries such as Mexico and Colombia have said that Chinese vaccines helped shore up their vaccination programs.
These efforts to support healthcare systems and vaccination programs could lead to stronger ties in other areas, particularly if the efforts help shore up public opinion.
China's newfound access could also lead to more deals in areas such as infrastructure construction, mining and agriculture, apart from people-to-people exchanges.
This could give China momentum in its efforts to deepen ties with Latin America through investment, trade and financing. These efforts have been underway for decades and have had a fair amount of success.
Brazil's trade with China, for example, has ballooned from $2 billion in 2000 to $100 billion in 2020.Brazil now sends about a third of its exports to China.
China spent $136 billion on Latin American commodities through 2020 and is likely to spend more in the years ahead. At the same time, Chinese merger and acquisition activities in Latin America rose to about $7 billion in 2020, almost double the total for 2019.
China's growing consumer class has a strong appetite for commodities such as beef from Uruguay and Argentina, copper from Chile and farm produce from Brazil, and Latin American nations-many of which have volatile economies-need the sales to support their growth.
None of this is happening in a bubble. Although the United States, which is much closer geographically, still trades almost five times as much with Latin America than China and invests about a third as much, China's totals are on the rise.
China has already become the top trading partner of many countries in the region, including Chile, Peru and Uruguay, according to Inter-American Dialogue.
Over the past year, China managed to build goodwill by stepping up supplies of personal protective equipment and vaccines to help Latin America in its anti-pandemic fight. This goodwill is likely to pay off in more access, more opportunities and closer ties with countries throughout the region.
The author is managing director of Bahati, an editorial services agency based in Hong Kong. The views do not necessarily reflect those of China Daily.