Schools gear up for national security activities
By CHEN ZIMO in Hong Kong | China Daily | Updated: 2021-04-15 09:14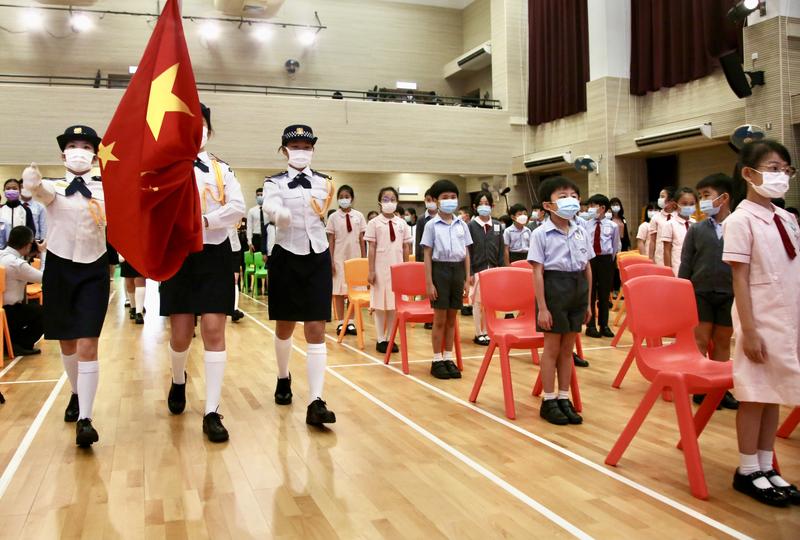 Schools in the Hong Kong Special Administrative Region are responding to the government's call to strengthen national security education with a range of activities due to be held around the sixth National Security Education Day on Thursday.
Educators hope the activities will help create a campus culture that highlights civic responsibility and national security awareness among local students.
To mark National Security Education Day, the first one since the National Security Law for Hong Kong was enacted last year, Hong Kong's Education Bureau is encouraging schools to organize activities-such as saluting the national flag and singing the national anthem-to strengthen students' sense of responsibility to safeguard national security.
Wong Ching-yung, the principal of Scientia Secondary School in Ho Man Tin, Kowloon, said the school will designate 19 students as "National Security Education Ambassadors", who will be tasked with facilitating the school's national security curricula and activities.
Students of the school have produced a national security-themed wall poster they will enter in a citywide design competition organized by the Education Bureau. They also signed up for the bureau's online quiz with the same theme.
Wong said these events, which will be held regularly rather than as one-off celebrations, mark a new beginning for national security education in Hong Kong.
Yeung Ming-kai, head of the school's civic education and history department, said he hoped the campaign would clear up the misunderstanding that national security has little to do with students' daily lives, or that the concept is only a matter of national defense and diplomacy.
Aware of responsibility
Young people should be aware of their responsibility for national security, including abiding by the law and understanding and respecting the nation as a whole, including its diverse cultures and actual situation, said Yeung.
Starting in late April, Yeung and his colleagues will hold seminars to incorporate national security-related knowledge into regular subjects. For example, a more detailed introduction to China's borders will be given in geography classes.
Chu Wai-lam, principal of Fung Kai No 1 Primary School in North District, said that the city's schoolchildren should not be left behind in the city's national security education. They should strengthen their national identity from an early age.
"Just as it is not too early to tell children to love their family and to warn them of the dangers of crossing the street, it is also not too early to tell them to be patriotic and alert them to threats to national security," said Chu.
In a competition for artworks on the theme of national security, the school will display 150 works by students on the education day, including slogans promoting national security and cartoon images of a national security mascot.
The principals and teachers also said that after the campaign, the schools will continue to seek professional support on national security education from the Education Bureau and Chinese mainland experts, such as in compiling a comprehensive national security textbook and obtaining up-to-date analysis of the global security situation.
"It is a bit challenge for local educators … because we have been wasting time for the past 24 years," said Wong. "But it's not too late to act now."
Chen Shuman contributed to this story.