Economic stability in HK called key
By OSWALD CHAN and WANG YUKE in Hong Kong | China Daily | Updated: 2021-04-16 06:55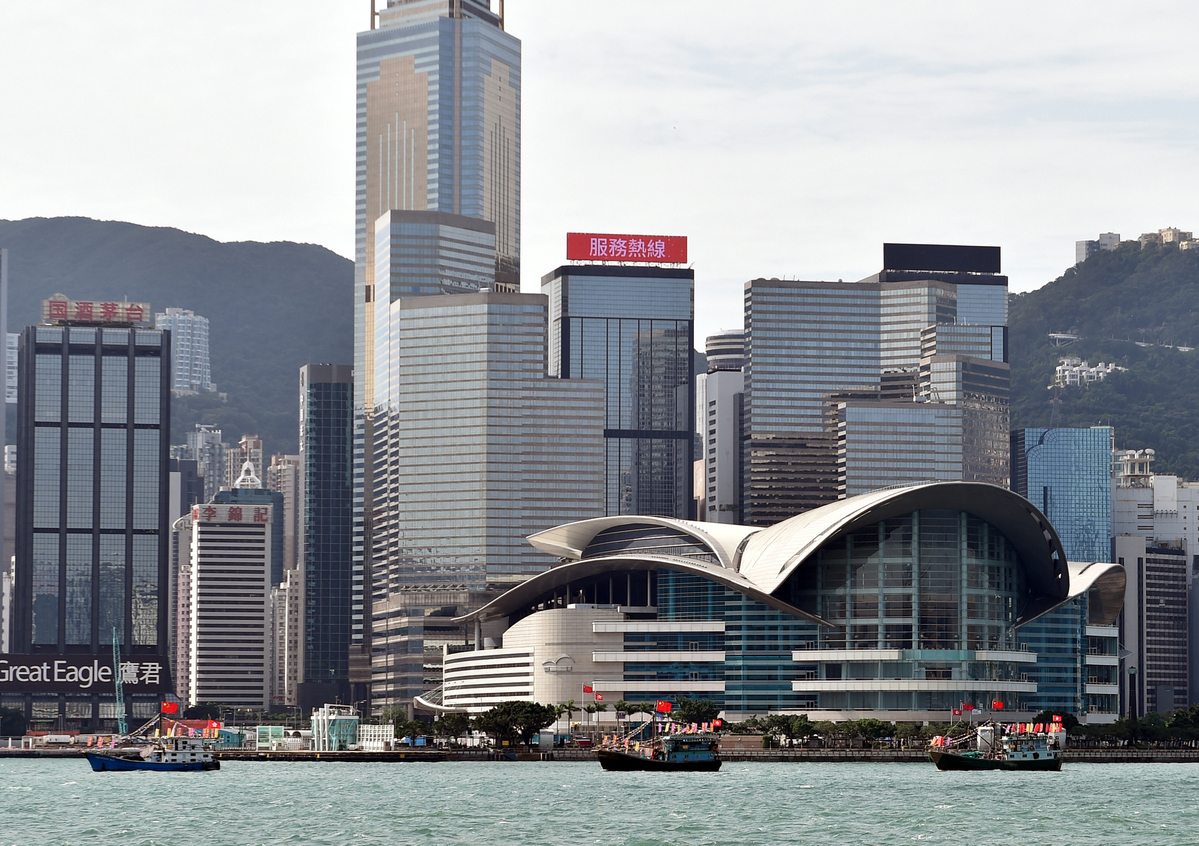 Financial, political, social status of city seen as important for national security
Hong Kong vows to consolidate economic and financial security, which is the lifeblood and cornerstone of a modern economy and society, the city's finance chief and heads of financial regulators said at a forum on National Security Education Day 2021 in the special administrative region on Thursday.
Since China's reform and opening-up, the SAR's financial market has continuously brought in global capital to support national development. By the end of 2019, the city invested a total of $1.2 trillion in total through direct investment, which accounts for 55 percent of the mainland's overseas direct investment.
"Economic security is a major constituent of national security. Without a stable political and social environment, the economy cannot develop. Security is the precondition of economic development and economic development is the guarantee of safety," Financial Secretary Paul Chan Mo-po said.
"If Hong Kong's economy is not protected, then it is a risk to national economic security and overall national security," Chan added. "But if we can guarantee safety for our economy, we can ensure long-term stability and prosperity. It is our responsibility to safeguard national security in this regard."
The city's finance chief pledged to bolster economic and financial security in several respects.
First, Hong Kong's government needs to ensure the security of major industries so as to support sustainable development of the economy, create jobs and maximize tax revenues.
Regarding financial security, the Hong Kong government's goal is to safeguard the bottom line of preventing systemic financial risks.
"We must uphold the linked exchange rate system that is the foundation for market confidence. We also must have in place a stringent and effective monetary system to make sure that banks, securities, insurance and asset management can develop orderly."
"Thirdly, we must guard against cross-market risk and fill the possible gap in the regulatory system. And finally we want to help the country's financial opening-up process by playing a good role as the testing ground and firewall, and to alleviate offshore market risks so they would not be transmitted to the mainland market."
The government should also have enough resources to support social and economic development, guarantee the operation of the economy and promote long-term sustainable development by providing good employment quality as well as mobility opportunities for youth, Chan said.
Hong Kong Monetary Authority Chief Executive Eddie Yue Wai-man said maintaining currency stability, banking stability and cross-market stability is vital for financial stability.
"The Hong Kong financial market exhibits a high level of connectedness with the international market, such as in the stock market, futures market and derivatives market, and they affect one another. The HKMA will monitor the situation in the local and international markets to identify hidden risks and carry out follow-up work," Yue said.
Tim Lui Tim-leung, chairman of the Securities and Futures Commission in Hong Kong, said the city's role lies in leveraging its established ties with the international market and all the advantages of its sophisticated financial milieu to support the nation in expanding the financial sector.
"In the process, Hong Kong should do its utmost to help optimize cross-boundary risk management and monitor risks involved in the influx and outflow of capital in extreme situations," Lui said.
Major roles
Laurence Li Lu-jen, chairman of the Financial Services Development Council in Hong Kong, said the city is expected to play its role to the fullest in three major areas.
The first is to facilitate the nation's boosting of its international economic influence. Hong Kong, for example, can tap its vast renminbi fund pools to facilitate renminbi derivative trading.
Secondly, Hong Kong is well-placed to provide a reliable safe haven and risk control center for national financial exchange and investment.
Lastly, in the development process of the dual-circulation development paradigm, the strength and advantages of the city's legal system can be used to solve conflicts and disputes, provide arbitration and handle other detrimental elements.