Satellite navigation system helps track cows, camels
By Mao Weihua and Xing Wen | China Daily | Updated: 2021-04-23 09:19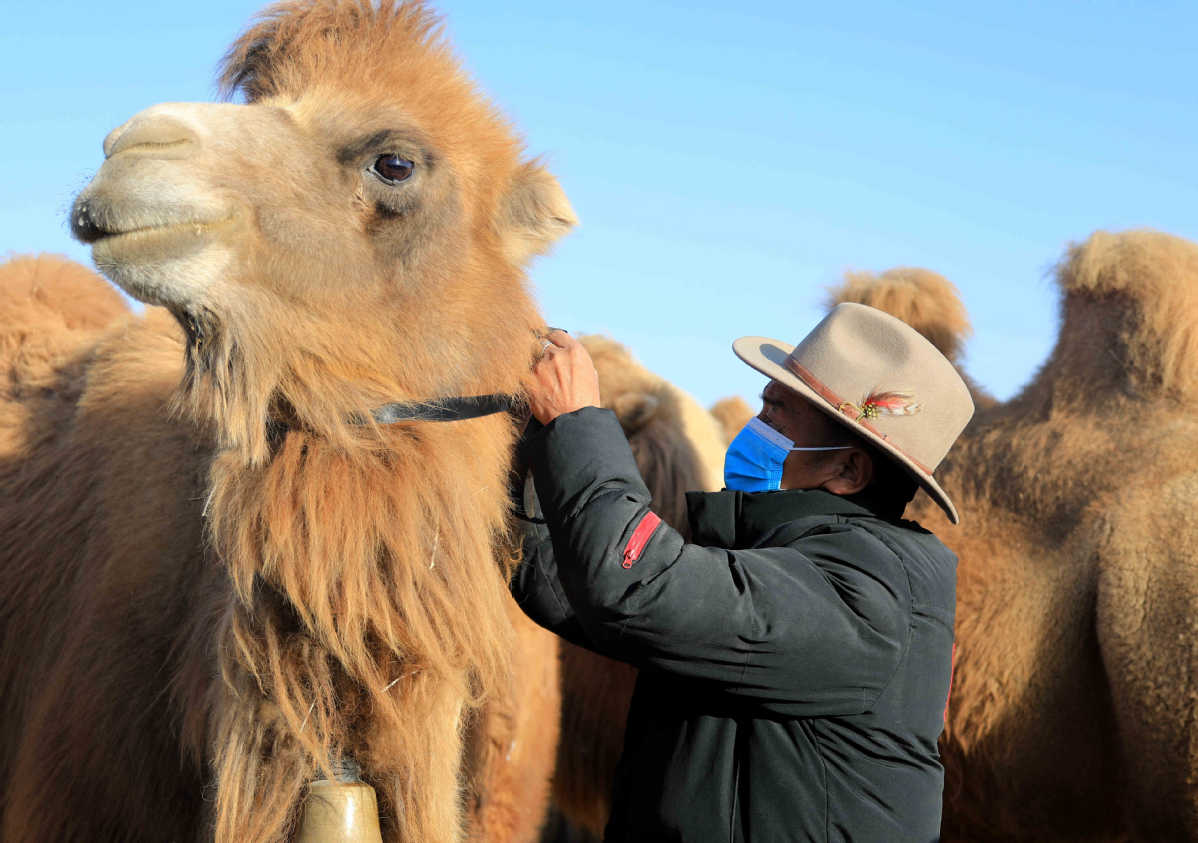 It's time for Tursun Marhadan, a herdsman in the Xinjiang Uygur autonomous region, to graze his 20-odd cows in the pastures of Qinghe county, Altay prefecture.
Traditionally, he would have to go outside and herd his animals to the site. However, he can now lie back and watch television at home as he's able to monitor their location over real-time video through a smartphone application.
The Beidou navigation service has been used to increase the efficiency of animal husbandry and reduce herdsmen's workloads since October.
Chips that can transmit and receive signals have been installed in the ears of cows, allowing herdsmen to check their locations on their phones. That has changed the traditional way of herding livestock considerably.
"In the past, herdsmen had to ride dozens of kilometers a day to track down their cattle on the grand pasture. It would take more than 10,000 yuan ($1,540) to pay for the gas consumed by the motorbike every year," Tursun said. "Today, the Beidou navigation service helps us herdsmen to save money and energy."
More than 1,000 camels in Bohu county in Xinjiang's Bayingolin Mongolian autonomous prefecture have been fitted with black collars that have chips connected to the Beidou Navigation Satellite System, enabling their owners to monitor them remotely.
Baodumar, a herdsman with a cooperative in Bohu, has been promoting the smart way of herding animals among fellow villagers.
Villager Wang Daihe has expressed interest in breeding camels.
"The navigation system makes it convenient to herd camels," he said. "I hope I can become rich after I raise the animals."
The cooperative has more than 300 camels, and they used to keep Baodumar busy the whole day.
"The application of the navigation service in animal husbandry allows me to put out camels on the pasture and check their positions at home. That saves much time," he said.
Ulmujur, the Party secretary of Bohu's Tenghu town, said raising camels not only helps to increase villagers' incomes, but also boosts local tourism.
"Tourists can come to ride the camels. And products made from camel milk are also popular," he said.
Herdsmen in Urumqi, Xinjiang's regional capital, and Ili Kazak autonomous prefecture have also benefited from the convenience provided by satellite tracking of their livestock.
MAO WEIHUA in Urumqi and XING WEN