Sino-German ties can serve as role model for global unity: China Daily editorial
chinadaily.com.cn | Updated: 2021-04-29 19:28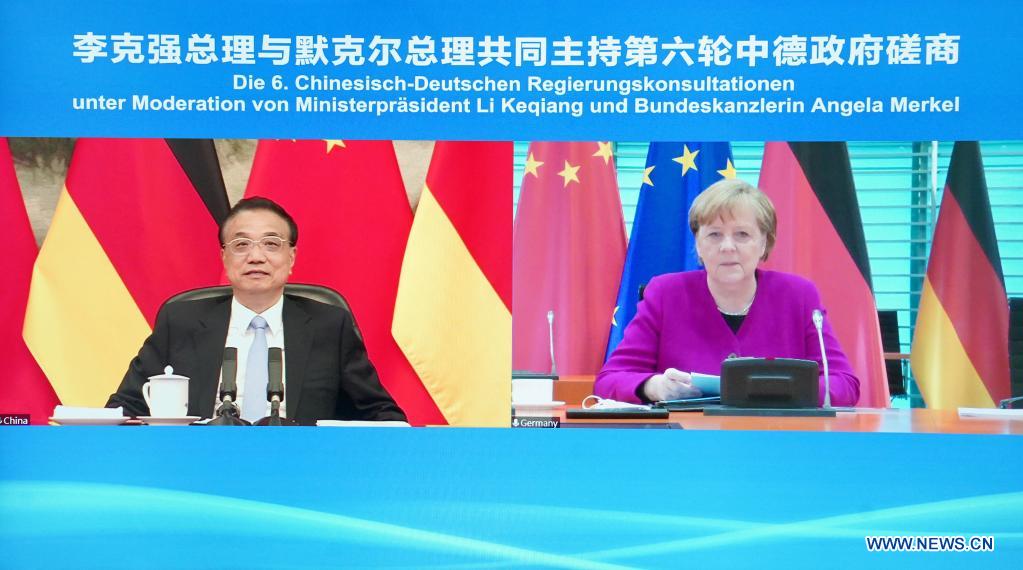 The rampancy of the COVID-19 pandemic calls for international cooperation, as only by working together can countries win the war against the deadly virus and boost a global economic recovery. China and Germany have set a good example in this regard. Their frequent high-level dialogues, a defining feature in China-German interaction even during the pandemic, have guaranteed the sustainability of bilateral ties, which also occupy a special niche in China's cooperation with the European Union as a whole.
The sixth China-Germany intergovernmental consultation, which was held on Wednesday via video link, once again showed the two sides' determination to maintain dialogue and cooperation despite the United States intensifying its efforts to persuade its European allies to join it in confronting China.
Co-chaired by Premier Li Keqiang and German Chancellor Angela Merkel, Wednesday's meeting brought together 25 ministerial officials from both sides, underscoring the importance each country attaches to promoting bilateral ties. As Premier Li pointed out in his opening remarks, the intergovernmental consultation works as a "super engine" powering and deepening bilateral pragmatic cooperation.
Cooperation and win-win results have become the main thrust of the China-Germany all-around strategic partnership. After displaying strong momentum last year, China-Germany trade grew by 41.5 percent year-on-year in the first quarter, fully demonstrating the huge potential of bilateral cooperation. Their growing trade ties have not only brought real benefits to the two peoples but also contributed to the security and stability of the global industrial and supply chains. Their positive interaction sends a strong signal to the other EU members that they will be on the wrong track if they let Washington's geopolitical considerations commandeer the EU's relations with China.
Considering that the pandemic is far from over and protectionism still exists, China and Germany, both major, influential economies, should continue to uphold their commitment to multilateralism and free trade so as to nourish a healthy trend of openness, reciprocity and win-win cooperation in the world. To this end, the two should continue to work to enhance their anti-epidemic cooperation, promote fair and equitable distribution of COVID-19 vaccines, and reject vaccine nationalism.
China also stands ready to work with Germany — and the EU at large — to jointly promote the signing and entry into force of the China-EU investment agreement as soon as possible so as to facilitate the healthy and stable development of bilateral relations as well as world economic growth.
With the world becoming more turbulent and facing formidable challenges from the pandemic and other crises, such as climate change, they need to shoulder important global responsibilities as their cooperation extends beyond bilateral ties and they need to contribute their wisdom to addressing the pressing global issues.
Sharing similar views on a wide range of global issues, the two countries should enhance their coordination so they can send a strong message of cooperation and demonstrate the strength of unity.