Photographer captures city's hutong history
By LI HONGYANG | China Daily | Updated: 2021-05-04 09:25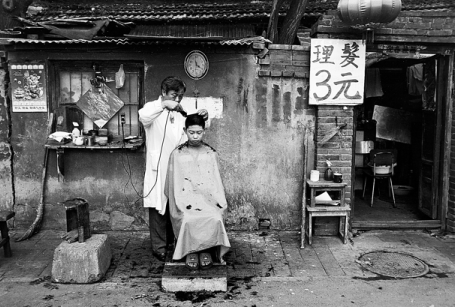 In 1997, he opened a restaurant selling luzhu, which is boiled pork giblets with baked wheaten paste, on the Dashilan West Street.
He displayed his photo collection in the restaurant, and his work attracted the attention of diners.
In 2006, a Korean senior who ate in the restaurant told him that he admired Jia's alley photos and invited him to take part in the 2006 Daegu Photo Biennale in South Korea.
"Although I suspected it might be a scam, I sent dozens of photos to him," Jia said. "Surprisingly, he later sent me back an award certificate, a collection of the biennale's works and a prize of $2,000."
His award­winning work Peizhi Hutong depicts a shirtless elderly man with a cattail leaf fan in his hand. The man is sitting on a threshold of a house in the hutong.
"It was a hot summer day, but most households in alleys had not been equipped with air conditioners," Jia said. "Seniors loved to enjoy the cool winds that blew through doors.
"The scene touched me strongly and reminded me of my own father and grandfather."
It wasn't until 2000 that Jia treated his hobby as a serious and urgent occupation because some old hutong started to be renovated.