Competition brewing up in China's RTD coffee market
By WANG ZHUOQIONG | China Daily | Updated: 2021-05-04 12:28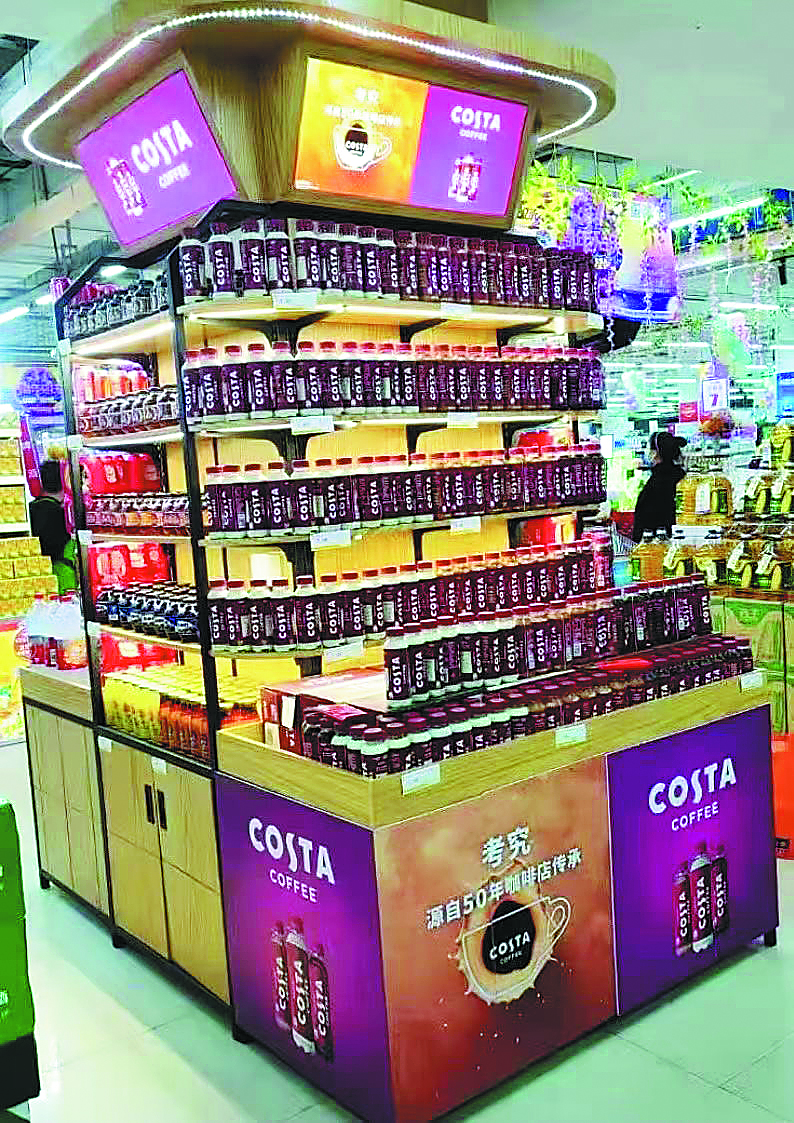 The Chinese coffee market is one of the most innovative markets in the world, according to data from Euromonitor International, a leading provider of strategic market research.
Coffee consumption is witnessing constant upgrades, while consumer demands for more diversified tastes and derivative experiences are becoming new trends, said experts.
In recent years, China's domestic RTD coffee market has continued to grow rapidly.
According to data from Euromonitor International, the domestic RTD coffee market is expected to exceed 14.9 billion yuan ($2.30 billion) this year.
In China, per capita coffee consumption volumes are far lower than the mature markets in the United States, South Korea and Japan.
In the case of the RTD sector, the potential is massive.
Three trends-black coffee, premium and multiple flavors are driving the rapid growth of RTD coffee in the Chinese market, according to Ipsos, a global marketing research institute.
"Costa Coffee has strong confidence in the prospects of Chinese coffee market, in China and the Chinese economy. In the next five years, Costa plans to expand its new on-premise coffee stores, cover national markets with RTD coffee retail points and strengthen online family occasion coffee access," according to the unnamed Costa's official.
According to Mintel China's report on the RTD coffee market in the country, which was released last year, despite being a predominantly tea-drinking nation, China's coffee market has seen steady growth over the years.
Looking ahead, the RTD coffee sub-category's retail market value is expected to outperform the category with an estimated annual growth of 18.1 percent to reach 11.5 billion yuan by 2023.
The entire category, buoyed by expected growth in RTD and fresh coffee, is expected to have an annual growth of 12.3 percent and reach 29.2 billion yuan by 2023.
Three factors that will likely drive growth in the RTD coffee sub-category are growing interests in coffee consumption, demand for "fast solution" to save time in preparing and consuming coffee, as well as premiumization of products, according to the Mintel report.
Among the leading RTD coffee brands, Nestle controls the RTD coffee market in China with a 45.5 percent market share as of 2017.
In contrast, the next two RTD brands lost ground in 2017, with number two Uni-President Coffee ceding 2.3 percent to 12.2 percent, while the third placed Suntory lost 1 percent to 10.3 percent.
With Nestle's market share close to four times that of its closest competitor, a major shuffle is unlikely in the next few years, it said.
Annie Yao, account director of Mintel China, said: "Consumers are becoming increasingly concerned about what goes into the products they consume, and brands that focus on natural goodness without added sugars will reap the benefits."
Yao said the challenges are that new entrants, particularly established brands from other categories, are blurring the boundaries of the RTD tea and coffee categories.
"It's not hard to see how spring and mineral water brands can pose a threat," she said.
For example, Nongfu Spring has leveraged its association with premium-quality water sources to enter the tea market with its "Oriental Leaf" products.
Other entrants may enter with a functional angle. For example, snack brand Three Squirrels launched their first beverage product Second Brain with medium-chain triglycerides, protein and dietary fiber, which are said to be good for the brain.
The key question is whether the entrance of other players will increase and stimulate consumption, thereby growing the pie for everyone, said Yao.