Chauvin's defense attorney requests new trial
By BELINDA ROBINSON in New York | China Daily Global | Updated: 2021-05-06 10:41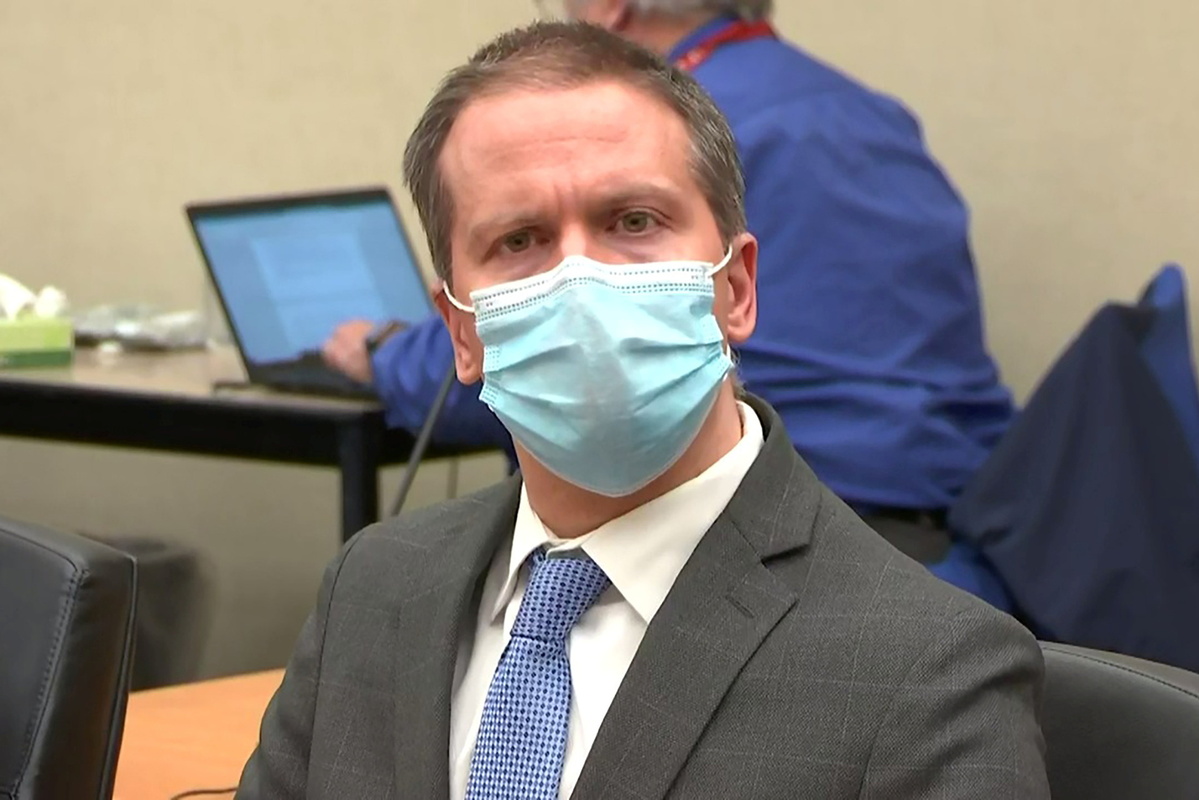 The defense attorney for Derek Chauvin, the former police officer convicted of the murder of George Floyd, filed a legal motion Tuesday to request a new trial, claiming juror misconduct and errors in discretion by the judge.
Eric Nelson, Chauvin's defense attorney, said that he is requesting a new trial on several grounds, saying his client did not receive a fair trial due to jury misconduct and also bias caused by widespread publicity over the case.
Last month, Chauvin, a white ex-Minneapolis police officer, was convicted of second-degree unintentional murder, third-degree murder and second-degree manslaughter in the death of Floyd, 46, an unarmed black man, on May 25, 2020.
Chauvin, 45, was captured on video nonchalantly kneeling on Floyd's neck for more than nine minutes, hands in pockets, sunglasses on his head, as Floyd begged and pleaded for his life, struggled to breathe and later died. The jury took 10 hours to convict him on all counts.
Nelson wrote in the brief that Hennepin County Judge Peter A. Cahill, who presided over the six-week trial, had flouted the discretion of the court while violating Chauvin's right to a fair trial and due process. That was because he denied Nelson's request that the trial be moved to another county to avoid the intense publicity that surrounded the case in Minneapolis, the lawyer said.
Nelson wrote: "The publicity here was so pervasive and so prejudicial before and during this trial that it amounted to a structural defect in the proceedings."
While it is customary for a new trial to be requested in the weeks after a guilty verdict, legal experts say, Nelson's brief flagged eight reasons why he is seeking a new trial.
He critiqued Cahill's refusal to sequester the jury for the trial or warn them to avoid all types of media.
He said that Cahill abused his discretion when he submitted jury instructions that did not accurately reflect the law on the murder charges and use of force. He took issue with the judge permitting the state to present cumulative evidence on use of force.
He further criticized the judge's decision to allow Floyd's friend — who was present at the scene during his arrest — not to testify.
Nelson's filing also requested an order "to impeach the verdict" on "the grounds that the jury committed misconduct, felt threatened or intimidated, felt race-based pressure during the proceedings, and/or failed to adhere to instructions during deliberations."
Additionally, the defense attorney criticized the decision by the city of Minneapolis to award the Floyd family a $27 million wrongful death settlement shortly before the trial began.
Floyd's death at the hands of Chauvin received widespread condemnation in the US, leading to protests against police brutality in every state and in more than 60 countries worldwide.
This week, reports emerged that one of the jurors in the Floyd trial, Brandon Mitchell, 31, went on a march in Washington DC, on Aug 28, to honor the 57th anniversary of the March on Washington when the Reverend Martin Luther King Jr gave his famous "I Have a Dream" speech.
Mitchell was pictured alongside two other men wearing a T-shirt with an image of King and the phrase, "Get Your Knee Off Our Necks."
Before the trial, all jurors had to fill out a questionnaire that asked whether or not they or someone they knew had participated in a march or protest against police brutality or police use of force.
When questioned before the trial, Mitchell said that he had a favorable impression of "Black Lives Matter" as it was a statement of fact.
Nelson asked him to clarify what he meant, and he wrote on the questionnaire: "Black lives just want to be treated as equals and not killed or treated in an aggressive manner simply because they're Black."
Mitchell defended his actions in the Star Tribune newspaper, saying that he went to the march in Washington to celebrate King, not to protest Floyd's death.
"The opportunity to be around thousands and thousands of black people, I just thought it was a good opportunity to be a part of something," he said.
However, Floyd's brother, Philonese Floyd, and his sister Bridgett Floyd along with other relatives from the family attended.
Cahill now has the option to convene a hearing and question Mitchell and look into whether he lied on his questionnaire.
But even if it is determined that Mitchell intentionally misled the court, it may not be grounds to throw out the verdict, a legal expert said.
Melissa Murray, a law professor at New York University, told The New York Times: "Throwing out a jury verdict under those circumstances is probably a long shot. Long shots are what appeals are made of."