Long March rocket debris land near Maldives
By Zhao Lei | chinadaily.com.cn | Updated: 2021-05-09 11:07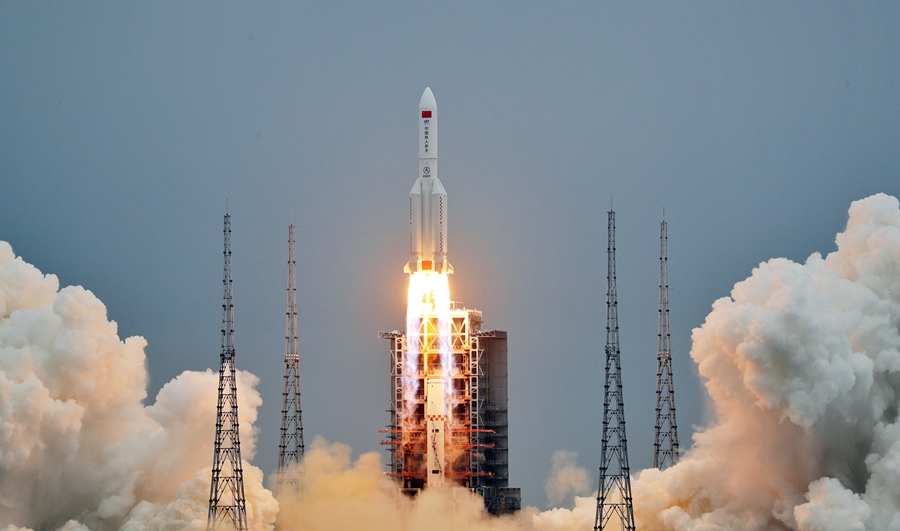 Debris of the recently launched Chinese Long March 5B carrier rocket fell back to the Earth, into the Indian Ocean, on Sunday morning, and most of the remnants burnt up during the reentry process, the China Manned Space Agency said.
The debris' atmospheric reentry and crash took place at 10:24 am (Beijing time), the agency said in a brief statement, noting the touchdown site is in waters located at 2.65°N and 72.47°E. It did not provide additional details.
Based on the coordinates given by the agency, the site is in waters near Maldives.
About 30 minutes before the crash, the agency published a notice saying the reentry would occur sometime between 9:57 and 10:27 am.
The final return put an end to concerns on possibility of debris crashing over an inhabited area after many foreign media had published report about what they called "an uncontrolled reentry" of the Long March 5B that lifted the core module of China's space station on April 29.
A Long March 5B is 53.7 meters long, with a core-stage diameter of 5 meters. The rocket is propelled by liquid oxygen, liquid hydrogen and kerosene and has a liftoff weight of about 849 tons.
The rocket is the most powerful Chinese launch vehicle when it comes to carrying capacity to the low-Earth orbit. It is essential to China's space station program because it is now the only Chinese launch vehicle capable of carrying large space station parts to orbit.