New wave for seaside theater
By Cheng Yuezhu | China Daily | Updated: 2021-05-12 08:22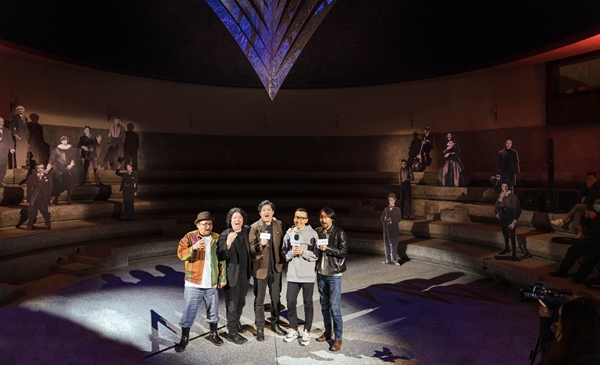 Resort to host festival where the location will serve to enhance the stage drama, Cheng Yuezhu reports.
A new wave denotes a different approach, and theaters the world over have been describing their performances in such terms almost since the first stage curtain was raised. But rarely was its usage more apt than in defining the Aranya Theater Festival. Hint: Its slogan is half water, half stage. It really is set to make waves, as it will be the first theater festival in China that takes place by the sea. It also refers to the concept that drama, like the sea, is unlimited.
The Aranya Community lies on the coast of Qinhuangdao in Hebei province. With its serene seascape and minimalistic architectural aesthetic, it is a popular destination for urbanites seeking a tranquil weekend getaway.
Themed as "somewhere and temptation", the first Aranya Theater Festival will take place from June 10 to 20, during which time 12 locations will be available for performances. The distinctive architecture of Aranya, such as the Solitary Library and the Dune Art Museum, has been adapted into theater venues.
Director Meng Jinghui, founder and artistic director of the festival, says that the organizing committee researched and discussed the program for about six months before settling on the 25 stage works by 25 different directors to be showcased during the festival. The performances will provide the audience with an amalgam of diverse styles and aesthetics.
"Here you can freely indulge in your wishes and fantasies, and enjoy a memorable journey with the artists and other audience members at this exceptionally beautiful seaside spot," Meng says.
Meng himself will present two of his own plays, Einstein's Dream and a new play, The Ballad of the Sad Cafe, adapted from the novella of the same name by American writer Carson McCullers.
The premiere performance of the festival will be A Madman's Diary, directed by Polish director Krystian Lupa and rendered onstage by well-known Chinese performers Wang Xuebing and Mei Ting.
With glowing red lines that outline the stage and holographic projection technology, Lupa offers his interpretation of the short story by Lu Xun, a leading figure in modern Chinese literature.