Lavrov, Blinken agree to meet in Iceland next week
By REN QI in Moscow | China Daily | Updated: 2021-05-14 07:21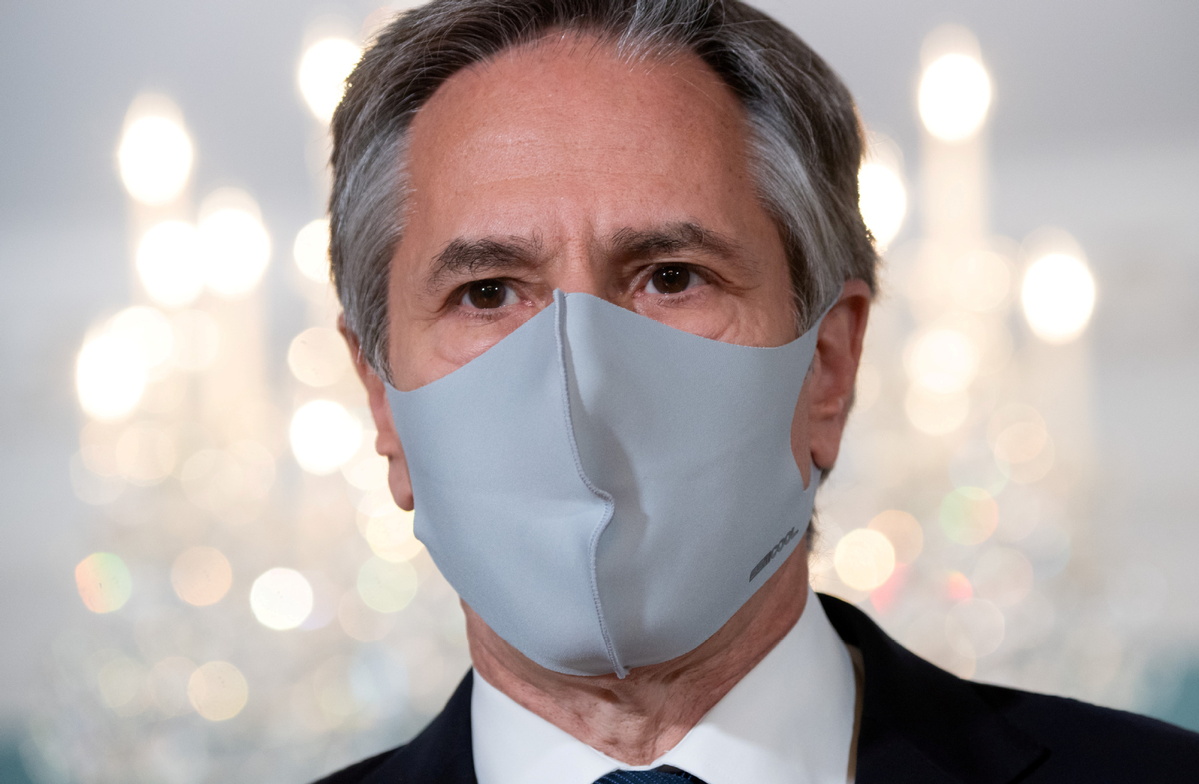 Russian Foreign Minister Sergei Lavrov and US Secretary of State Antony Blinken on Wednesday agreed to meet in Reykjavik, Iceland, on May 20 on the sidelines of an Arctic Council meeting.
The announcement-after the top diplomats spoke by phone-came amid the biggest crisis in ties between Russia and the United States in years. It will be the first face-to-face meeting between cabinet members since US President Joe Biden took office in January.
Their meeting in the capital city of Iceland comes ahead of a potential summit between Biden and Russian President Vladimir Putin. No date has been set for the possible meeting between the two leaders, although Biden has said it is his "hope and expectation" he will meet with his Russian counterpart.
The Russian Foreign Ministry said that in the phone call, Lavrov and Blinken discussed international and bilateral ties, and agreed to hold talks on the sidelines of the ministerial meeting of the Arctic Council.
The two diplomats discussed the Democratic People's Republic of Korea, Iran and "strategic stability" as well as cooperation within the Arctic Council.
The US State Department confirmed the meeting would take place "next week".
Blinken also called on Russia to release Paul Whelan and Trevor Reed, two US citizens whom Washington says were "unfairly detained" by Moscow.
The two diplomats also discussed Washington's proposal to organize the summit between Biden and Putin, Russian state media agency Tass said.
Biden said last week that he hoped to meet with Putin during a planned visit to Europe in June.
"We're working on it," Biden said, suggesting his proposed summit with Putin could come as soon as the middle of next month, when he will be in Europe seeking to restore trans-Atlantic ties on his first foreign trip as president.
Increasing pressure
Biden has increased pressure on the Kremlin, and his labeling of Putin as a "killer" has met with fierce criticism in Moscow. Russia recalled its ambassador for consultations and warned that ties were on the brink of outright collapse.
Washington in April announced a new round of sanctions including the expulsion of 10 diplomats and a restriction on US banks trading in Russian government debt.
Moscow responded by expelling 10 US diplomats, banning top US officials from entering the country and prohibiting the US embassy from employing foreign nationals.
Russian newspaper Kommersant reported on Wednesday that the spokeswoman for the US embassy in Moscow, Rebecca Ross, is among the 10 diplomats to be expelled. Ross and nine other US diplomats have to leave Russia by May 21.
"It's not a Russian initiative,"Kommersant quoted an unnamed Russian Foreign Ministry source as saying.