Daqing Oil worker emphasizes study, innovation
By TIAN XUEFEI and ZHOU HUIYING in Harbin | China Daily | Updated: 2021-05-17 08:37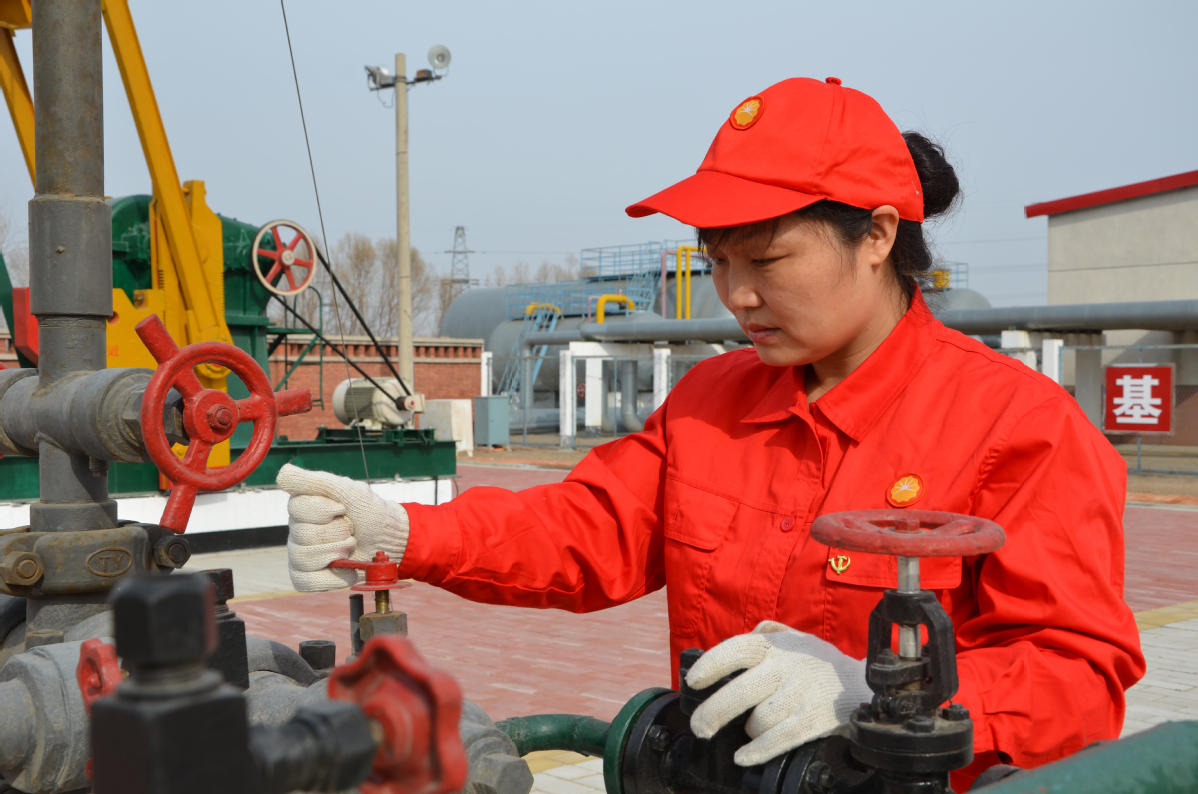 Six months later, Liu Li still feels a thrill when she remembers the moment she received the National Role Model Worker medal at a gathering in Beijing's Great Hall of the People in honor of model workers and other exemplary individuals last November.
In fact, the industrious 47-year-old has received a number of awards for her work ethic, professionalism and technical innovations since joining the second oil extraction plant at the Daqing Oilfield Company, a subsidiary of the China National Petroleum Corp, in 1993.
"This honor isn't just mine, it belongs to everyone working hard at the Daqing Oilfield, and at the CNPC," she said. "It is the highest tribute paid to the working people."
With over 2,000 technical innovations and inventions under their belts, Liu and the other members of her studio have solved a series of production-related problems and helped increase revenue at the plant by 120 million yuan ($18.6 million).
"It's because of my father that I dreamed of being an oil worker as a child," she said. "He was part of the first generation to develop the oilfield at the beginning of the 1960s."
In its early years, the People's Republic of China was faced with a shortage of crude oil that caused great economic difficulty and hindered national defense.
In February 1958, the government approved a directive shifting petroleum exploration eastward, and the following year, on Sept 26, 1959, the first gusher of crude oil burst from the ground in a little-known part of Heilongjiang province. The newly discovered oilfield was named Daqing, or "great celebration", in honor of the upcoming 10th anniversary of the founding of the nation.
"I grew up listening to my father's stories about the oilfield, and the hard work everyone put in," she said. "The endeavors of his generation in the face of great difficulty were celebrated later in the "Iron Man" spirit, which was named in honor of Wang Jinxi, the model oilfield worker who led Drill Team No 1205, and devoted his life to the development of the petroleum industry."
Although she graduated from junior high school with good grades in 1990, Liu chose to attend a vocational school to study oil extraction, rather than continue on to senior high school, as this would open the way to working at the oilfield.
In 1993, she was assigned to the plant, finally realizing her dream.
"I took a serious attitude to work from the first day, just the way my father told me," she said. "He also gave me a lot of advice on how to operate, clean and maintain the equipment, which was very useful."
Determined to follow the "Iron Man" spirit herself, Liu spent much of her spare time deepening her knowledge of oil extraction, and undergoing professional training.
Within a year, she had come second in a technology competition held at her plant and in 1997, won third place at a national technology competition. Aged only 23, she was the youngest of all the winners.
"Competitions can test one's technical ability, but the most important thing about being a good worker is knowing how to apply your skills to real problems," she said. "However, the longer I worked and the more involved I became in the industry, the more I began to feel the limitations of what I knew."
To overcome that, Liu decided to continue her studies and in 1995, she was admitted to Daqing Vocational College after earning the second-highest score among those taking the adult university entrance examination in the city.
It proved to be a wise decision. In 2001, following months of research and testing, Liu invented a new tool, a combination of a crowbar, pipe pliers, a wrench and a screwdriver. This was her first step on the road of innovation and it encouraged her to keep going.
"Before, workers had to carry around a set of individual tools that could weigh more than 10 kilograms," she said. "But the combination tool only weighs 2.5 kg, which makes their lives much easier."
In 2003, Liu became a trainer and was made responsible for teaching skills to young workers, and coaching them for competitions.
Since then, she has trained more than 15,000 workers, over 100 of whom have won awards at competitions at the provincial and ministerial level, as well as in competitions organized by the China National Petroleum Company.
In 2011, a studio was founded under her name. It serves as a platform for solving issues of production, and for exchanging technical experience and improving skills.
The studio is part of an in-house innovation and efficiency alliance that combines training, problem solving and technological innovation with developmental transformation, and includes more than 500 members from different departments at the plant.
"I will continue to promote craftsmen and the model worker spirit, and I hope that along with other experts, I'll be able to write a new chapter in development," she said. "My greatest achievement and source of happiness is knowing that I'm using my skills and experience to benefit more people."