Staging an act
By Li Yingxue | China Daily | Updated: 2021-05-26 08:19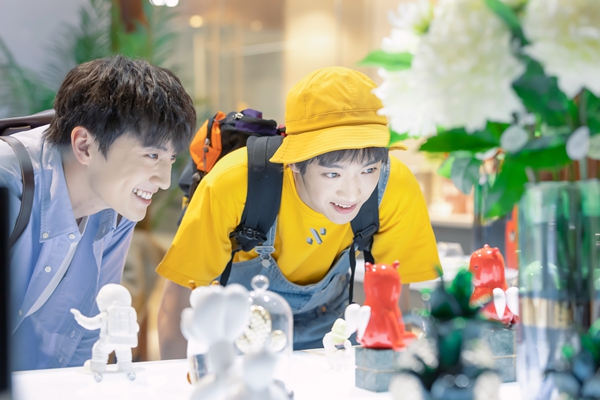 Crash courses give aspiring thespians a chance to shine on the boards, Li Yingxue reports.
For Zhang Xueqi, 22, the stage is like a second home. She has been dancing since she was 3.However, this particular stage is new to her, as is the performance required. She is neither using her body to tell a story nor to enchant the audience with the steely delicacy of a lead dancer. Instead, she wears rustic clothes and recites passages of words.
Zhang is playing Chu Sifeng, the fourth daughter in the drama Nine Daughters in My Family. The work is the acting school graduation performance for her and 15 of her classmates to celebrate the conclusion of their three-month course in Beijing.
Zhang's parents and her younger sister are among the spectators. It's their first time watching her act instead of dancing, and they are surprised that she can portray a new character with such a commanding performance.
Zhang is a junior student at the Central Academy of Drama majoring in dance drama. She suffered a lumbar injury which forced her to stay away from dance for some time, so she decided to use her recovery time to learn acting in February.
"It's quite different to act onstage. When I dance, I always play a delicate woman, and I have no lines, but when I'm acting, I can be anyone," she says, adding that, in some way, acting can also be more creative.
Zhang says she still needs to learn to not always keep her bearing when acting, which is necessary in dancing.
"I'm also practicing how to let the audience feel 100 percent what I feel with my lines through my acting," she adds.
With many years of dancing experience, she was able to imagine the progression of her stage career, but now, she says, she wants to develop other onstage techniques.
Like Zhang, many young people are tapping their acting potential by taking part in such training programs. The acting training institutes, besides providing more practical teaching, are offering them more opportunities, such as introducing these "new actors" to films or TV series.
Another acting student from the training class is Tian Yue, who plays Chu Bafeng, the eighth daughter, in the drama.