County witnesses stunning green success story
By WANG HAO,CAO DESHENG and HU MEIDONG in Changting county, Fujian | China Daily Global | Updated: 2021-06-10 07:01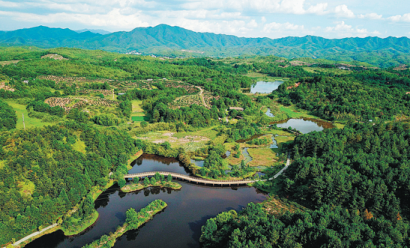 Fu said that thanks to the improvements in recent years, living at the mercy of the weather has been consigned to history, and his crop yields remain stable despite periods of drought and heavy rainfall.
"Fellow villagers working for my rice plantation also earn a stable income," he said, adding that a worker's basic salary is 3,000 yuan a month.
Luo Qunying, Party secretary of Luhu in Hetian township, Changting, said the village has also benefited from the improvements.
In 1991, Luo, who is 48, married in Luhu. She was elected the village's Party secretary by a one-vote margin in 2012.
She said that in the 1990s, the village experienced serious deforestation. Poverty-stricken locals tried every means to make a living, including felling trees on the mountains, even though this was illegal.
"Now, things are different. On the one hand, we have village rules to punish those who wantonly fell trees. On the other hand, people's awareness of environmental protection has largely improved and they realize that trees on the mountains matter to future generations," Luo said.
More important, she said villagers have been trained to use vegetation to develop the "under-forest economy" by planting Polygala arillata, a plant used in traditional Chinese medicine, and to raise chickens under the trees, which also helps boost their incomes.
The local government adopted targeted measures to eliminate poverty and develop the economy, particularly after the 18th CPC National Congress in 2012, when Xi became general secretary of the CPC Central Committee.