County witnesses stunning green success story
By WANG HAO,CAO DESHENG and HU MEIDONG in Changting county, Fujian | China Daily Global | Updated: 2021-06-10 07:01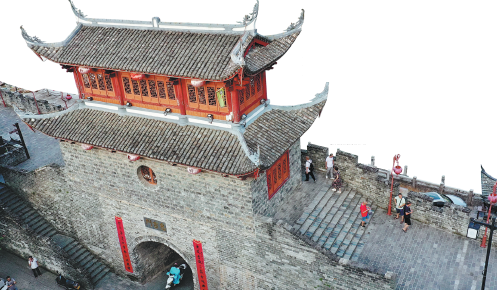 The rural population in Changting was lifted out of absolute poverty at the end of 2018.Last year, the average per capita disposable income of the county's farmers was 17,812 yuan, compared with 8,185 yuan in 2012.
Stephan Steinke, who comes from Germany and is a professor of marine environmental science at Xiamen University in Fujian, said he is amazed by the achievements the county has made in controlling soil erosion.
"The world is facing more and more environmental challenges," Steinke said during a visit to Changting in April. "The county's successful experience in controlling soil erosion shows that we can deal with these challenges."
Sayed Ali Khan, an associate researcher at the university's School of Electronic Science and Engineering, also praised Changting's remarkable efforts in controlling soil erosion. "The most important thing is that the government attaches great importance to this and invests a lot of manpower and material resources to fight this protracted battle," Khan said.
Pavlo Dral, who teaches chemistry at Xiamen University, said: "Changting's response to soil erosion is good decision-making. This is an example of how a county actually fights such damage to prevent it from going backwards."
He added that China's experience in environmental protection can be shared with countries such as Ukraine, his home nation, which also has deforestation problems.
Changting has become a success story by persevering with green development as China advances the building an ecological civilization as part of the national development strategy.
Observers said that with the economy transitioning from high-speed growth to high-quality development, construction of an ecological civilization has entered a critical phase-one in which the authorities strive to meet people's growing demand for a good environment at a time when China is capable of addressing such issues.
With Changting aiming to pursue high-quality development during the 14th Five-Year Plan (2021-25), the county received a boost early this year from a national policy to vitalize old revolutionary base areas.
On Feb 20, the State Council issued a circular, mapping out policies to support these base areas-including Changting-in consolidating efforts to fight poverty in the new development stage.
The circular stated that efforts should be made to achieve significant progress in rural vitalization in old revolutionary base areas by 2025, along with a new type of urbanization. Residents' incomes will rise significantly, the influence of revolutionary culture will continue to expand and the environment will constantly be improved, according to the circular.
Luo, the Luhu Party secretary, said she would lead local people in establishing a model village in line with Xi's vision of building an ecological civilization.
"While putting the environment first, we are working to further develop the under-forest economy, eco-tourism, agricultural tourism, and foster e-commerce logistics. We are confident of living better lives and following the right path for high-quality development," Luo added.