Dragon Boat Festival keeps the beast at bay
Share - WeChat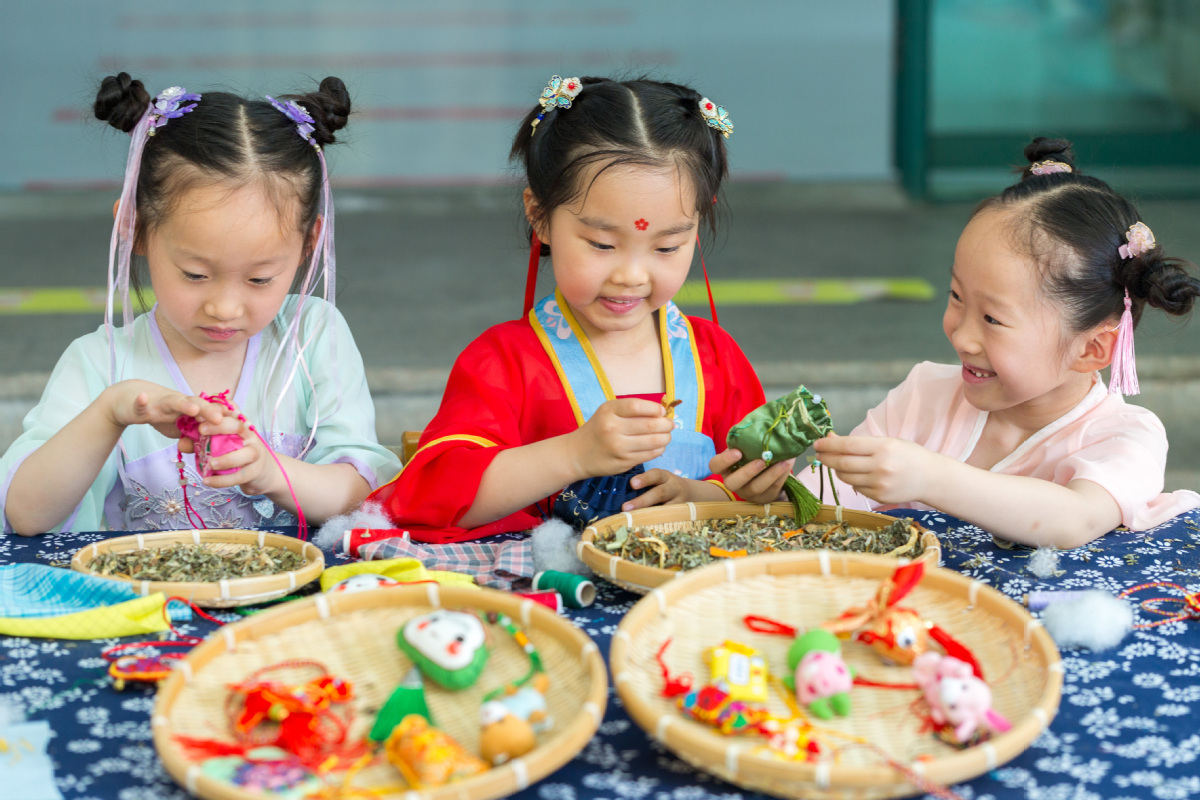 History and origin
The history of the Duanwu Festival dates to the Warring States Period (475-221 BC). The most widely known story of Duanwu in contemporary China is that it was started to remember Qu Yuan, a patriotic official from the state of Chu (today's Hubei province) who committed suicide on the fifth day of the fifth lunar month. People rowed a boat to find him but failed, so they threw sticky rice dumplings into the river so the dragon underwater would not eat his body.
In eastern China, however, Duanwu Festival memorializes another patriotic official, Wu Zixu from the state of Wu (today's Jiangsu province), whom the king mistakenly ordered killed and thrown into the river on the fifth day of the fifth lunar month.
In both regions, dragon boat racing is a popular activity during Duanwu Festival.
According to Wen Yiduo, the practice of racing dragon boats first appeared in the states of Wu and Yue in what is now eastern China. Wen reached this conclusion because the dragon was the totem for tributes in these states and dragon boat racing activities were held to make sacrifices to dragons.
Events and commemorations
In Qu Yuan's hometown, Zigui county in Hubei province, a series of events are held to honor Qu Yuan annually. For people in Zigui, Duanwu is even more bustling than the Spring Festival. People celebrate in three different phases, on fifth day of the fifth month of the lunar calendar and on the 15th day and 25th day of the same month.
On what's known as Double Fives Day, people in Zigui will gather at rivers and temples to worship Qu Yuan. Rituals of sacrifice, as well as the music and clothing replicate the ancient routines of the state of Chu.
Before the race of dragon boats on that day, rowers hang a red cloth, and a drummer on the boat sings, "My dear brother please come back."
Zheng Da, a 32-year-old restaurateur from Zigui has been racing dragon boats for more than a decade.
"I'm in the third generation of rowers in my family, and I watched my grandfather and father race since I was very young," Zheng said. "It is not difficult to learn, and not very dangerous if one can swim. I'm not only a rower, but also a drummer and a coach."
Zheng is planning to pass the skill to his 4-year-old son.