Dragon Boat Festival keeps the beast at bay
Share - WeChat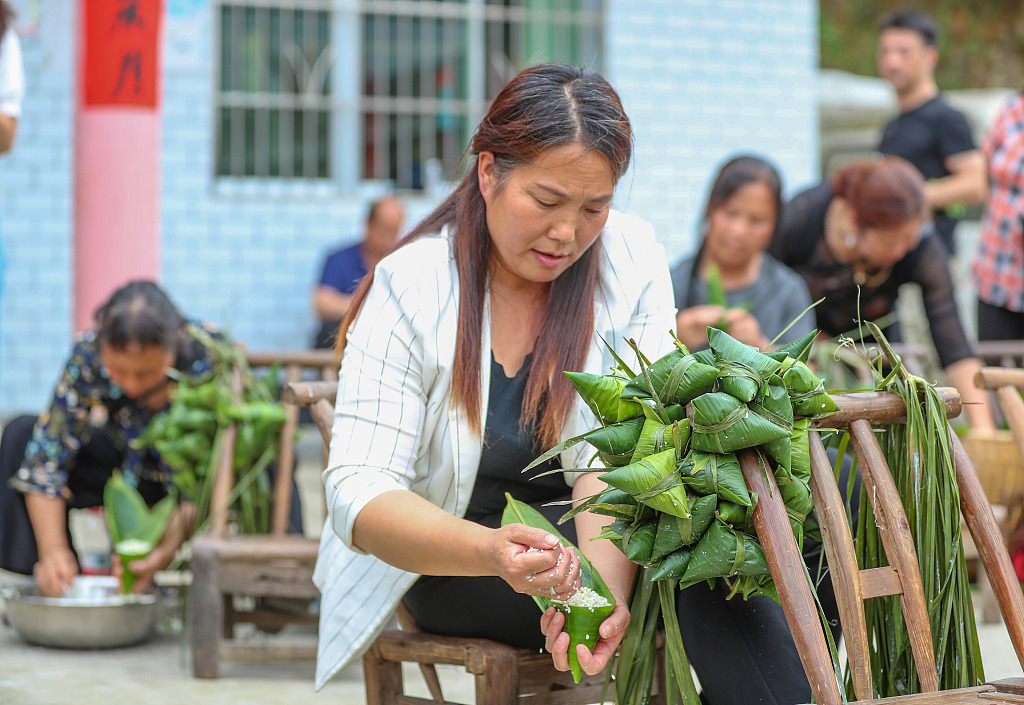 Ethnic groups celebrate
Not only Han Chinese but also other ethnic groups in China celebrate Duanwu Festival both in similar and unique ways.
Eating rice dumplings is one shared custom. In northern China, people eat sweet rice dumplings made in triangles and filled with red bean paste and red dates. In southern China, the shapes and flavors are more diverse. Rice dumplings in the shape of a pillow filled with roast pork, eggs and shrimp are also widely accepted.
A special gray rice dumpling can be found in Dehong, Yunnan province.
Wash the sticky rice and mix them with soy sauce, wrap them with reed leaves, and fill the dumplings with roast pork and lemongrass powder. The gray rice dumplings smell especially good with the lemongrass.
Racing dragon boats is a shared custom among many ethnic minority groups. For the Miao in Guizhou province, the idea behind dragon boat racing during Duanwu Festival is making a sacrifice to the dragon and expressing a wish for a peaceful year.
To make the festival more attractive, in 2016 a public organization in Shibing county, Guizhou, sponsored the construction of a colossal wooden dragon boat-77.8 meters long, 3.8 meters wide and 0.6 meters deep. It set a Guinness World Record the same year. The boat, made by craftsmen from Shibing in four months-was decorated with colorful paintings and exquisite engravings. It can hold 380 people and needs 180 rowers to work in unison.
Since 2016, dragon boat racing during Duanwu Festival has become a tourist attraction in Shibing county.
There are also traditions unique to other ethnicities. For Dai people in Yunnan, for example, Duanwu Festival is an annual opportunity to express admiration to others.
A legend tells the story of a couple who were separated when they arrived at Mengya (today's Yuanyang county in Yunnan province).The man looks for his girlfriend anxiously and asks an old man by the Honghe River who tells him he didn't see a young woman but only a white goose.
The man follows the clue and finds that the white goose is his beloved woman. They decide to stay by the riverside and live a happy life. Annually, on the fifth day of the fifth month of the lunar calendar, Dai people gather along the Honghe River in Mengya, dressed in their traditional clothing and accessories. They sing and dance together to remember the couple.