Domestic, foreign tech giants striving toward carbon goals
By MA SI | China Daily | Updated: 2021-06-15 09:23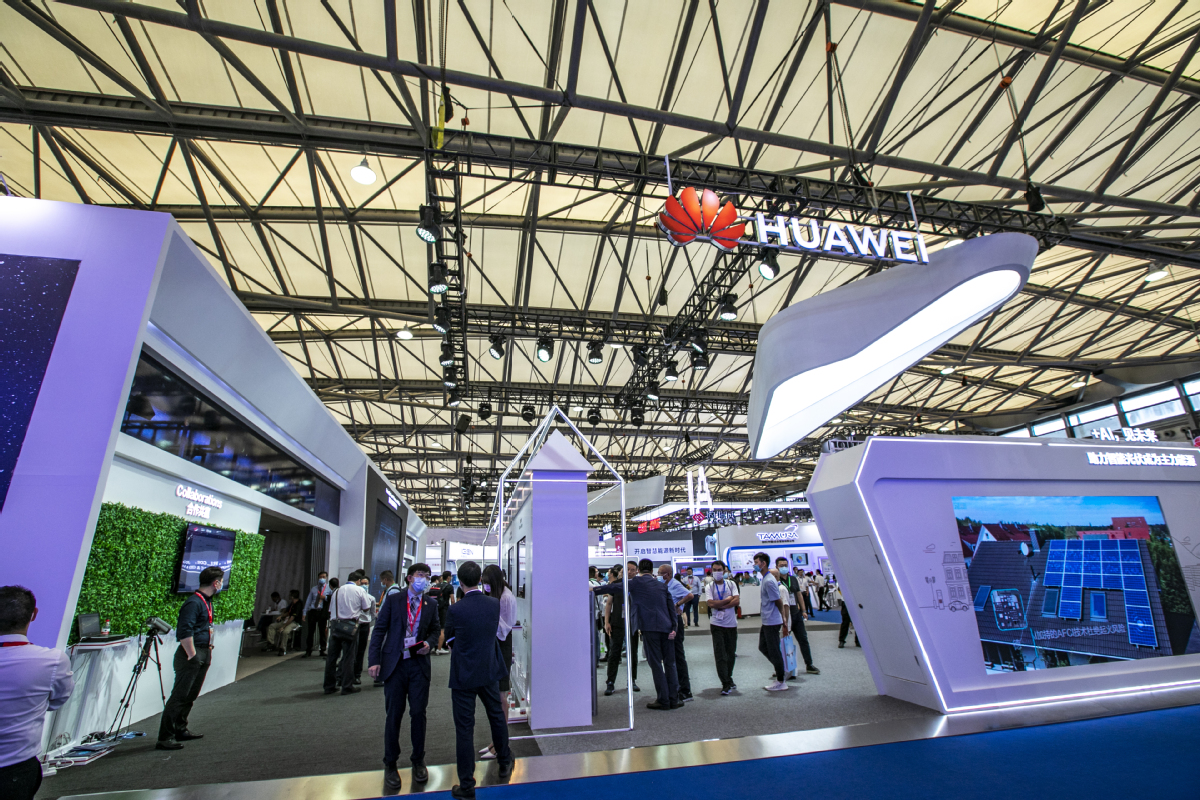 With focus on suppliers and customers, green energy to be key for ICT in 2020-30
Chinese and foreign tech companies are leveraging cutting-edge technologies to help their suppliers and customers cut carbon footprints and embrace renewable energy.
Their efforts come as pursuing sustainability increasingly becomes a consensus goal worldwide to slow climate change, and emerging technologies are seen as important enablers in helping reduce carbon emissions.
Chinese tech giant Huawei Technologies Co has rolled out a zero-carbon network solution to help telecom operators accelerate green and sustainable development.
Currently, many telecom operators and traditional energy giants have proposed carbon neutrality goals. With the carbon neutrality movement emerging globally, the energy industry is likely to transform toward digitalization and low carbonization to achieve carbon neutrality, Huawei said.
Zhou Taoyuan, president of Digital Power Product Line at Huawei, said, "A zero-carbon network has become an important strategic goal for leading operators worldwide."
To help telecom carriers reduce energy use, Huawei's zero carbon network solutions converge with its intelligent power cloud technologies. The solutions offer telecom carriers simplified ways to use sites for building base stations, simplified equipment rooms and other green power technologies that can improve energy efficiency.
According to Huawei, 80 to 95 percent of the total carbon footprint of network equipment is due to power consumption during the use phase. As a result, the company also uses life cycle assessments to develop energy-saving technologies for its information and communications technology products and solutions that in turn help build greener industries.
Huawei is also embedding its artificial intelligence technologies into photovoltaic systems, which the company said can increase energy yields by 3 percent over traditional solutions, increasing the viability of solar power as a major energy source.
Huawei's smart photovoltaic solutions have already been used in Shanghai Shentong Metro Group's Longyang Road solar facility, which produced more than 4 million kilowatt-hours of electricity in 2020.
The company said its smart solar inverters can automatically detect damage and improve the facility's efficiency, and it has also provided smart solar plant solutions to Beijing Daxing International Airport.
Huawei's efforts are part of the global ICT industry's broader push to reduce carbon emissions. The International Telecommunication Union put forward a new standard in 2020 highlighting that compliance with the United Nations Framework Convention on Climate Change Paris Agreement will require the ICT industry to reduce greenhouse gas emissions by 45 percent from 2020 to 2030.
Zhao Houlin, secretary-general of the ITU, said the ITU standard offers authoritative guidance on the pathway toward net zero emissions for the ICT industry.
"The standard is an example of what can be achieved with good collaboration between key partners. It represents a significant contribution to the international efforts in pursuit of the UN Sustainable Development Goals," Zhao said.
The shift to renewable and low-carbon energy is expected to account for the majority of the ICT industry's greenhouse gas emission reductions over the 2020-30 time frame, the ITU said.
ICT companies will also continue to achieve greater energy efficiency, incentivized by associated cost savings as well as revenue-generation opportunities stemming from ICT's increasing ability to improve energy efficiency in other industrial sectors, the ITU added.
Using technologies to pursue sustainable, greener development is also a top priority in China, which is striving to peak carbon dioxide emissions by 2030 and achieve carbon neutrality by 2060.
Xiao Yaqing, minister of industry and information technology, the country's top industry regulator, said earlier that China will encourage industrial firms and parks to cut carbon emissions and prioritize the use of renewable energy.
Amid such strong commitment to green manufacturing, foreign tech companies are also partnering with local suppliers to better protect the environment while producing high-quality products.
US smartphone giant Apple Inc, for instance, has set strict requirements and asked its suppliers to perform audits of their energy use and then implement projects to reduce their carbon footprints.