EU and US agree 5-year truce over Airbus-Boeing
By CHEN WEIHUA in Brussels | chinadaily.com.cn | Updated: 2021-06-16 03:18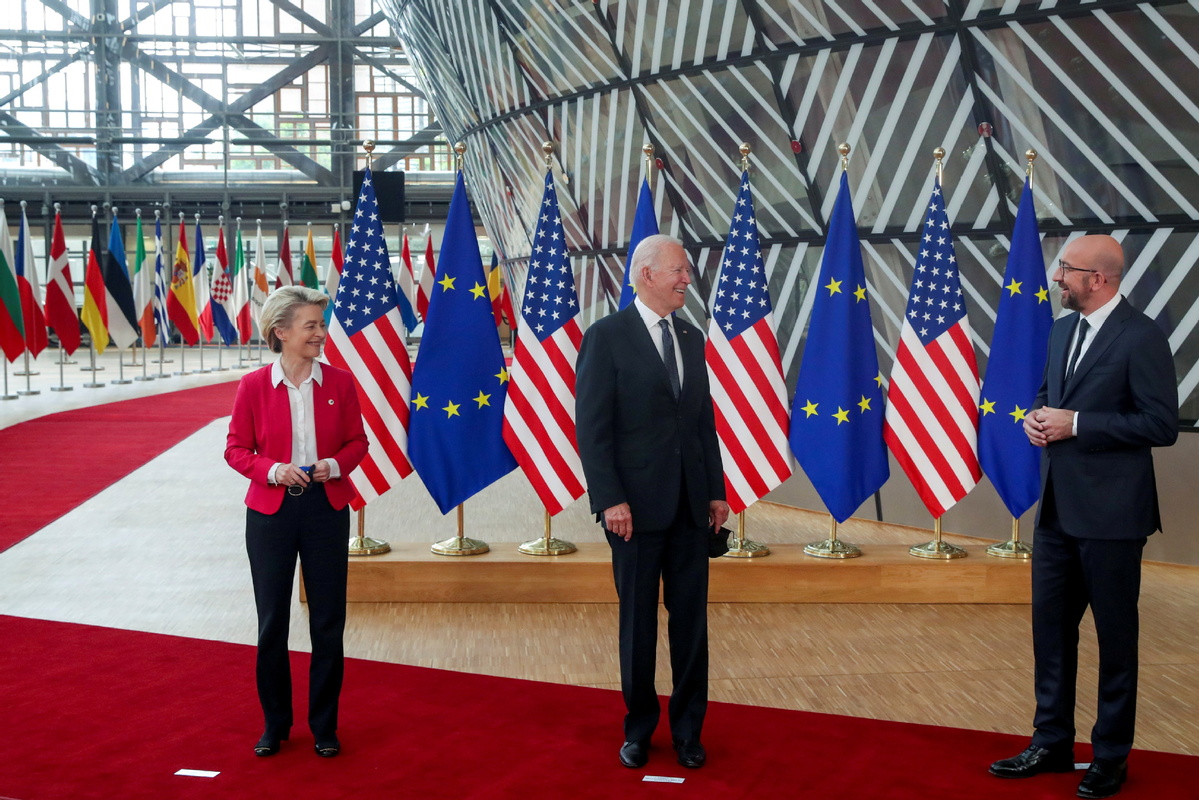 US President Joe Biden and European Union leaders agreed to a five-year truce on their trade dispute over subsidies to Airbus and Boeing, but failed to resolve the thorny issue of steel and aluminum tariffs.
European Commission Executive Vice-President Valdis Dombrovskis and US Trade Representative Katherine Tai reached an understanding to halt the 17-year dispute.
Both sides will now seek to overcome long-standing differences to avoid future litigation and preserve a level playing field between their aircraft manufacturers and will also work to prevent new differences from arising, the European Commission said.
They agreed to suspend application of harmful tariffs on $11.5 billion of goods for a period of five years.
European Commission President Ursula von der Leyen said that she is happy to see the major step taken in resolving the longest trade dispute in the World Trade Organization's history.
"This shows the new spirit of cooperation between the EU and the US and that we can solve the other issues to our mutual benefit," she said.
Dombrovskis said the truce allows the two sides to have time and space to find a lasting solution through their new working group on aircraft.
In a statement posted on the White House website, Biden called the progress "a major breakthrough". But he did not forget to take a jab at China, as he has on every stop of his trip.
"Significantly, we also agreed to work together to challenge and counter China's nonmarket practices in this sector that give China's companies an unfair advantage," Biden said.
The Airbus-Boeing dispute started in 2004 when the US filed a WTO case against the EU for the illegal subsidies to Airbus. The EU filed a similar case against the US in 2005 for its unlawful support of Boeing.
Following the WTO rulings on the US case in 2019 and the EU case in 2020, both imposed punitive tariffs on each other's exports. As a result, EU and US businesses have had to pay over $3.3 billion in duties.
At the summit, the two sides also decided to launch an EU-US Trade and Technology Council to cooperate on high-tech matters such as semiconductor and artificial intelligence.
They also decided to establish a working group on the steel and aluminum topic first imposed by the former US President Donald Trump in 2018 under Section 232.
"We have discussed it broadly, and I think there will be good work and progress with the aim to move forward in this difficult field within months," von der Leyen told a press conference after the summit, adding that more time is needed to find a solution.
The two sides announced last month the start of talks to resolve the dispute, with the EU showing goodwill by unilaterally suspending a new retaliatory tariff to offset the effects of US steel tariffs for six months.
"EU and US want to work more together. How about ending the Section 232 national security tariffs on EU steel and aluminium exports and for EU to drop its 'rebalancing' tariffs on US imports to Europe as a start?" Guntram Wolff, an economist and director of the think tank Bruegel, said in a tweet on Monday.
Digital tax, global health and climate change were among other topics being discussed at the summit.
Before the summit, the US warned the EU against pursuing "protectionist" technology policies that exclusively target US companies as the European Parliament gets ready to discuss the EU's new tech regulations.
Konstantinos Komaitis of the Brookings Institution and Justin Sherman of the Atlantic Council wrote a joint article on the Brookings website on Friday, suggesting that the US and EU are not as aligned on the issue as some claim.
It was Biden's first visit to Brussels as president. The EU-US summit has received much less attention during his trip compared to the G7 summit, which concluded on Monday in the United Kingdom, and compared with his upcoming meeting with Russian President Vladimir Putin in Geneva on Wednesday.
Asked if she has had the chance to talk with Biden on the EU's concepts of sovereignty and strategic autonomy, von der Leyen said "we did not touch on this specific term".
Von der Leyen said Biden had acknowledged that the last four years had been difficult for the EU, and that the world had changed and that Europe has also changed, clearly referring to deteriorating transatlantic relations under Trump.
She emphasized that the two sides are still "long-standing friends and allies" and "share the same worldview" and "same values".
Unlike Biden's hard-line tone, Von der Leyen described China as a negotiation partner, an economic competitor and systemic rival.
Early on Tuesday, Biden and his Secretary of State Antony Blinken met with Belgian King Philippe, Prime Minister Alexander De Croo and Foreign Minister Sophie Wilmes in the royal palace in Brussels.