Britain, Australia unveil London's first real post-Brexit free-trade deal
By EARLE GALE in London | China Daily Global | Updated: 2021-06-16 09:21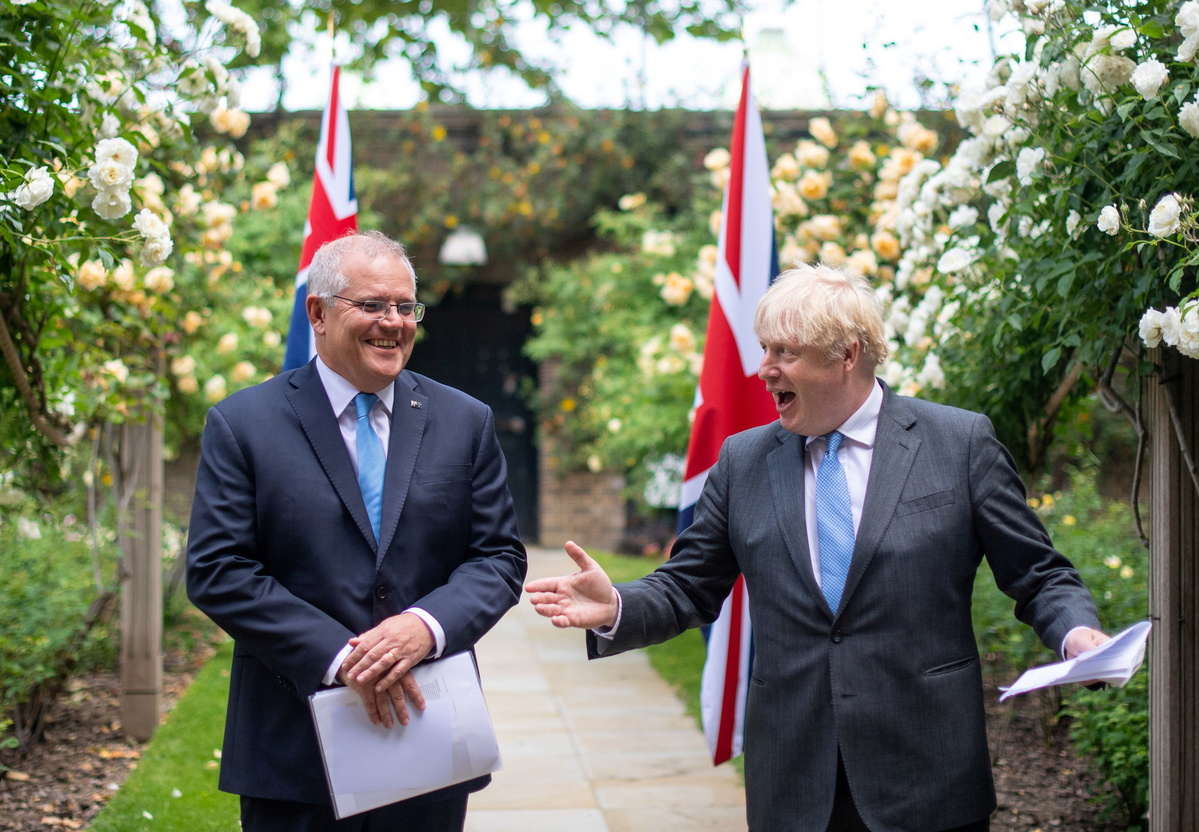 The United Kingdom and Australia have agreed the bare bones of a free-trade deal.
The agreement, which will be fleshed out later, was announced on Tuesday.
The UK's prime minister, Boris Johnson, said it "marks a new dawn in the UK's relationship with Australia" and grew out of the nations' "shared history and common values".
"Our new free-trade agreement opens fantastic opportunities for British businesses and consumers, as well as young people wanting the chance to work and live on the other side of the world," he said. His counterpart, Prime Minister Scott Morrison, explained to members of the Australia-UK Chamber of Commerce earlier on Monday that the UK's exit from the European Union offered an opportunity.
"As the United Kingdom moves into a completely new generation of their trading relationships with the world, who better to start that journey with than Australia?" The Times newspaper quoted him as saying.
The agreement could be worth around $1.3 billion a year to Australian exporters.
While the UK has announced several trade deals since leaving the EU in January 2020, the Australia deal is the first to have been negotiated from scratch. Others were continuations of previous deals the UK was party to as a member of the EU.
The BBC said the deal should make it easier for the UK to join the Asia-Pacific free-trade agreement known as the Comprehensive and Progressive Agreement for Trans-Pacific Partnership, which is something London has aspired to do.
Downing Street said the deal will also ensure UK producers can more easily sell popular products, including cars, whisky, and ceramics.
But British farmers have expressed concern that it could open the door to cheap agricultural imports made possible because Australia allows some hormone growth promoters, some pesticides, and some feed additives that the UK does not allow on its farms.
The UK's Department for International Trade has, however, insisted the deal will include safeguards and Trade Secretary Liz Truss recently told lawmakers: "We will make sure, in all the deals we do, that British farming thrives."
The Financial Times said the deal, if done right, could become a template for other post-Brexit agreements.
The paper quoted a spokesman for Dan Tehan, Australia's trade minister, as saying: "Both prime ministers have held a positive meeting in London overnight and have resolved outstanding issues in relation to the FTA … Their agreement is a win for jobs, businesses, free trade, and highlights what two liberal democracies can achieve while working together."
But the deal will only be worth around 0.01 to 0.02 percent of the UK's gross domestic product over 15 years, the UK government has said, which means it will likely bring in an extra 200 million pounds to 500 million pounds ($282 million to $704 million) a year.