UK trial to take close look at booster jabs
By ANGUS McNEICE in London | China Daily Global | Updated: 2021-06-16 09:31
Scientists want to know if extra doses of COVID-19 vaccine raise protection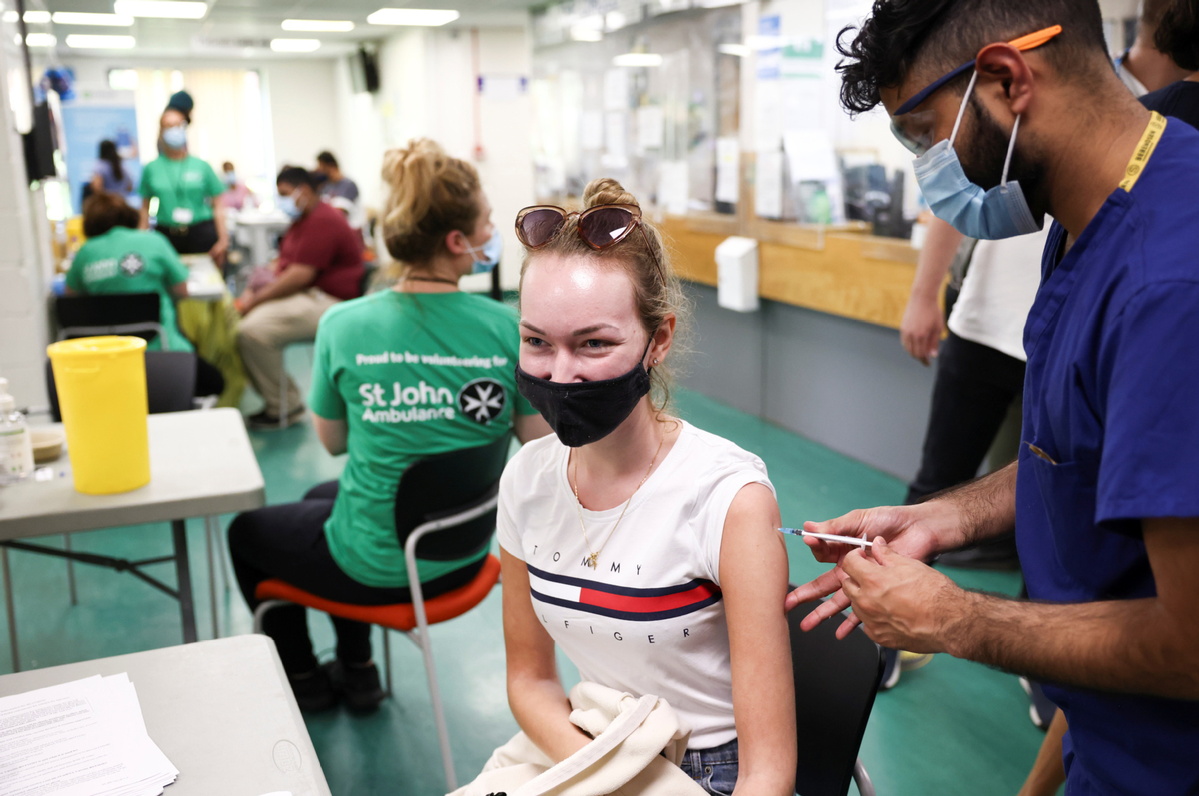 The United Kingdom has launched a trial into COVID-19 booster jabs that will assess if a third dose of a vaccine can help extend protection against the novel coronavirus.
In the UK government-backed trial, which launched this week, more than 2,800 participants will receive a third COVID-19 shot 10 to 12 weeks after a second dose. Researchers will then monitor participants' immune responses over time.
The trial, which is currently reserved for people who are older than 30 years old, will initially assess seven different vaccines-Pfizer, Moderna, Janssen, AstraZeneca, Novavax, Valneva, and CureVac-as booster candidates.
The study is being led by chief investigator Saul Faust, a professor of infectious disease at Southampton University, who said booster shots have the potential to "protect the population against any future wave".
Booster vaccines for other diseases are not uncommon. Doctors recommend that the Tdap vaccine for tetanus, diphtheria, and pertussis be topped up every decade, and an annual booster of the hepatitis A jab is recommended for people who frequently travel to high-risk countries.
Organizers of the trial are still recruiting participants, and UK Health Secretary Matt Hancock encouraged anybody over 30 who has already received two jabs, as well as those who received their first shot early on in the NHS roll out, to consider signing up.
"We will do everything we can to future-proof this country from pandemics and other threats to our health security, and the data from this world-first clinical trial will help shape the plans for our booster program later this year," Hancock said. The researchers are hoping to publish data from the trial in September.
Researchers have already initiated booster vaccine studies in China. A recently announced clinical trial will assess if a booster shot of the single-dose COVID-19 vaccine from Cansino Biologics extends protection among people who have already received one or two doses of other COVID-19 vaccines. Some participants will get a booster of the jab from Sinovac for comparison. The study is currently recruiting an initial 300 participants, according to registration information provided by the Jiangsu Provincial Center for Disease Control and Prevention on the website ClinicalTrials.gov.
Earlier this month, Sinovac chairman Yin Weidong told China Central Television that the company had completed a Phase II trial that showed that a third shot of its vaccine provided increased protection. Yin said when volunteers were given a booster shot within three to six months of a second dose, antibody response increased tenfold in a week and twenty-fold in 15 days. Yin said that more research and antibody monitoring was needed before the company could provide further recommendations to authorities about a potential booster program.