Making waves
By Chen Nan | China Daily | Updated: 2021-06-17 07:45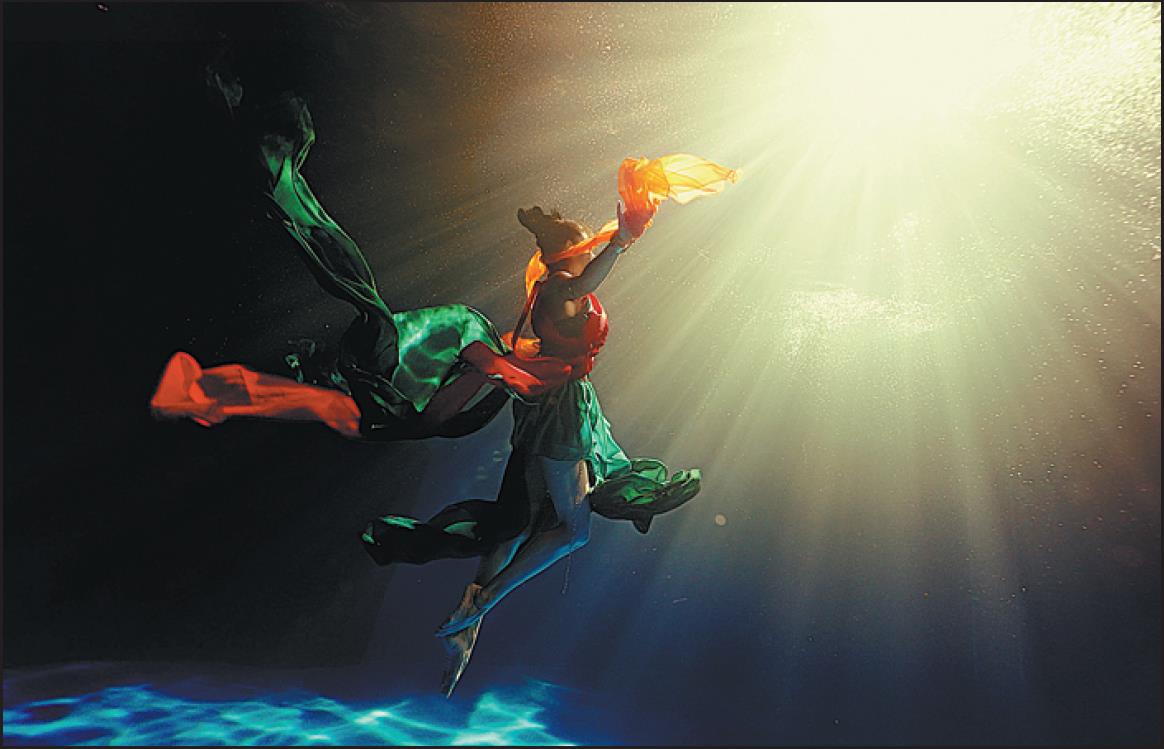 The 30-year-old, who was born and raised in Guangzhou, Guangdong province, learned to swim at the age of 6 and, when she turned 8, began training to become a synchronized swimmer. She has won national swimming awards and was selected to join in the provincial synchronized swimming team of Guangzhou at 18.
Though she later decided to quit her athletic career and graduated from Guangzhou University with a major in journalism, He has never stopped pushing boundaries underwater.
She took various jobs, including mermaid performer and underwater model. In 2016, she starred in Hong Kong director-actor Stephen Chow's movie, The Mermaid, as the stunt double for lead actress Lin Yun, which won her widespread acclaim.
"It took me a long time to control my body and my facial expression while dancing underwater. It's a beautiful art form though not many people knew about it when I first started to practice," says He, adding that she learned a variety of dances, such as traditional Chinese, ballet and street, which she combines in her underwater performances.
Rhapsody on the Luo River Goddess received incredible and warm feedback, not only from viewers but also from her parents, who once were doubtful about their daughter's career.
"They shared with me lots of positive feedback they received from their friends and comments they read online," says He. "I was very excited and proud when my idol, Foreign Ministry spokeswoman Hua Chunying, shared my video on her social media platform. It's great encouragement."
It's not the first time that Henan TV Station has gained attention with its captivating videos highlighting traditional Chinese culture.
On Feb 13, a dance piece, titled A Tang Dynasty Banquet, which is less than six minutes long, was staged during a gala aired on Henan TV Station to mark Spring Festival, and has since gone viral on social media, and been viewed more than 500 million times.
According to director Guo Jiyong, his team was invited by Henan TV Station to create an underwater video to mark the occasion of the Dragon Boat Festival, or Duanwu Festival, which fell on June 14 this year.
The history of the festival dates back to the Warring States Period (475-221 BC) and the most widely known story of Duanwu in China is that it was started to commemorate Qu Yuan, a patriotic official who committed suicide on the fifth day of the fifth lunar month. People rowed boats to attempt a rescue. They threw sticky rice dumplings into the river so that fish would not eat his body.
"I've watched the video of A Tang Dynasty Banquet and I love the way traditional Chinese culture is presented to a contemporary audience," says Guo, who, along with his team, spent 26 hours over three days underwater filming the Rhapsody on the Luo River Goddess video.
"With streaks of daylight piercing the deep blue water, the colors change as He Haohao dives deeper and dances like a flying fairy, which is very beautiful. Those images are stunning," he says.
Born and brought up in Jiangsu province, Guo, 36, graduated from Nanjing Forestry University with a major in landscape design. Guo's love for street dance, formed during his time there, enabled him to have a deep sense of, and attachment to, choreography.
In 2011, he fell in love with diving and in 2017, Guo launched a career in underwater photography, which took him around the world.
"I realized that diving can also be a way to discover magical underwater places. I want to capture those places with my camera and share them with more people," says Guo.
Seen in the context of the coronavirus pandemic, he started to focus on combining underwater photography with elements of traditional Chinese culture.
"The purpose behind all of my work is to help people see how beautiful Chinese culture truly is. Presenting it underwater in this way offers a fresh perspective," he says.