Canada has reckoning on schools of abuse
By RENA LI in Toronto | China Daily Global | Updated: 2021-06-17 10:58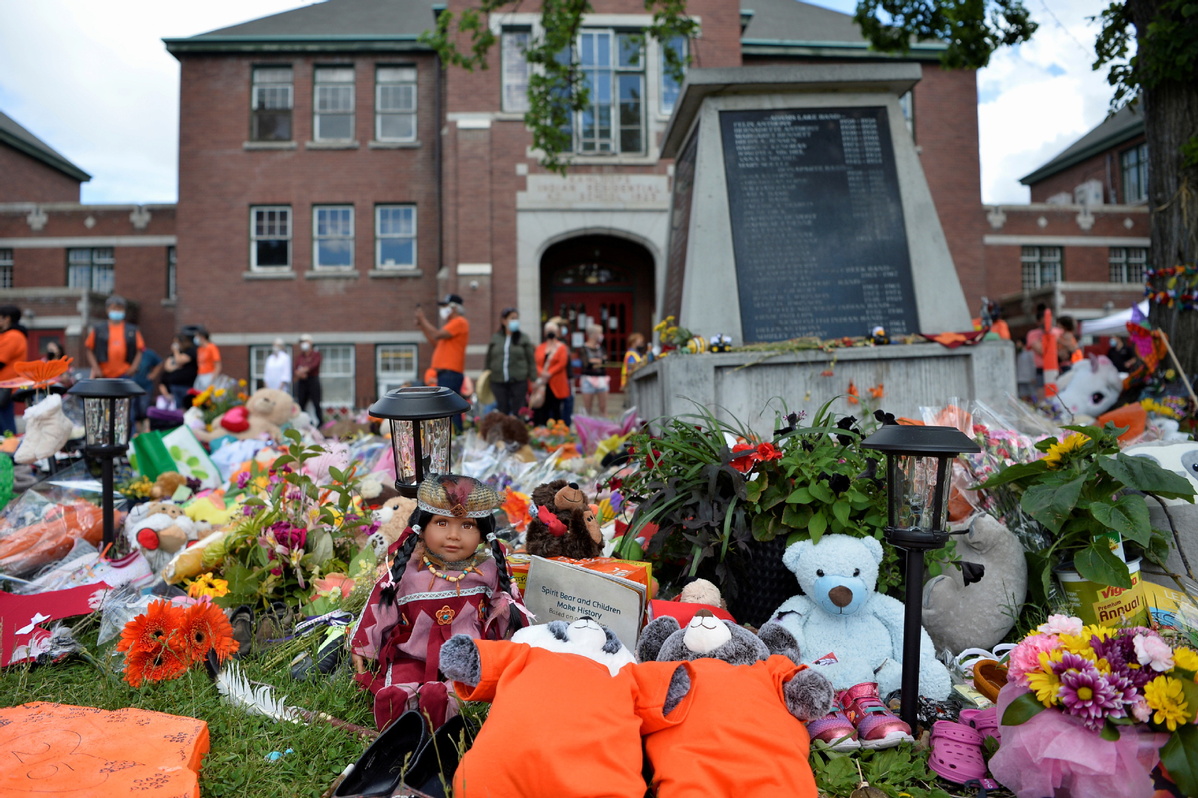 It was on May 27 that the Tk'emlúps te Secwépemc First Nation announced that the unmarked graves containing the remains of 215 Indian children were found buried on the site of a former residential school near the city of Kamloops in British Columbia, Canada.
The residential school was in operation from 1890 to 1969, when the federal government took over administration from the Catholic Church to operate it as a day school until it closed in 1978.
Up to 500 children coming from First Nations communities across BC and beyond had been registered at the school, and most of them never returned home from the school.
"It is a dark period in Canadian history," Robert Doucette, the former president of the Métis Nation in Saskatchewan wrote to CBC News. "These examples are the tip of the iceberg. The full iceberg, which is an understanding it was genocide, is floating on the horizon. Canadians are not ready for what's coming."
The Truth and Reconciliation Commission of Canada (TRC), a body mandated to tell Canadians about the truth of residential schools, has concluded that the institutions amounted to "cultural genocide" of aboriginal people after spending years to collect survivors' stories and compiling historical evidence of what happened there.
According to a nearly 4,000-page report on residential schools issued by TRC five years ago, around 150,000 Indigenous children were taken from their parents and faced with sexual and physical abuse in Canada's residential school system between the late 1800s and the 1990s, and at least 3,200 children died from disease, malnourishment or directly at the hands of those running the schools.
Cree lawyer Eleanore Sunchild, who has represented thousands of residential school survivors in Saskatchewan and other provinces, told CBC News that it's more than cultural genocide, "It's actually genocide. Indian children were killed. Indian children went missing. All of that truth will be revealed," Sunchild said.
Ogichidaa Francis Kavanaugh, grand chief of the First Nations in Treaty 3 territory in northwestern Ontario and Manitoba, also said the reality is even "more horrific". "For us, it's genocide. That's what took place. They wanted to wipe us out," Kavanaugh said on CBC News.
Manitoba NDP MP Leah Gazan intends to call on Ottawa to formally recognize what happened at residential schools as an act of genocide.
"It's time this government acknowledges the truth that Canada and churches perpetrated genocide on Indigenous peoples, specifically children," said Gazan. "If we're going to move forward, this truth needs to be told."
However, her call has been rejected in the House of Commons.
"It is unfortunate that parliamentarians continue to deny the genocide that occurred in residential schools," Gazan said. "There is no reconciliation in this country without truth."
Canadian Prime Minister Justin Trudeau has ordered flags flown at half-staff on all federal buildings after days of pressure from the finding of remains, calling on the Catholic Church to "step up" and take responsibility for its role in Canada's residential school system.
A bill to create a statutory holiday to commemorate the tragic legacy of residential schools in Canada received royal assent on June 3 after passing unanimously in the Senate. The swift passage means Sept 30 will become an annual national day for truth and reconciliation.
The Ontario government announced Tuesday it will invest $10 million in funding over a three-year span to identify, investigate and commemorate residential school burial sites in Ontario.
Beverly Jacobs, the acting dean of the University of Windsor's law faculty, said more action is needed to show that upper levels of government have taken full accountability for their role in the system.
"My question is, what are the feds doing? The province can support what's happening in the communities, but my arguments and my claim is against Canada. What is Canada doing to rectify what it's done to implement the residential school and the genocidal policies that still exist?" Jacobs told CBC News, adding it's "traumatizing" for many families.