Folk tour appeal
By Xu Lin | China Daily | Updated: 2021-06-22 09:56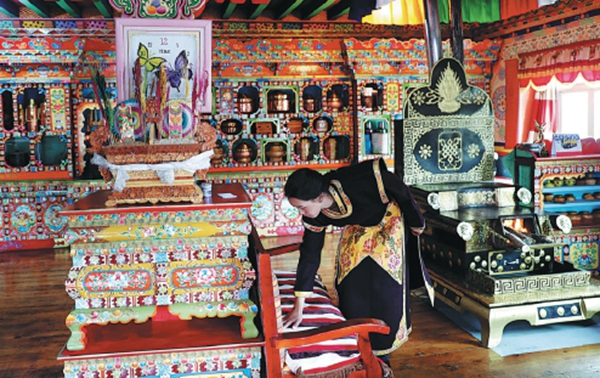 Efficient transport and improved homestay offerings have helped draw visitors to Tibetan region, Xu Lin reports.
Every day, Padma and her mother's daily routine consists of maintaining the cleanliness of the family's two-story building. They run a guesthouse with a typical Tibetan-style interior that can host up to 20 guests.
"Tilling the land is laborious, and it is exposed to the weather. Running a homestay involves less labor and pressure, bringing in more earnings," says the 25-year-old. The guesthouse is a major source of family income. Padma's father rears yaks and her husband transports materials for construction sites.
In Lunang town of the Xizang autonomous region's Nyingchi city, Tashigang village has 64 households with 314 people. Of the 64 households, 51 households including Padma's family have opened Tibetan-styled homestays due to the growing number of tourists. This has made Tashigang an exemplary model in developing rural tourism, as part of efforts to boost rural revitalization.
Nyingchi received about 8.64 million tourist visits with a tourism revenue of 7.2 billion yuan ($1.12 billion) in 2019, increasing by 21 percent and 21.6 percent respectively from 2018 figures. Tourists are attracted to Nyingchi's beautiful scenery and annual peach blossom festival that is held between March and April.
More efficient ways of traveling means increasing numbers of visitors. The Lhasa-Nyingchi Highway was open to traffic in April 2019, shortening travel hours between the cities from eight to about five. As part of a 1,838-kilometer Sichuan-Xizang railway project, a 435-km section of railway linking Nyingchi and Lhasa is expected to open before July, traveling through picturesque views of the Yarlung Zangbo River and snowcapped mountains.