Teheran, Beijing set to tap huge potential of their ties
Share - WeChat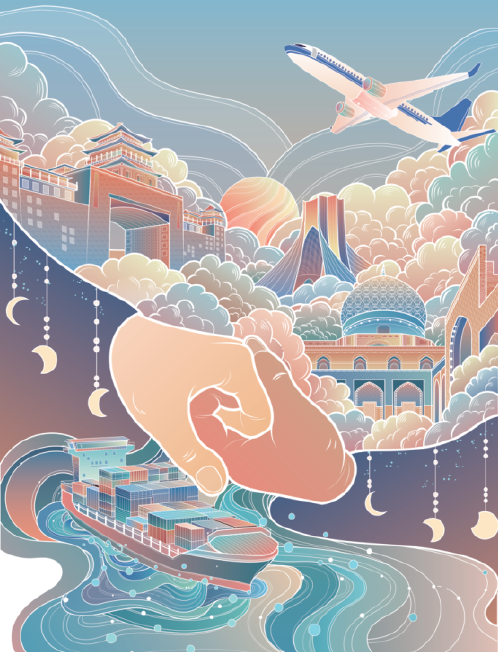 As the year 2021 marks the 50th year of diplomatic relations between the Islamic Republic of Iran and the People's Republic of China, the two ancient Asian civilizations with a long history of close cooperation are embracing huge potential for development and peace in line with their bilateral cooperation plan.
The Iran-China Comprehensive Cooperation Plan, signed in March, aims to portray a road map for further development of cooperation in the fields of trade, economy, tourism, policy, culture, science, defense and security. Its implementation is putting the statements of the two countries' presidents into reality, with the aim of the practical improvement of relations at the level of comprehensive strategic partnership established in February 2016, and to provide a suitable platform for the advancement of comprehensive cooperation.
The comprehensive strategic partnership between Teheran and Beijing has developed steadily in recent years, and the two countries' top leaders have been supportive of deepening the relations in various areas.
Located at the crossroads of the most strategic transportation corridors between East and West, Iran could ensure the unhindered flow of Chinese commodities across the Belt and Road pathway. With rich energy and natural resources, Iran could be a reliable source of natural gas as a clean energy for China, considering China's twin pursuits of peaking carbon emissions by 2030 and achieving carbon neutrality by 2060.
Expanding business with a country of nearly 83 million people, abundant natural resources, a low-cost and well-educated labor force and direct access to international waters, as well as adjacency to consumer markets across Western Asia, Central Asia and Europe, could be an exceptional opportunity for Chinese companies. This could serve the purpose of China's new "dual circulation" economic policy, in which the domestic market is the mainstay and the domestic and foreign markets support each other, by producing low-cost and high-quality products in Iran and exporting them to China.
Furthermore, China as a leading economy with significant technological, financial and political capabilities could be a reliable and strategic partner for Iran. The appropriate and constant expansion of bilateral ties conforms to the common interest of both nations as well as globalization, and is win-win cooperation that would undoubtedly contribute to regional and global peace, stability and development.
No doubt the signing of a 25-year cooperation agreement could be a game changer in the Middle East and transform the regional strategic landscape for the better.
As pointed out in a fact sheet issued by Iran's Ministry of Foreign Affairs, this agreement "has been devised in line with peace, stability and regional and international development, and therefore is not against any third party nor interferes in the affairs of any country".
Iran, like China, will oppose any form of hegemony and bullying behavior, try to safeguard international justice and fairness, and uphold international norms and regulations. Their cooperation agreement will serve the purpose of safeguarding peace and stability while further reinforcing the standing of anti-hegemonic countries against unilateralism and bullying, especially in the form of unilateral and illegal sanctions.
Coalition building and the making of bilateral and multilateral cooperation frameworks among like-minded powers help nations to withstand unjust pressure and push their developing goals to drive up the living standards of their people.
China has been Iran's biggest trade partner in recent years. Iran believes the Hong Kong Special Administrative Region, as China's main gateway to international markets, has a much bigger part to play in Iran-China economic relations.
Iran and the HKSAR signed the Memorandum of Understanding on Economic Cooperation in 2016, and Iran is seeking expanded and closer trade relations with this special administrative region of China. Trade relations between Iran and Hong Kong have been on a downward trend in recent years, and this needs to be reversed.
The Comprehensive Cooperation Plan, as a framework agreement, could pave the way for further cooperation between Iran and China and in turn between Iran and the HKSAR as an inseparable part of China. The facilitation of cooperation in the financial sector, banking and customs, as well as the tapping of the opportunities of Iran's economy by financing infrastructure, oil and gas, renewable energies, transportation, petrochemical, agricultural and tourism projects, could be a starting point.
It's also time for the private sector to step forward. The bilateral plan will act as a "road map" for trade, economic and transportation cooperation, with a "special focus on the private sector of the two sides", and Iranian and Chinese companies will be able to further expand their trade relations.
Without a doubt, the world will hear more about Iran-China relations in the coming years.
The author is consul general of the Islamic Republic of Iran in the Hong Kong and Macao special administrative regions.