AI reshaping health and wellness sector
By HE WEI in Shanghai | China Daily | Updated: 2021-07-20 09:00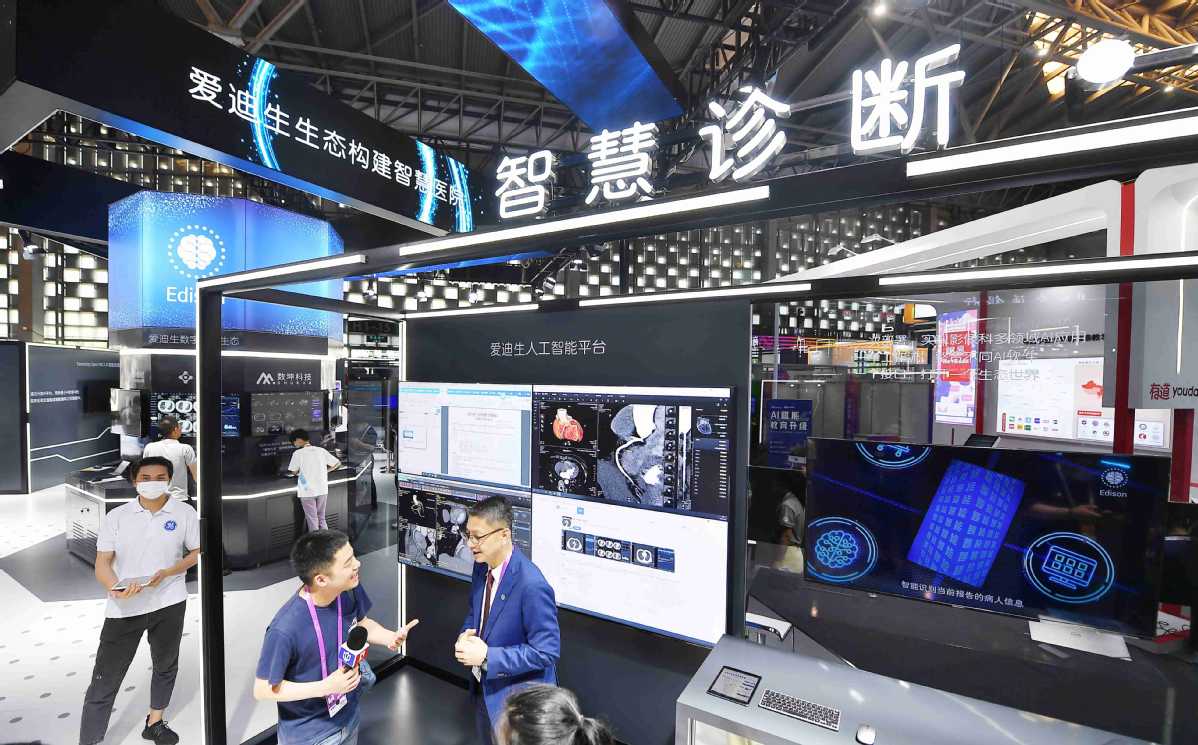 Advances promise to improve medical care, provide plentiful investment opportunities
Artificial intelligence is transforming China's healthcare industry.
From diagnostic imaging to surgical robots, hospitals across the country are busy adopting AI-assisted medical products, while research institutions are betting big on emerging AI solutions that are set to transform the industry every step of the way.
Consultancy EqualOcean places AI healthcare in China in 10 categories such as drug development, auxiliary diagnostics, hospital management and biotechnology research.
AI in healthcare could be worth $45.2 billion by 2026, said MarketsandMarkets. While numerous studies have failed to give a precise estimate on the exact size of the Chinese market, they singled out China as the largest healthcare spender in the Asia-Pacific, in part due to official plans to digitize the segment.
Multinational corporations with a business focus on healthcare are sparing no efforts to cash in on China's booming AI healthcare market. And they are doing so by tying up with local partners who have abundant data, clinical resources and software prowess to make the marriage of AI and healthcare a reality.
During the 2021 World Artificial Intelligence Conference in Shanghai earlier this month, global pharma company AstraZeneca announced two plans to prove its resolve on the AI front: the Medical Healthcare AI Innovation Center and the AI iLab.
Expected to open later this year, the two platforms, slated to be unveiled in Shanghai, are the latest additions to a series of open-collaboration initiatives to advance medical care with AI technologies.
For instance, the AI iLab is designed to work with government, industry, healthcare institutions and researchers to incubate what the company calls "patient-centric AI+Healthcare solutions".
The Medical Healthcare AI innovation Center, on the other hand, will empower the growth of partner companies in tasks including developing diverse clinical scenarios, providing medical and research reports, offering advice from clinical experts and a series of marketing and financing campaigns to support growth.
"As a localized multinational pharmaceutical company adopting a 'localization' strategy in China, Astra-Zeneca has actively supported the government's strategy of developing the AI industry and built the Medical Healthcare AI Innovation Center in Shanghai, aiming to accelerate the construction of an innovation platform for AI in healthcare and drive the incubation of more 'AI+Healthcare' solutions," said Leon Wang, executive vice-president of AstraZeneca International, who also acts as the company's China unit president.