Start of a new 'song dynasty'
By He Qi | China Daily Global | Updated: 2021-07-21 07:45
Shanghai Musical Art Center's first large-scale original musical since its establishment in 2019-the first part of The Disguiser, also known as Weizhuangzhe-will be performed at Shanghai FANCL Art Center from Sept 15.
Co-produced by Shanghai Media Group Live, the musical originates from the espionage novel Spy in the Bund by scriptwriter Zhang Yong, which was adapted into a TV series in 2015.
"Since launching the center, we have been thinking about what kind of musicals will be able to present the spirit of Shanghai and the contemporary era. After researching different subjects, we felt that The Disguiser is not only a great story about the Communist Party of China, more importantly, it will resonate with the time and inspire our younger generations to think about their lives," says Ma Chencheng, CEO, SMG Live.
Zhang Yong, author of the story, believes that such musicals will help to deliver Chinese culture to foreigners.
"Since The Disguiser is set against a Chinese cultural backdrop, we can deliver domestic themes and stories to the international stage through such foreign art forms," Zhang says.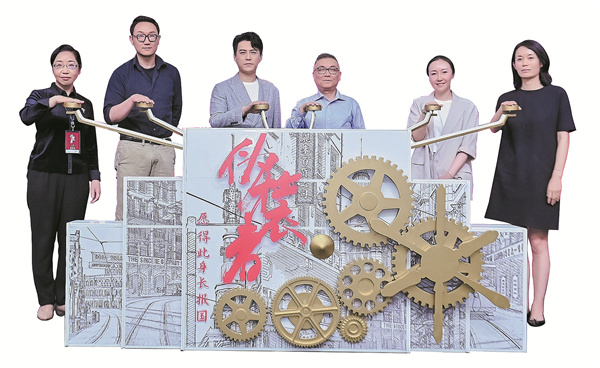 The Disguiser will be separated into a trilogy, the first part of which puts two brothers, Ming Cheng and Ming Lou, as main characters and tells their story as a new government official and a Kuomintang spy, delivering a multidimensional espionage story about the elite agents of the Party.
Cao Yang, musical actor and singer who has performed in the musical Secret and won the New Supporting Actor category at the 27th Shanghai Magnolia Drama Performance Art Awards, will play Ming Cheng. Ju Hongchuan and Liu Yang, who have participated in different musicals before, will perform Ming Lou in turn.
"We are not simply making a live-action adaptation of the TV drama. In fact, the scriptwriter has written many extra episodes for the musical to make it different," says Ma, who is also the director of the musical.
"Therefore, both fans of the musical and the TV drama can enjoy surprises and explore new elements to the story on our musical stage," he adds.
Being a musical producer for the first time, Jin Dong, the actor played the role of Ming Lou in the TV version of The Disguiser, points out that the musical was not only a challenge for himself, but also for the market for musicals in China.
"Objectively speaking, Chinese musicals, as a genre, is still in its infancy," Jin says.