Domestic job market remains stable in H1
By Cheng Si | chinadaily.com.cn | Updated: 2021-07-22 20:00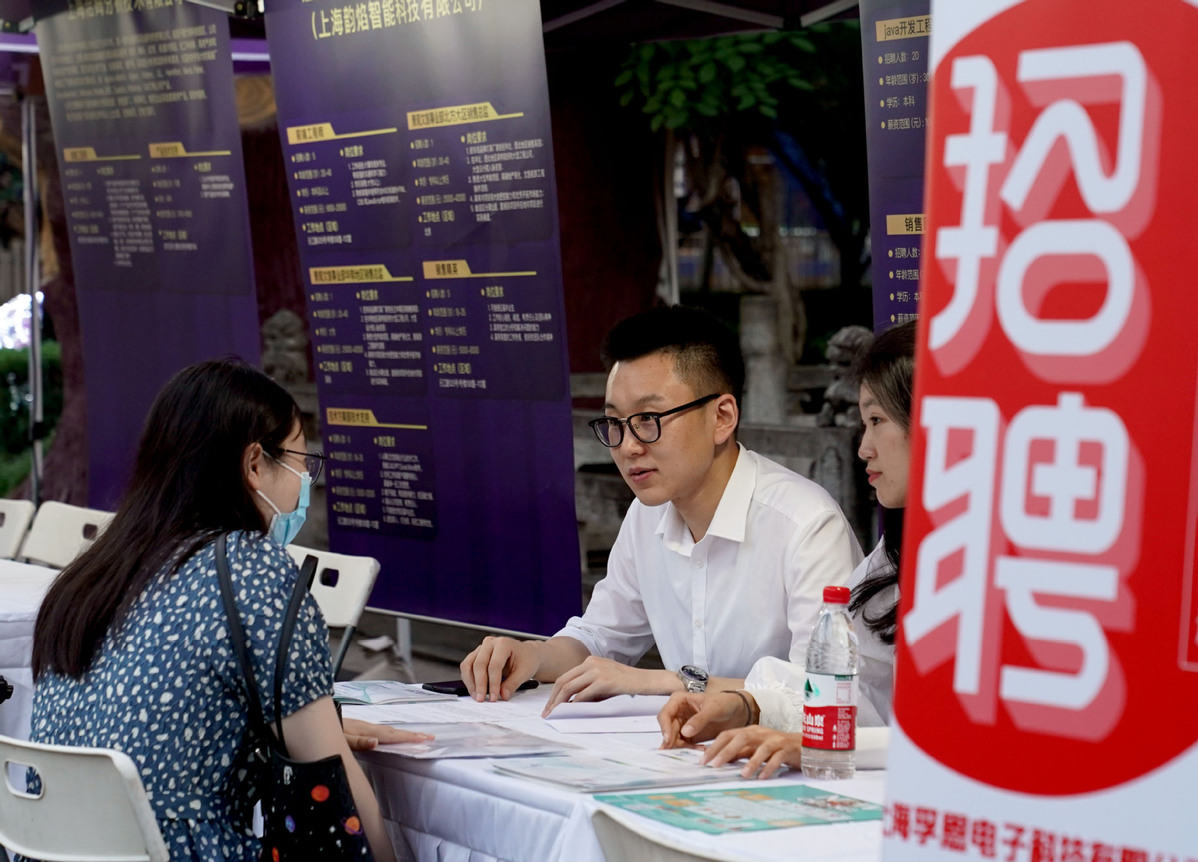 The domestic job market has seen a continuously stable landscape in the past half year thanks to the growing flexible employment and enhanced policy support on securing rights for the labor force.
The nation has registered an increase in new jobs created along with a lower unemployment rate from January to June.
According to the latest figures by the Ministry of Human Resources and Social Security on Thursday, there were 6.98 million jobs created in urban areas in the first half year, almost 63.5 percent of the nation's set target released in March.
The ministry said that the unemployment rate saw a decrease over the six months. It said that by the end of the second quarter, the registered unemployment rate in urban areas was 3.96 percent, 0.08 percentage points lower than that of the first quarter.
The surveyed unemployment in urban area was 5 percent in June, falling by 0.7 percentage points over the same period of last year, according to the ministry.
Zhang Ying, the ministry's director of the employment promotion department, said at a news conference on Thursday that the stability of the job market is due to the robust recovery of the nation's economy and financial support, as well as support in the form of policy by the central government.
She said that college graduates will continue to be one of the key groups who need official assistance in landing jobs in the near future and who are facing increasing employment pressure as the graduation season comes.
"We will improve our services to the group, and those graduates who have disabilities or are in poorer financial condition have priority to get services," she said. "Also, we will encourage more small and medium-sized enterprises and State-owned companies to expand their recruitment campaign by giving them an allowance."
To better help job seekers to land jobs and protect their rights, especially those in flexible employment, the ministry, together with other seven central administrations, released a guideline recently.
Companies and employers are required to take different responsibilities allowing for their specific employment means. Mechanisms on payment, working security and insurance, as well as insurance for work-related injuries are improved in the guideline.
Lu Aihong, spokesperson for the ministry, said at the news conference that the guideline will help regulate the employment means of some online platforms to protect people's working rights. It will be of great importance to the healthy and sustainable development of the shared economy.