Snake film coiled to strike
By Xu Fan | China Daily | Updated: 2021-08-11 08:08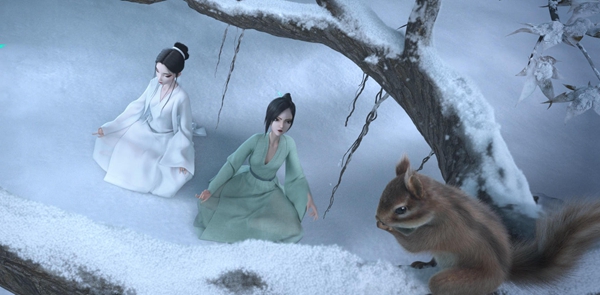 Wong says that his current favorite is Shanhaijing (The Classic of Mountains and Seas), a compilation of stories, featuring mythical geography and fantastic creatures.
Most modern scholars believe the collection-which exists across 18 scrolls-was penned by more than one anonymous writer more than 2,000 years ago.
From Little Door Gods (2016) to White Snake (2019) and New Gods: Nezha Reborn (2021), with its focus on shooting computer-generated features with a cultural touch, Light Chaser Animation has established itself as one of the most successful Chinese animation studios.
Wong recalls that he joined the studio after being part of the 2014 short film, Little Yeyos, about seven celestial beings who only go out and work during the night.
"Over the past 10 years, I have been proud to see the development and progress of the Chinese animation industry," says Wong.
"With the rise of China, domestic talent is becoming more confident in telling stories rooted from our own culture."
He also reveals that the studio may consider producing spinoff films for several of the most popular supporting characters, such as a two-headed fox spirit.
Currently, White Snake 2 had grossed around 450 million yuan as of Aug 10, which, according to live tracker Beacon, has propelled this year's box-office receipts past the key threshold of 30 billion yuan.