The money trail
By Wang Kaihao | China Daily | Updated: 2021-08-26 07:42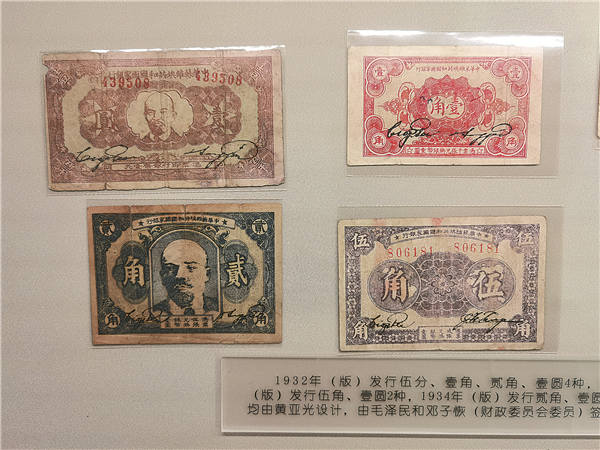 But even when coinage had to be made, the insufficient minting facilities during the early years of the Party meant the revolutionaries had to think of alternatives.
In 1928, the CPC-led Red Army established its first mint in the revolutionary hub of Jinggangshan, East China's Jiangxi province. Mexican silver dollars were used as molds to make their currency. Since the late 19th century, that silver dollar had been commonly used in the Chinese market for the high value of its precious metal.
A Chinese character gong (meaning "workers", short for "Chinese workers' and peasants' government") was carved on the dollar to identify it as the currency of the revolutionary base.
Lack of precious metal caused a bottleneck in issuing money, and revolutionary bases did not have enough bank reserves, so people had to learn from ancient times and come up with creative ideas, Gu explains.
"They used important supplies from their daily lives as the reserve," Gu says.
In Yan'an, Northwest China's Shaanxi province, the center of the CPC from the late 1930s through the War of Resistance Against Japanese Aggression (1931-45), a shop once became a major agency for the issue of currency.
Battles during wartime were not only about guns and bullets. An invisible war was also raging through bank notes.
After Wang Jingwei set up its Japan-supported puppet government in Nanjing in 1940, a conspiracy was hatched to counterfeit the money from the revolutionary bases in large quantities, in a bid to destroy the financial system of the Party.
"To face the challenge, the anti-Japanese revolutionary base areas had to frequently change the design and colors of their currencies," Gu says. "That also explains why such a varied array of currency was issued during those years."
In 1947, the triumph of the People's Liberation Army over the Kuomintang brought new problems for the Party's financiers.
When the revolutionary base areas were blockaded and isolated, it was not such a big deal for each area to issue its own exclusive bank notes, but it was a different story when they were geographically connected to one another following their respective expansions.