The money trail
By Wang Kaihao | China Daily | Updated: 2021-08-26 07:42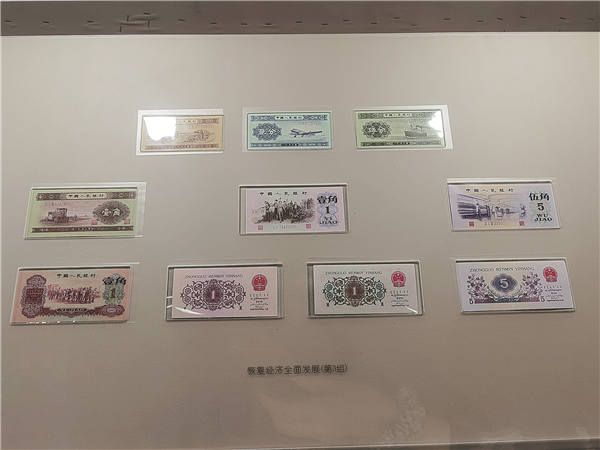 One bank was merged into another, and the People's Bank of China was finally founded in 1948, when the first series of renminbi was issued. This series includes 62 bank notes in 12 denominations. The biggest denomination was 50,000 yuan.
A whole series of this original edition of the renminbi is also on display at the exhibition, on loan from the People's Bank of China.
Li Zhidong, an expert with the Beijing Numismatic Society, says that such an opportunity to juxtapose all 62 bank notes for one exhibition is rare.
"This series of renminbi includes many varieties and was used for a short period of time (until 1955)," Li explains. "So it's a precious historical record that once played a key role in revitalizing the economy after a long period of war and helped New China to overcome difficulties."
Key landmarks such as the Summer Palace and the Great Wall, as well as important infrastructure and scenes of industrial and agricultural production became the main themes appearing on bank notes.
Since then, renminbi, including various commemorative coins and bank notes, has become a way to mark the historic moments of the People's Republic of China.
From the breakthrough in the space program, Hong Kong and Macao's return to motherland, to the Beijing Olympic Games, one exciting moment after another has been marked on the exhibited currencies, enabling visitors to review the vigor of the Party and the country.
"While over time, bank notes and coins can physically erode, their historical value becomes higher," Gu says.
The exhibition is open to the public from 9 am to 5 pm from Tuesday to Sunday. Due to COVID-19 prevention measures, only 300 people are allowed into the exhibition per day and reservations are required. They can be made one day in advance over the telephone on 010-6201-8073.