Japan's welcoming of UK Navy recalls their bloody days of empire: China Daily editorial
chinadaily.com.cn | Updated: 2021-09-07 19:23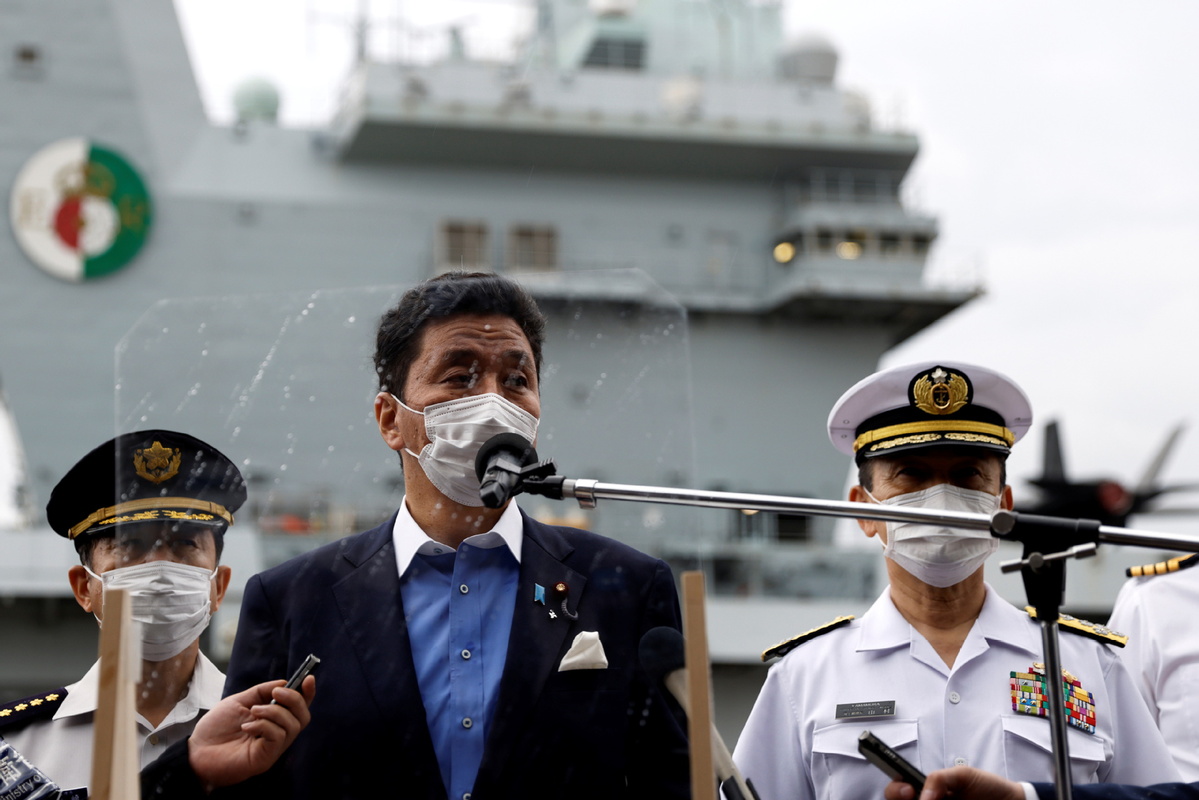 How much Japanese Defense Minister Nobuo Kishi meant what he said on Monday that the involvement of European nations is key to peace and stability of the Indo-Pacific region is open to question.
He made the remarks on welcoming the first port call of the United Kingdom's aircraft carrier HMS Queen Elizabeth to the country. But what Japan has been keen to do since the Meiji Reformation in the late 19th century is to drive away Western powers from the region that it has coveted dominion of for so long.
Nor should it be forgotten how Japan developed into a militarist power with the indulgence of the West after the Paris Peace Conference, or that it has never conducted serious reflections on that period of its past.
The same question might be asked of the British government as well, after it said in statements that the visit of the aircraft carrier strike group was "a powerful demonstration of the UK's close and enduring partnership with Japan and the UK's commitment to maritime security in the Indo-Pacific region", and that the move was "confident not confrontational".
The world has changed from the days of the British Empire. But there are those who sniff the musty smell of the past and it invokes heady dreams of bygone grandeur.
The UK's "calling card" sent half way round the world has only highlighted how divorced its government is from the reality in this part of the world. The participation of the UK's visiting flotilla in naval exercises with Japan, the United States, the Netherlands and Canada before its arrival at the US Navy base in Yokosuka near Tokyo was nothing but an ugly show of hypocrisy, as it belied its claim that the presence of its naval vessels in the region was "not confrontational".
Given that the Japanese and the UK governments are challenged by record debts, comparable to that of the US, it is ridiculous the two are willing to overstretch themselves so much that they can act as cheerleaders for the US' so-called Indo-Pacific strategy.
On Tuesday, Japan raised its defense budget for 2022 to 5.48 trillion yen ($49.93 billion), up 2.6 percent from this year, the largest hike since 2018, in response to the US' call for its full engagement in regional security.
As such, the US has set the stage for Japan and the UK to revive the smoldering cinders of their dreams of glory, which deserves the world's vigilance lest any shared commitment and confidence regarding the "further development of Japan-British defense cooperation" lead to a grave misjudgment.