TV series shines light on organized crime crackdown
By CAO YIN | CHINA DAILY | Updated: 2021-09-20 12:20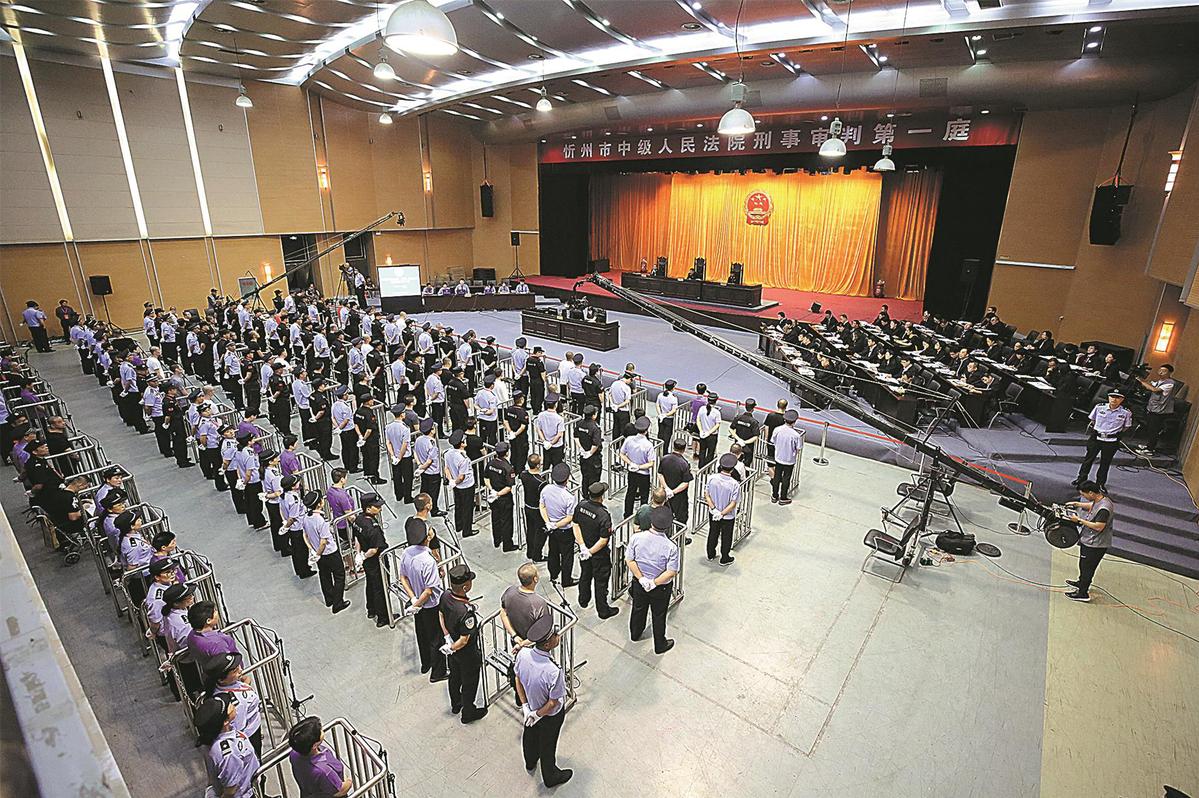 Great achievements
Meng said Crime Crackdown "gave me a warning about offenses and violations, asking me to keep vigilant to various risks in work and life".
Li, the judge, is much more familiar with judicial affairs and has more awareness about the need to prevent risks than regular folk, but said: "I was still shocked by these real-life cases and felt the significance of my job while watching Crime Crackdown. The TV series warned me to be more prudent in case handling and shoulder more responsibilities in ruling making, as justice will never be absent as long as each judicial step is well implemented."
She also lauded the authorities' great achievements in cracking down on organized crime in the past three years, adding the best way to consolidate the achievements is for everyone to respect laws and for every judicial worker to hold the bottom line of justice.
From 2018 to last year, 3,644 mafia-like groups were busted, 1.3 times as many as the total in the previous 10 years, according to statistics released by the commission in March.
Another 89,742 cases involving gang-crime-related corruption and "protective umbrellas" that sheltered gangs were also handled across the country, it said.
In the past three years, Chinese courts concluded 32,943 gang-related cases, and 53,405 defendants were given sentences ranging from at least five years in prison to the death penalty, it said.
A nationwide survey conducted by the National Bureau of Statistics showed that in the second half of last year, 98.4 percent of people said they felt secure, and 95.7 percent of respondents were "satisfied" or "relatively satisfied" with the effectiveness of the campaign.
Ruan, the Shanghai professor, said the TV series is a more vivid way to show the achievements compared with data, adding that introducing judicial work through movies or TV programs will also bridge the communication gap between government departments and residents.
"I'd like to watch more such TV series, but producers and screenwriters should respect the facts of cases when adapting them," he said. "The better way is to talk to judicial authorities or law experts before adaptation and production."
Li agreed, saying the feelings of victims and their family members should be considered, especially those in high-profile or controversial cases.
"Communication with them is a must before making a film or TV series," she said.
"Otherwise, unnecessary disputes will easily occur."