EV battery recycling powering up in China
By LIU YUKUN | China Daily | Updated: 2021-09-22 09:53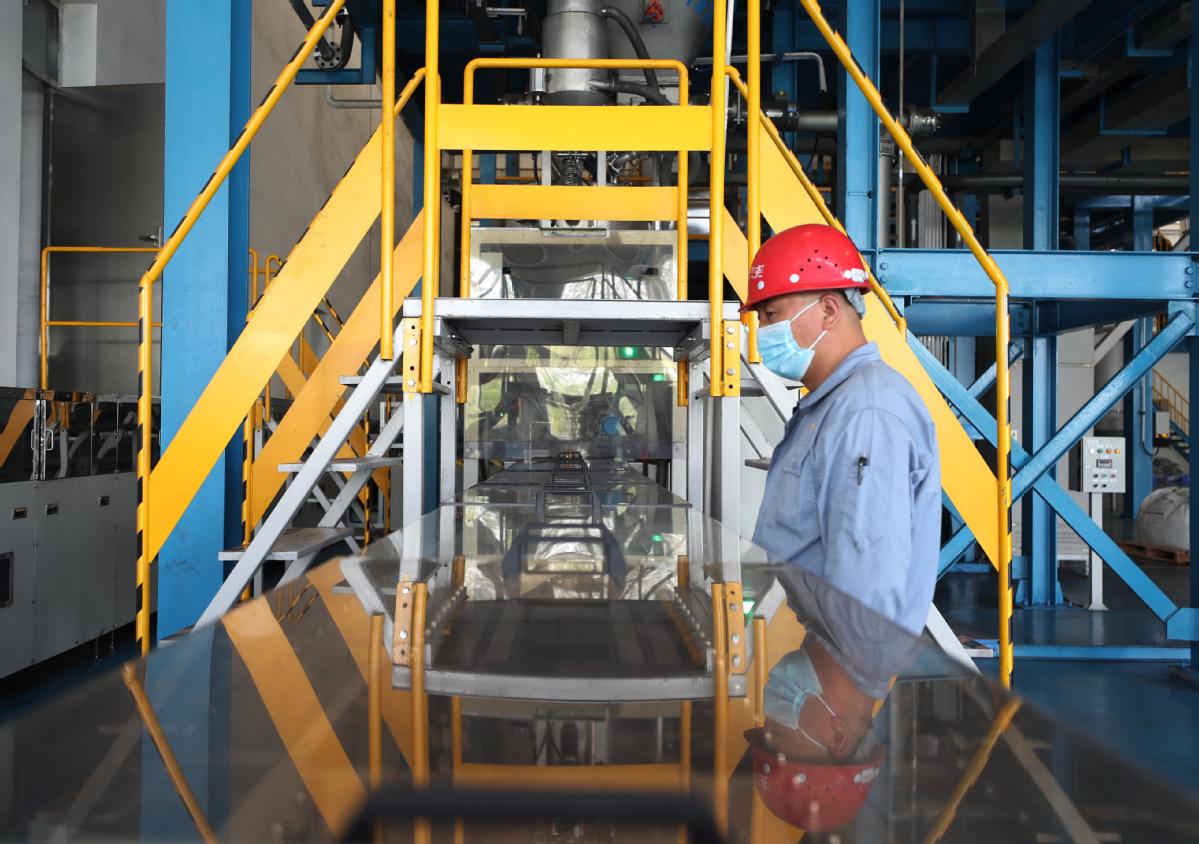 Production surge, sales driving rapid growth of green vehicle parts biz
Electric vehicle or EV battery recycling in China is growing into a multibillion dollar business as investors are eyeing opportunities in surging volumes of retired new energy vehicles, or NEVs. Analysts said enhanced industry standards and regulations can ensure safety and avoid pollution.
According to a report by the Lead-Leo Research Institute, from 2017 to 2020, the market size of China's EV battery recycling industry increased from 2.9 gigawatt-hours to 21.2 GWh, with a compound annual growth rate of 78.4 percent.
Last year, the total number of retired EV batteries in China exceeded 200,000 metric tons, which equaled about 25 GWh, and the market size was 10 billion yuan ($1.55 billion), said the China Automotive Technology and Research Center.
By 2025, total retired EV batteries will climb to about 780,000 tons, which equals about 116 GWh, according to the CATRC. The industry will see a market value of over 40 billion yuan by then, said EverBright Securities.
A surge in production and sales of NEVs has laid the foundation for rapid growth of China's EV battery recycling industry, said Zheng Keyu, an analyst at LeadLeo.
Production and sales of NEVs reached about 1.22 million and 1.21 million units in the first half, respectively, both up by 200 percent year-on-year, according to the China Association of Automobile Manufacturers. The association predicts NEV production and sales growth are likely to exceed 40 percent over the next five years.
"The purpose of EV battery recycling is to reduce pollution caused by improper handling of heavy metals, reduce wastage of valuable metals and cut production costs of batteries and NEVs," Zheng said.
"Although the industry's prospects are very promising, China's EV battery recycling is still in the early stages of development. Since the 13th Five-Year Plan period (2016-20), the government has rolled out a series of recycling-related policies to strengthen supervision, establish recycling standards and put in place mechanisms to bolster a good environment for development," Zheng added.
Earlier in 2017, the Ministry of Industry and Information Technology and three other ministry-level administrations released an action plan promoting development of the EV battery industry. The plan stated that battery recycling is an area of focus that the government will support.
In March, it was first written into the Government Work Report that efforts are needed to accelerate the establishment of the EV battery recycling system.
In July, the National Development and Reform Commission released a written notice on its development plan of the circular economy during the 14th Five-Year Plan period (2021-25). It said the government will enhance the regulatory mechanism for EV battery tracking.
In August, the MIIT and four other ministry-level administrations released a document on cascade utilization of power batteries, which involves reusing retired batteries from NEVs in other facilities, to encourage cooperation between NEV manufacturers, power battery producers and recyclers.
Answering the call, local governments have begun stepping up efforts to promote the development of the EV battery recycling sector. Jiangsu province has already set up 907 EV battery recycling centers and Shanghai has 364 recycling servers. The city also initiated a full life cycle tracking and regulation system for EV batteries.
The booming market has attracted numerous businesses to take a share. According to Qichacha, a company that tracks business registrations, the total number of companies engaged in EV battery recycling currently stands at around 15,000. The number of newly registered companies in the first half reached 9,435, up 2,611.2 percent year-on-year.
According to LeadLeo, China's EV battery recycling industry has seen increasing cooperation between NEV manufacturers like BYD Co Ltd, battery producers like Contemporary Amperex Technology Co Ltd, raw material processors like Huayou Cobalt and recycling institutes like GEM Co Ltd.
In August, Eve Energy Co Ltd announced a tie-up with GEM. GEM pledged to supply over 10,000 tons of nickel products made from battery recycling for 10 consecutive years beginning in 2024, while Eve will provide retired batteries that contain nickel to GEM.