Well-orchestrated festival for students to enjoy
By Chen Nan | China Daily | Updated: 2021-10-13 08:49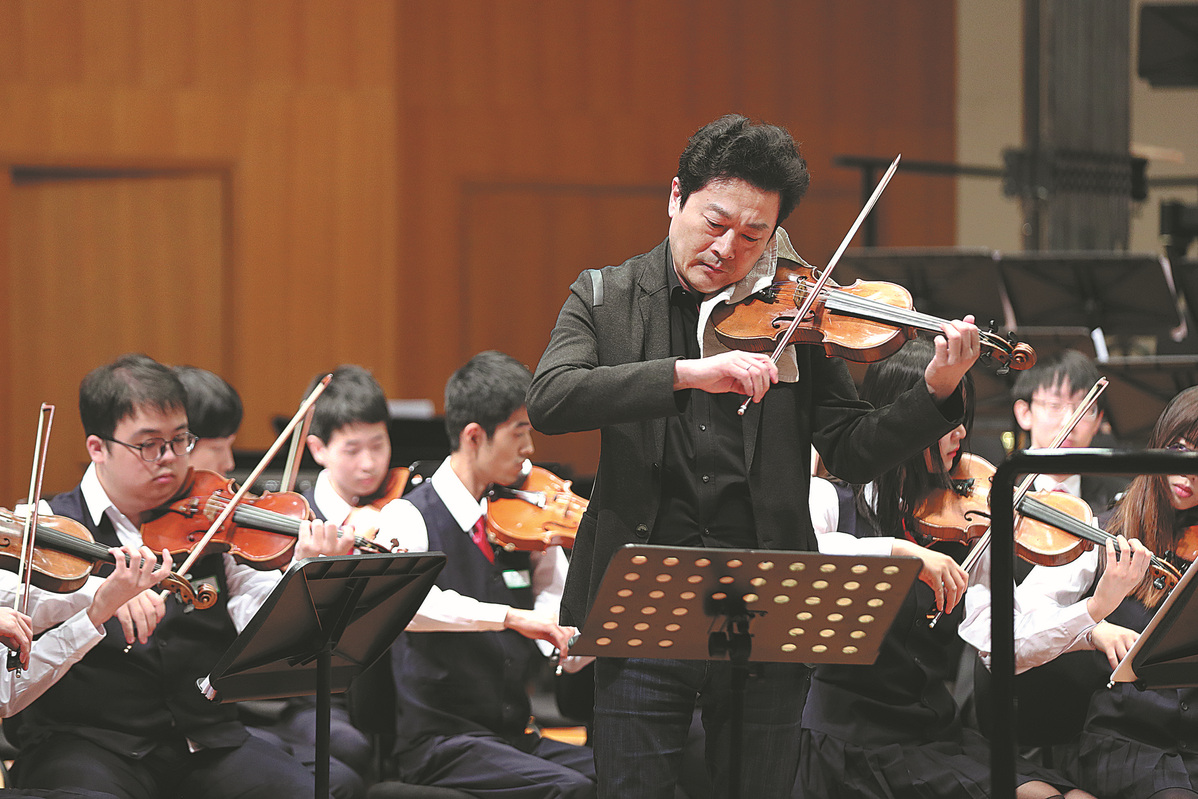 "Butterfly Lovers is very beautiful and I've gained a different feeling for it after training with Lyu. He told us that the only way for the composer who died a long time ago to communicate with musicians today is through musical scores. Thus, it's important to read and study both the scores and the composers' notes very carefully," says 17-year-old Zhao Junjie, a violin student at the middle school affiliated to the Central Conservatory of Music.
"We spent about six hours a day rehearsing, which was very helpful. Being part of an orchestra means that I need to listen to others while playing my musical instrument. It's quite different from playing by myself. Though we may have some different opinions about music, it's still a rewarding experience," says 18-year-old Hu Yifei, who also studies the violin at the middle school.
According to cellist Namura, who is also the school's president and an organizer of the festival, 90 students were selected to join this year's event and celebrated musicians, including pianist Lang Lang, cellist Wang Jian and violinist Lyu, participated as teachers and performers.
The event is co-organized by Beijing Music Festival, one of the largest annual classical music events in the country, which kicked off on Saturday and will run through Oct 24.
"Hundreds of students from Beijing, Hong Kong and Macao applied for the event. Though we had to make changes to the original plan due to the pandemic, we've seen the warm feedback of the students. When the pandemic eventually passes, we will definitely bring the students together," says Namura. "I hope that they can benefit from this event by sharing music and making new friends."
Kiora Zhou, a 23-year-old cellist, who is studying at the University of Music and Performing Arts Graz in Austria, had planned to visit Beijing to take part in the event.
"It was very disappointing that I couldn't travel to Beijing due to the pandemic, but I still had a wonderful time talking to those great musicians and music major students over the internet," says Zhou, who was born and raised in Macao.
She was also originally scheduled to play the fourth movement of a symphonic suite, titled Dream Bridge, composed by Fang Dongqing, during the concert on Friday alongside Namura. The music piece celebrates the Hong Kong-Zhuhai-Macao Bridge, the world's longest cross-sea bridge, which opened to the public in October 2018.
"It's a very meaningful piece of music. Like the bridge, music also connects people," says Zhou.